Results of the year: in seventh position in the European rating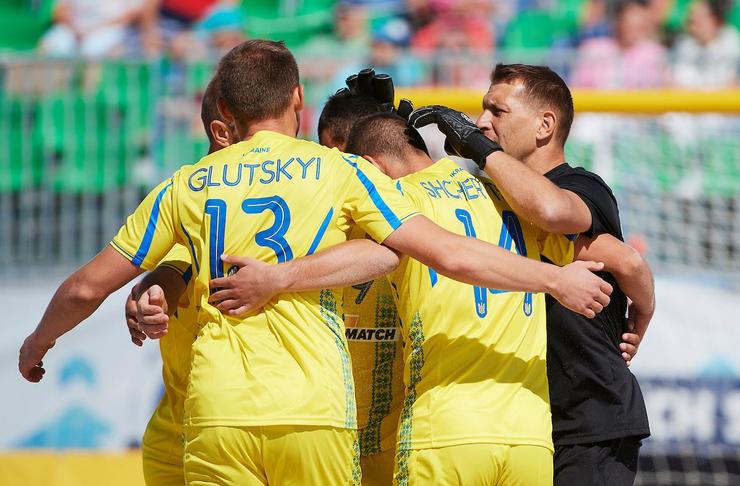 We remember the achievements of Ukraine's national beach soccer team in 2017.
Given the specifics of the sport, beach soccer is usually played in the warm season or in places where severe winters are rare. Thus, our national team started 2017 at the Persian Cup in Iran, which took place on February 14-16.
In the first match, with the Italians, the wards of Yevhen Varenytsia lost 6: 7, although they were leading 6: 4. In the second round, our team failed in a penalty shootout with the hosts after a draw in regular time (3: 3). In the final match, the Ukrainians defeated the Poles (4: 2), thanks to which they won the final second position, beating only Iran. The author of five goals Oleg Zborovsky became one of the best scorers of the tournament, and Volodymyr Gladchenko was recognized as the best goalkeeper of the Persian Cup.
In the summer, the Ukrainians were expected to defend the title of Euroleague triumphs, but after the first stage in Portugal the chances of blue and yellows to re-championship decreased. After defeating Greece (6: 5) and Poland (4: 3) in difficult duels, in the third round our wife gave way to Spain no less dramatically (3: 4). The Ukrainians left Nazare in the intermediate fourth place in the standings.
In late August, the national team went to Germany's Warnemunde, where it won three victories in the second round of the Euroleague. Ukraine beat Italy (3: 2), squeezed Germany in extra time (2: 1), and won a strong-willed win over Azerbaijan (4: 3). As a result, our boys received a small trophy for first place in the group, Maxim Voitok with three goals in the asset was among the top scorers, and Roman Pachev was recognized as the best player of the stage.
After reaching the Super Finals from second place, our team did not perform well in the crucial stage. In Terracina, Italy, the Ukrainians took the last place in the group without winning a single point. The Warehouse Wards were crushed by the hosts (4:11) and also lost to teams from Russia (3: 4) and Belarus (0: 2). In the match for the final seventh place our team beat Poland by penalty after a draw in the main time (4: 4).
Thus, in 2017, Ukraine won six victories, broke up twice and lost five times. In the world ranking, the team is 17th, and in the European - seventh.