Current students have an example to follow!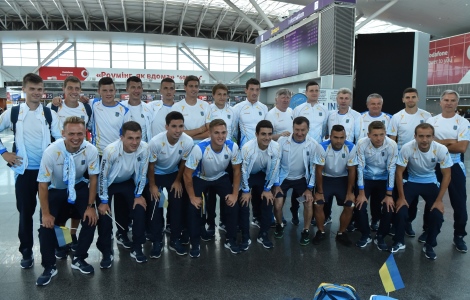 Not only the students who successfully performed at the Universities in Beijing, Bangkok and Belgrade have become masters of sports of the international class, but also the mentors of the national team - Anatoly Buznyk, Volodymyr Lozynsky, Ivan Shepelenko and Ivan Shepelenko - have been awarded the honored coaches of Ukraine.
It is gratifying that many players, who first made a loud statement about themselves at the Universiade, then achieved recognition at the professional level. First of all, there are goalkeepers Dmitry Kozachenko (Obolon, Zorya, Zirka), Alexey Shevchenko (Hoverla, Metallurg Z, Zorya), Andriy Bashlai's defenders (Dynamo-2, Steel "A," Prykarpattya "," Sevastopol "), Sergiy Klyuchyk (" Metallurg "C," Tavriya "," Steel "A," Transcarpathia "), Anton Monakhov (" Kryvbas "," Tavriya "," Steel "A , "Vorskla", "Sevastopol", "Metallurgist" C), Igor Pardut ("Niva" T, "Obolon", "Vorskla"), midfielders Dmitry Pronevich ("Obolon", "Cherkasy Dnipro"), Artem Stargorodsky (" Arsenal "K," Tavriya "," Chernomorets "), Eugene Br Edun (Shakhtar, Illichivets, Metallurg Z, Zorya, Sevastopol), Andriy Zaporozhany (Borysphen, Alexandria), Andriy Shevchuk's attackers (Metallurg Z, Sevastopol, Sevastopol), Ternopil "), Matthew Bobal (" Igroservis "," Tavriya "," Transcarpathia "), Igor Khudobyak (" Carpathian "," Dynamo-2 "," Sevastopol "," Hoverla ").
As you can see, the current potential candidates for the student team of Ukraine are who to lead by example.