As Ukrainian striker Roman Yaremchuk continues to conquer Belgium!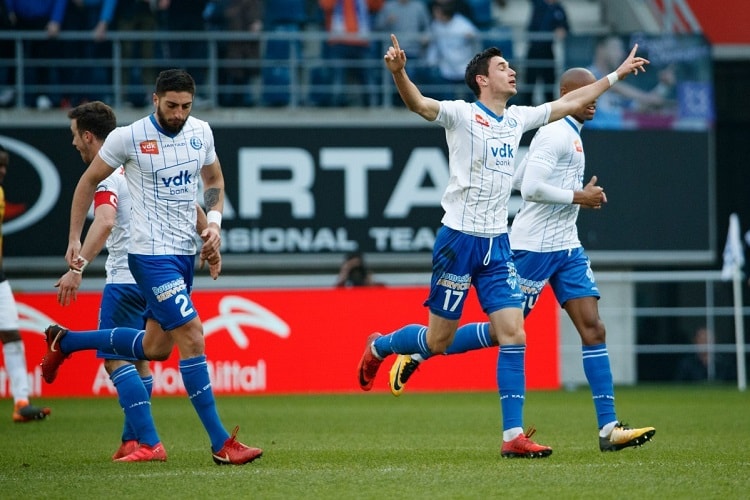 This sometimes happens - not finding himself in one team, the player changes conditions and begins to progress. Judging by the latest results, this is exactly what happened to Roman Yaremchuk.
This season, the Ukrainian striker of the Belgian "Ghent" is showing excellent results. Having played 22 matches for his team, the forward scored seven goals and gave two assists. And all this - for 1 game minutes. As for a newcomer to the viscous and power championship of Belgium - a very good result.
The first tests in Belgium
However, at first Ghent's coaching staff tested the striker, so to speak, in combat. At first, Roman was exclusively a substitute. He then played a full match against Zulte Waregem, which his team lost. Then there were six consecutive appearances in the starting lineup, the first assist in the game with Eupen and the debut goal in the goal of "Standard" of our Valery Luchkevich, who was the winner.
Shock 2018!
It is worth noting that in 2018, Ghent played six matches in the Belgian championship - and in each Roman was in the starting lineup. Moreover, in only one of them did coach Yves Vanderhage remove the Ukrainian from the game until the final whistle. Still! In these meetings, our forward scored four goals!
It didn't work out in Kyiv…
Yaremchuk, who was born in Lviv on November 27, 1997, came to Ghent last summer and failed to establish himself in the first team of Dynamo Kyiv. A year before that, the capital club borrowed Roman "Alexandria". It would seem that the six months of the lease, where in 17 matches the player scored six goals and gave two assists, were to restart his career. But the return to Dynamo was unsuccessful.
In the spring of 2017, Yaremchuk took part in 11 meetings as a member of Kyiv, did not take any effective action in them and, as already mentioned, in the summer of the same year went to conquer the Belgian championship.
It is worth noting that the powerful forward (height - 191 cm, weight - 78 kg) has performances at the level of all national teams of Ukraine, starting with the U-17 team. But Roman Yaremchuk has not yet been called up to the country's main team.