WU-19 Ukraine Women's National Team convincingly defeated Azerbaijan!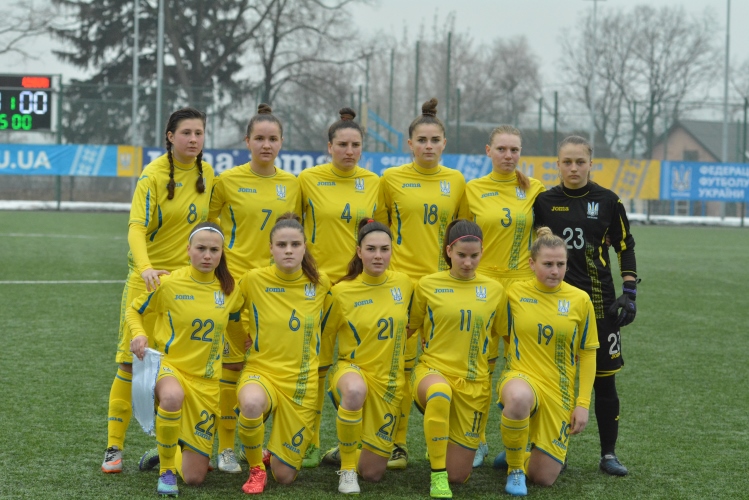 Today at the Irpin Champion Stadium the Ukrainian Women's National Team held the first of two scheduled sparring against the Azerbaijan team.
The starting minutes were left to Natalia Zinchenko's wards, who immediately started to hit goalkeeper Sude Topch's goal. The fans didn't have to wait long for the goal: 5 minutes into the game, Maria Koleschuk opened the scoring, sending the ball away after a corner kick that didn't reach the goalkeeper.
The second goal was scored after a mistake by the Azerbaijani national team in defense. In the 15th minute Nicole Kozlova intercepted the ball from the visitors' defender and sent it into the far nine. For the third time, Natalia Zinchenko's wickets scored after a corner kick: Nicole Kozlova used a series of rebounds in Azerbaijan's penalty area to draw a double in the 27th minute of the meeting.
However, the Ukrainians managed to miss it: a few seconds before the whistle, the guest player Vusal Seyfatdinov reduced the hosts' advantage.
Azerbaijanis started the second half more sharply - Ugar Azgarli's ward needed to be played. Fighting for the ball became fiercer, leading to several micro-injuries.
The last goal of the meeting was scored by the guests, however, it is unlikely that they did, as Hadzhigat Gasimov cut the ball into his own net after the Ukrainian football player's corner kick. 4: 1 - convincing victory of Natalia Zinchenko's wards.
Recall that the second match of the team will play against each other on Saturday, March 17, at the "Champion" in Irpin (the start of the game - at 12.00).
Friendly Match
Ukraine (WU-19) - Azerbaijan (WU-19) - 4:1
Goals: Koleschuk (4), Kozlova (15, 27), Gasimov (75, own goal) - Seyfatdinov (45).
Ukraine (WU-19): Khryshchyshyn, Koleschuk, Illina, Kupyak (Nikityuk, 77), Kravchenko (Lemeshchuk, 86), Bubnyak (Vegerich, 86), Postol (Yu. Semeniuk, 59), Girin (Kotyash, 77), Bilokur (O. Semeniuk) , 86), Kozlova (Yanchuk, 86), Kunina (k).
Azerbaijan (WU-19): Topchu, H. Ozdemir (Gasimova, 38, U. Ozdemir, 86), Aliyev, Gadzhieva (k), Gurgenidze (Sardarli, 79), Uighun (Husseinova, 86), Akhmadova, Ozkumru, Bozdag, Teymurova, Tas (Seifatdinova, 23).