The Premier League. Shakhtar conceded to Dynamo in a farewell match of Oleg Gusev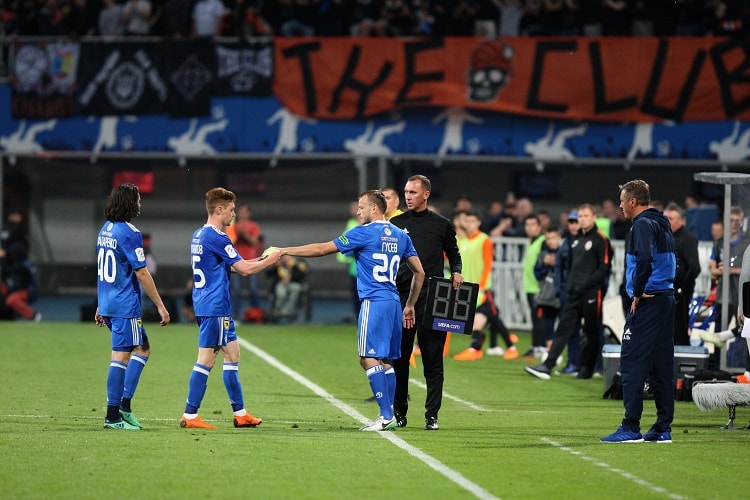 The match of the two best teams of the country, which took place in the framework of the last round of the national championship, this time had no tournament value, as the Pitmen guaranteed themselves a championship a week ago. However, the game turned out to be interesting and intense.
For the first quarter of an hour, Shakhtar's players hit three goal-kicks, the most dangerous of which was Marlos, but Boyko acted surprisingly reliably. And then the people of Kiev took the lead - Verbich beat the Miners' defenders in the air after a corner kick and hit his head. The return goal also came after the standard - an 11-meter, earned by Kayode (violated Kadar rules), scored by Marlos. Shortly before the break the team exchanged dangerous moments - Kaiode lost the duel to Boyko, going out with him on his own, and Besedin after another corner in a performance by Tsygankov hit the crossbar.
In the second half, speeds subsided somewhat, but one of Dynamo's outbursts brought him success. Tsygankov dispersed the attack, Kenjora shot from the bottom, and Khocholava cut the ball into his own goal.
And at the 75th minute, an event for Dynamo and all domestic football took place. Oleg Gusev appeared on the pitch. As announced the day before, this match was the last white-and-blue for the veteran, who has 98 matches in the national team of Ukraine (13 goals).
The match was attended by the players summoned by Andriy Shevchenko for the upcoming gathering of the Ukrainian national team. These are the players Boiko, Burda, Tsygankov (goal), Buyal (replaced by 58 minutes, yellow card), Shaparenko (replaced by 75 minutes), Besedin and Pitov Pyatov, Rakitsky (yellow card), Stepanenko, Kovalenko (replaced after 64 minutes), Marlos (goal), Matvienko (replaced by 46 minutes).
The second stage
1-6 Place Tournament
32 round
19.05.2018
Shakhtar 2-1 Dynamo 1-1 (XNUMX-XNUMX)
Goals: Verbich (16), Khocholava (55, own goal) - Marlos (23, from penalty).
20.05.2018
Heather - Mariupol 17.00
Vorskla - Zorya 17.00
Standings
| | | | | | | |
| --- | --- | --- | --- | --- | --- | --- |
| Team | G | W | D | L | GD | О |
| 1. Shakhtar | 32 | 24 | 3 | 5 | 71—24 | 75 |
| 2. Dynamo | 32 | 22 | 7 | 3 | 64—25 | 73 |
| 3. Vorskla | 31 | 13 | 7 | 11 | 35—35 | 46 |
| 4. Dawn | 31 | 11 | 10 | 10 | 44—42 | 43 |
| 5. Mariupol | 31 | 10 | 8 | 13 | 37—40 | 38 |
| 6. Heather | 31 | 7 | 13 | 11 | 27—29 | 34 |