Euro 2018 (U-19): Ukraine's national team wins victory on the continent!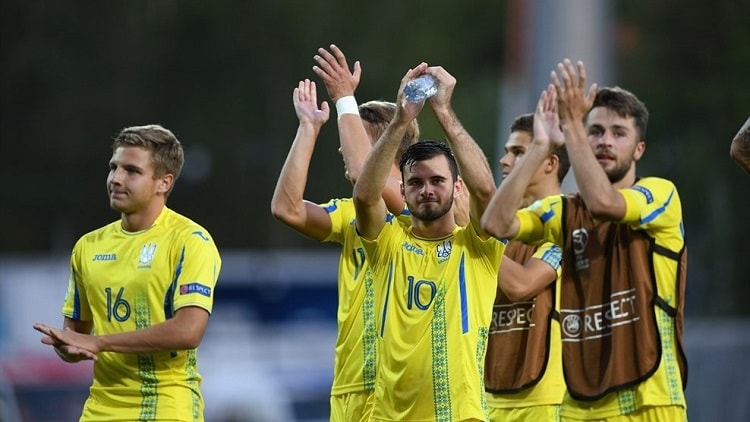 In the start of the Euro 2018 match (U-19) wards of Alexander Petrakov won at collectivelyї France.
Ukraine's first team played against the French at their first match at the European Championships. Almost everyone in this game preferred to rival the Ukrainians. However, in the first half, Alexander Petrakov's team showed teeth. And with the more effective action of blue and yellow on the counter, everything could be even better.
The account was opened by Ukrainians. In the 13th minute, after the standard draw, Tsitaishvili, rocking the defender, scored in the near corner. 1: 0. In 10 minutes, the French retaliated - Guitan scored a well-aimed shot.
In general, the first half was a bit overwhelming for the French national team, however, the blue and yellow surpassed their opponent by the number of dangerous moments.
In the second half, the French increased pressure on Kucheruk's goal. He could have scored Maolid, but from the goal line he scored above the goal. Ukrainians responded with a dangerous blow from Buletsa. And in the 65th minute Supryaga forced Sarah to foul. The referee assessed this foul with a straight red card. It became a little easier. Alexander Petrakov's team has already started dictating its terms to the opponent. Tsitaishvili should have scored in the 83rd minute, but Bulets scored the winning goal. In the 86th minute, a rapid counterattack ended with a well-aimed shot by the Dynamo midfielder. 2: 1.
France - Ukraine - 1: 2
Goals: Guitan (23) — Titoishvili (13), Bulets (86). 64 minutes into the match removed Sarah (F).
France (U-19): Diouf, Dembele, Niakate, Kamara, Sarr, Nguyamba, Diabi (Basila, 66), Maulida (Guiri, 75), Guitan, Pintor (Adli, 46), Sumare.
Ukraine (U-19): Kucheruk, Mykolenko, BONDAR, Popov, Kornienko, Khakhlev (Belyaev, 90 + 1), Dryslyuk, Hemp, Buletsa (Remenyuk, 89), Tsitaishvili (Musolitin, 90 + 4), Spouse.
17.07.2018
Group B
Turkey - England 2: 3
France - Ukraine 1:2
Standings
| | | | | | | |
| --- | --- | --- | --- | --- | --- | --- |
| Team | G | W | D | L | GD | О |
| 1. ENGLAND | 1 | 1 | 0 | 0 | 3-2 | 3 |
| 2. UKRAINE | 1 | 1 | 0 | 0 | 2-1 | 3 |
| 3. Turkey | 1 | 0 | 0 | 1 | 2-3 | 0 |
| 4. France | 1 | 0 | 0 | 1 | 1-2 | 0 |
20.07.2018
Ukraine - England Seinajoki 18.30
Turkey - France Vaasa 20.30
23.07.2018
England - France Vaasa 18.30
Ukraine - Turkey Seinajoki 18.30