U-19: The offender of the national team of Ukraine became the winner of the European Youth Championship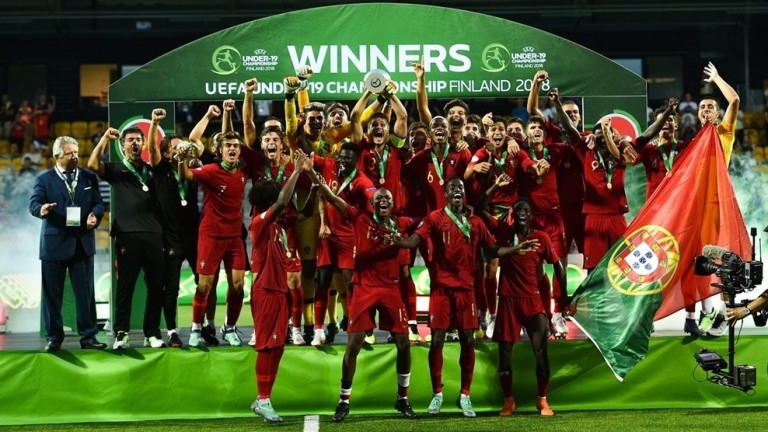 The U-19 U-XNUMX European Championship has ended in Finland, Portugal's triumph.
Today in the final match, which took place in Seinajoki, met representatives of group A - the teams of Italy and Portugal, who last Thursday defeated the semifinalists from another quartet of the group stage - respectively, the national teams of France and of Ukraine.
Opponents set off a real goal fireworks, scoring seven goals in 120 minutes. Moreover, the offenders of the blue-yellows, the Portuguese, led twice (in the second half - 2: 0) and allowed the Italians to equalize. However, the last word in extra time was for the Iberians. 4: 3.
We will remind that on the results of Euro-2018 (U-19) five delegates from UEFA have been selected for participation in the final tournament of the U-20 World Championships, which will take place in the summer of 2019 in Poland. They became Portugal, Italy, Ukraine, France and Norway. Poland's host team will be the sixth representative of Europe in the tournament.
Euro-2018 (U-19)
Final
Italy - Portugal - 3: 4 (0: 1, 2: 2)
Goals: Ken (75, 76), Scamacca (107) - Joao Filipe (45 + 1, 104), Trinkao (72), P. Correa (109).
Group Round
Group B
17.07.2018
Turkey - England - 2: 3
France - Ukraine - 1: 2
20.07.2018
Ukraine - England - 1: 1
Turkey - France - 0: 5
23.07.2018
England - France - 0: 5
Ukraine - Turkey - 1: 0
Standings
| | | | | | | |
| --- | --- | --- | --- | --- | --- | --- |
| Team | G | W | D | L | GD | P |
| 1. UKRAINE | 3 | 2 | 1 | 0 | 4-2 | 7 |
| 2. FRANCE | 3 | 2 | 0 | 1 | 11-2 | 6 |
| 3. England | 3 | 1 | 1 | 1 | 4-8 | 4 |
| 4. Turkey | 3 | 0 | 0 | 3 | 2-9 | 0 |
Group A
16.07.2018
Norway - Portugal - 1: 3
Finland - Italy - 0: 1
19.07.2018
Finland - Norway - 2: 3
Portugal - Italy - 2: 3
22.07.2018
Italy - Norway - 1: 1
Portugal - Finland - 3: 0
Standings
| | | | | | | |
| --- | --- | --- | --- | --- | --- | --- |
| Team | G | W | D | L | GD | P |
| 1. ITALY | 3 | 2 | 1 | 0 | 5-3 | 7 |
| 2. PORTUGAL | 3 | 2 | 0 | 1 | 8-4 | 6 |
| 3. Norway | 3 | 1 | 1 | 1 | 5-6 | 4 |
| 4. Finland | 3 | 0 | 0 | 3 | 2-7 | 0 |
26.07.2018
Match for fifth place
| | | |
| --- | --- | --- |
| NORWAY - England | Seinajoki | 3:0 |
Semifinals
| | | |
| --- | --- | --- |
| Ukraine - PORTUGAL | Vaasa | 0:5 |
| ITALY - France | Vaasa | 2:0 |
29.07.2018
Final
| | | |
| --- | --- | --- |
| Italy - PORTUGAL | Seinajoki | 3:4 |