U-19 Ukraine U-2018 national team: all the most interesting facts and figures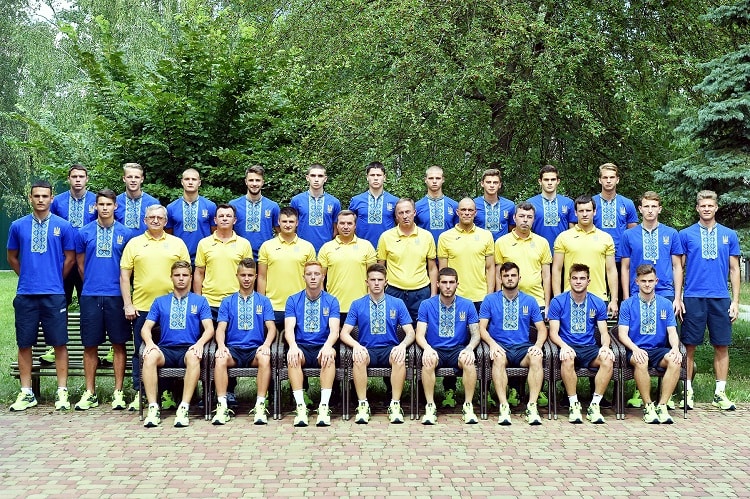 After the end of the Junior Euro 2018 in Finland, where the Ukrainian national team (U-19) reached the semi-finals, we made a selection of the most interesting facts regarding her performance at the tournament.
The national team Ukraine U-19 for the fourth time in its history was among the winners of the European Championship. This was first done by Anatoliy Kroshchenko's team (2000 - silver). Then - the team of Pavel Yakovenko (2004 - semifinals and bronze). And behind it was the triumph of Yuri Kalitvintsev's team (2009 - gold) on the fields of Donetsk and Mariupol.
Quadruple the national team of Ukraine will go to the U-20 World Cup. In 2019, it will be hosted by Poland. In the previous three, our team consistently reached the 1/8 finals, where it was defeated. In 2001 - from Paraguay, in 2005 - from Nigeria, in 2015 - from Senegal.
Alexander Petrakov became the first coach to twice lead the Ukrainian U-19 team to the European Championship (before that - in 2014). In addition, he became the first coach to twice lead the Ukrainian national team to the U-20 World Cup.
In the cycle Euro-2018 national team of Ukraine U-19 showed the best result for all the years of our performances in this age category - seven victories in ten matches, including qualifications. The previous record was five winning matches. This was the case in the cycles of Euro-2004 (coach Pavlo Yakovenko), Euro-2008 (Alexander Lysenko) and Euro-2014 (Alexander Petrakov).
During Euro 2018 the number of U-19 matches won by the Ukrainian national team in the final part of the European Championship increased to nine. Two victories were won by the team of Anatoliy Kroshchenko (2000), one - by Pavel Yakovenko (2004), three - by Yuri Kalitvintsev (2009) and Oleksandr Petrakov (one - 2014, two - 2018).
On the first In the Euro 2018 qualifying round, the Ukrainian U-19 team won three matches on October 4-10, 2017: Albania - 1: 0, Norway - 2: 1, Montenegro - 4: 0.
During The elite round of selection (March 21-27, 2018) was initially a draw (Sweden - 0: 0), after which Ukraine won twice: Serbia - 2: 1, Romania - 2: 1.
In the final Alexander Petrakov's wards won the group tournament (France - 2: 1, England - 1: 1, Turkey - 1: 0), and in the semifinals they were defeated by the future champion from Portugal - 0: 5. It was the only defeat of Ukrainians in 10 matches of the cycle.
Total 2018 players were involved in the U-19 national team of Ukraine during the Euro-25 cycle. 22 of them went on the field at least once, three more remained in the reserve - goalkeepers Andriy Kozhukhar (Chornomorets) and Dmytro Riznyk (Vorskla), defender Oleh Veremienko (Karpaty).
All 10 matches four played without substitutions. These are goalkeeper Vladyslav Kucheruk (Dynamo), defenders Valery Bondar, Viktor Kornienko (both Shakhtar) and Vitaliy Mykolenko (Dynamo). With substitutions, but also 10 matches were played by two more - midfielder Serhiy Bulets (Dynamo) and forward Vladyslav Supryaga (Dnipro-1).
Nine matches were played by midfielders Kyrylo Dryshlyuk (Zirka) and Oleksiy Khakhlov (Spanish Alaves), winger Andriy Remenyuk (Karpaty). Seven - midfielder Oleksandr Belyaev (Dnipro-1), Six - midfielder Oleksiy Kashchuk (Shakhtar), who did not play in the final tournament due to injury.
11 more players played half or less of matches: five - defender Oleksandr Safronov (Dnipro-1) and forward Andriy Kulakov (Shakhtar), four - defenders Denis Popov (Dynamo) and Igor Snurnitsyn (Olympic), winger Georgy Tsitaishvili (Dynamo), three defenders Oleksandr Avramenko, Tymofiy Sukhar (both Zorya), Yuhym Konoplya (Shakhtar), midfielder Mykola Musolitin (Chornomorets) and forward Yuriy Kozyrenko (Dynamo) , one - midfielder Maxim Chekh (Shakhtar).
Four The team included generations born in 2000 - Kashchuk, Snurnitsyn, Supryaga and Tsitaishvili. They can also play at the next Euro U-19 - in 2019 under the leadership of Sergei Popov. This cycle will begin this fall.
The best Oleksandr Petrakov's bronze national team was scored by Bulets and Supryag, who scored three goals each. Bulec - once Montenegro, France and Turkey, Spouse - Albania, Norway and England. Kashchuk (Montenegro's double) and Safronov (Serbia and Romania) scored two goals. Bondar (Romania), Kornienko (Montenegro), Mykolenko (Serbia) and Tsitaishvili (France) scored one goal each.
During of the Euro-2018 cycle in the national team of Ukraine U-19 there was only one effective replacement. Kashchuk became the Joker in the match against Montenegro. And after coming on as a substitute, he scored twice.
Wards Alexander Petrakov did without seizures. But 14 players earned warnings: three - Dryshlyuk, two - Belyaev, Kashchuk, Kornienko, Safronov and Khakhlov, one - Avramenko, Bondar, Bulets, Kozyrenko, Mykolenko, Popov, Snurnitsyn and Supryaga.
The national team Ukraine's U-19 punched twice in the Euro-2018 round. In the match against Albania on October 4, 2017 Khakhlev failed to beat the goalkeeper, and on October 10, Kornienko made an attempt.
In the asset Alexander Petrakov's team - three strong-willed victories (Norway - 2: 1, Serbia - 2: 1, Romania - 2: 1) and one strong-willed draw (England - 1: 1). The Ukrainian U-19 team never lost a victory when they scored first.