Premier League: Dynamo defeated Shakhtar and top the league table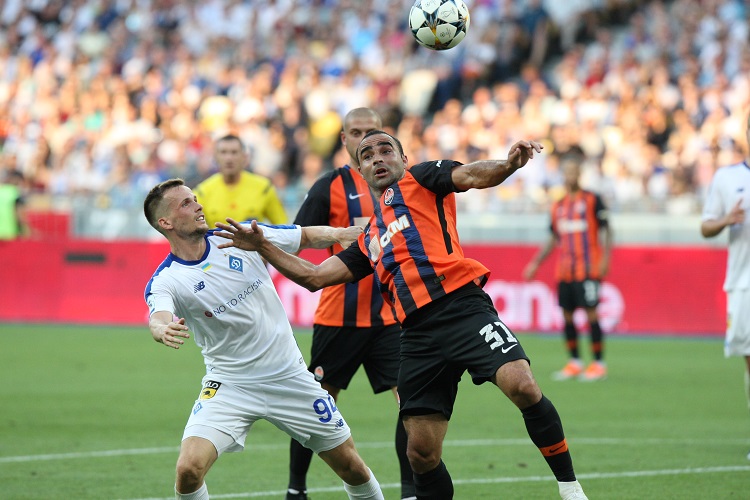 Today in Kiev within the framework of the 3rd round of the championship of Ukraine the central match of the first round took place. Dynamo hosted Shakhtar and won their main rival thanks to Verbich's goal.
The next round of the face-to-face meeting, which took place in the presence of a solid audience, started with two grand rounds of Ukrainian football. In the first half there were only a few threatening situations at the goal of both teams, but both goalkeepers were on high. Pyatov eliminated a sharp exit on his goal Tsigankov, and Boyko coped with a dangerous blow Tyson, transferring the ball to the corner.
The course of events on the field changed in the middle of the second half after the Dynamics opened the scoring. This was done by Verbich, who jumped everyone in the Pitmen's penalty area after Tsygankov's submission from the penalty area. The Slovenian midfielder slammed his head into the near corner and Pyatov failed to deal with the blow.
The remaining time was mainly spent in Shakhtar's attacks, but the people of Kiev were confident in defense and were able to resist. Thus, Dynamo won the third consecutive championship win with the same score - 1: 0, which allowed him to lead the table. And given Super Cup match this is the fourth minimal victory of the wards of Alexander Khatskevich. White and Blue have won consistently in the last three Premier League matches with Shakhtar, and if you take into account face-to-face matches in all tournaments, this is the fifth Victoria in seven matches.
The game was attended by 11 performers who were called to the last national team of Ukraine - the players of Boyko, Burda, Shepelev (replaced by 62 minutes), Buyalsky (yellow card, replaced by 84 minutes), Tsygankov (goal), Besedin and Pitmen Pyatov, Rakitsky, Stepanenko (yellow card replaced by 76 minutes), Marlos, Kovalenko (replaced by 89 minutes).
The rest of Round 3 matches will take place on Saturday and Sunday.
3 round
Shakhtar 1-0 Dynamo 0-0 (XNUMX-XNUMX)
Goal: Verbich (64).
Dynamo: Boyko, Morozyuk, Burda, Kadar, Kendzhora, Shepelev (Garmash, 62), Sidorchuk (k) (Andrievsky, 73), Buyalsky (Che Che, 84), Verbich, Tsygankov, Besedin.
Substitutions: Buschan, Sidkley, Shabanov, Rusyn.
Head coach: Alexander Khatskevich.
Shakhtar: Pyatov, Danchenko, Khocholava, Rakitsky, Ismail, Stepanenko (Fernando, 76), Alan Patrick, Tyson (k) (Totovitsky, 84), Marlos, Kovalenko (Maicon, 89), Moraes.
Substitutions: Shevchenko, Butko, Matvienko, Wellington Nem.
Head coach: Paulo Fonseca.
Referee: Y.Mozharovsky (Lviv).
Booked: Buyalsky (57) - Khocholava (30), Ismailly (51), Stepanenko (56).
August 3. Kiev. NSC "Olympic". 46 475 spectators.
Standings
| | | | | | | | |
| --- | --- | --- | --- | --- | --- | --- | --- |
|   |   | G | W | D | L | GD | О |
| 1. | Dynamo | 3 | 3 | 0 | 0 | 3—0 | 9 |
| 2. | Shakhtar | 3 | 2 | 0 | 1 | 5—1 | 6 |
| 3. | Oleksandriya | 2 | 2 | 0 | 0 | 3—0 | 6 |
| 4. | Desna | 2 | 1 | 0 | 1 | 4—3 | 3 |
| 5. | Lviv | 2 | 1 | 0 | 1 | 2—1 | 3 |
| 6. | Chornomorets | 2 | 1 | 0 | 1 | 2—2 | 3 |
| 7. | Zorya | 2 | 1 | 0 | 1 | 2—2 | 3 |
| 8. | Olimpik | 2 | 1 | 0 | 1 | 2—2 | 3 |
| 9. | Karpaty | 2 | 1 | 0 | 1 | 1—2 | 3 |
| 10. | Vorskla | 2 | 0 | 0 | 2 | 0—2 | 0 |
| 11. | Mariupol | 2 | 0 | 0 | 2 | 2—6 | 0 |
| 12. | Arsenal-Kiev | 2 | 0 | 0 | 2 | 0—5 | 0 |