Europa League. Zorya starts playing in a draw with Braga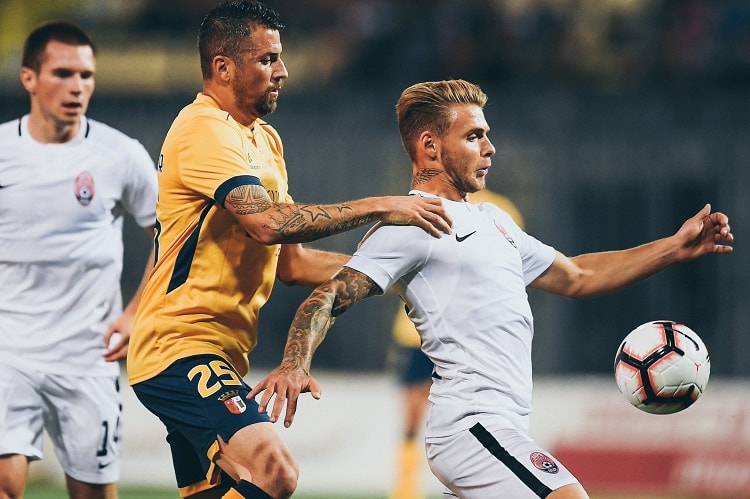 The start of the European Cup season brought conflicting emotions to Lugansk's Dawn. In Zaporizhzhya the team of Yuri Vernidub long could not pick up the keys to the gate of the relentless Portuguese "Braga", the first missed, but found the strength to play.
Both teams started the match pretty carefully, the first half went without a lot of moments. The Luhansk players who came closest to success were Timchyk, who dangerously beat his head after a free kick, but the Braga goalkeeper played a reliable game in this episode.
With 35 minutes played, the home side managed to get a 21 - XNUMX lead as he broke through on the left. XNUMX-year-old Brazilian Luis Filipe, who played his first duel for the main line-up of Luhansk, beat Ricardo Horta, who went out with him on his own. By the way, another debutant in the "Dawn" was Bogdan Mikhailchenko.
In the 57th minute, only a crossbar saved Lugans after a shot by Ricardo Horta. And shortly after, the 21st issue of Bragi still came to fruition. After firing from the flank, he met the ball on the far post and hit it hard. Dawn took three minutes to play. The home team captain, Ukrainian national footballer Oleksandr Karavayev successfully caught the ball on his foot in Braga's penalty box and struck a fine 1: 1 shot from the fly.
Europa League
Third qualifying round. The first match
Zorya (Ukraine) - Braga (Portugal) - 1: 1 (0: 0)
Goals: Caravayev (72) - Ricardo Horta (69).
"Star": Louis Filipe, Svatak, Kharatin, Khomchenovsky, Mykhailychenko, Vernidub, Ladnev (Kochergin, 71), Timchyk, Karavayev (k), Rafael (Kabayev, 73), Silas (Gordienko, 65).
"Grout": Matheus, Nuno Sequeira, Wilson Eduardo (Diego Sousa, 77), João Novice (Ricardo, 89), Ricardo Horta (Fabio Martins, 89), Claudemir, Franzergio, Raul Silva, Bruno Viana, Ricardo Esgay, Marcelo Goya.
The match will take place in Braga on August 16.