Premier League: Shakhtar smash Vorskla despite first-half failure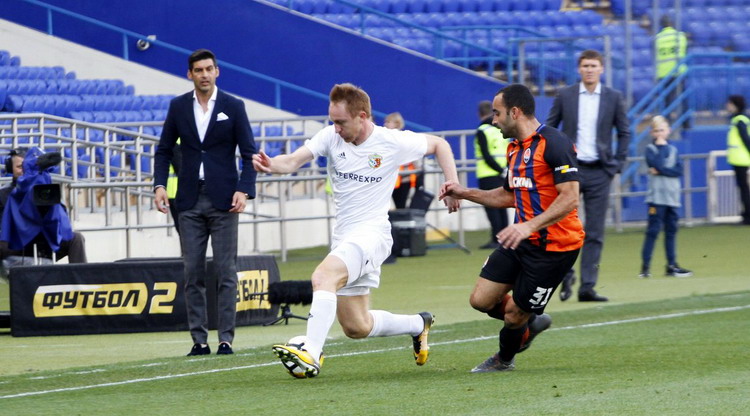 The central match of the 4th round of Prem'yer-leagues. In Kharkov met the champion and bronze medalist of the last championship, the clubs-participants of group tournaments of European Cups this season.
Vorskla came into play in a significantly weakened lineup: for a number of reasons, eight major performers were unable to take part in the match at once. The audience also saw the innovation from Paulo Fonseca - among the first 11 of the Pitmen appeared an infrequent guest at the base of Wellington Nem, while in the reserve held a duel of the Ukrainian national team Viktor Kovalenko.
Despite the staffing difficulties, the Poltava team was able to shock the champion in the first half. Suppressing the Donetsk attack, the guests of USC Metalist played a great corner. The child filed, and Sharpar on the far post successfully selected the position and struck a head in the far corner to counter Pyatov.
Shakhtar did not act as sharply as usual in the attack (only four shots on goal in the first half). However, moments about Shust's possessions arose, but Bogdan caught the courage, and five minutes before the break he was secured by a stable.
But after the break, the course of the match changed quite quickly. Marlos played a wall with Tyson at the entrance to Vorskla's penalty area and rolled the ball past Shust. 1: 1. Then, the failure of the Poltava defense took advantage of Stepanenko, who, together with Moraes, went to the lone Shust. In the end of a terrible 12-minute goal, Khocholava scored after a corner, getting a pass from Alan Patrick. Mined demoralized white-green Moraes, assisted by Tyson.
Shakhtar were represented in the game by four players of the Ukrainian national team, who were called up for the last game: Pyatov, Rakitsky, Stepanenko (goal, yellow card), Marlos (goal).
4 round
10.08.2018
Olimpik - Lviv 1-1 (0-0)
11.08.2018
Shakhtar vs Vorskla 4: 1 (0: 1)
Goals: Marlos (50), Stepanenko (59), Khocholava (62), Moraes (74) - Sharpar (25).
12.08.2018
"Carpathians" - "Dawn". 17.00
Alexandria - Arsenal-Kyiv. 17.00
Chernomorets - Desna. 19.30pm
26.09.2018
Mariupol - Dynamo
Standings
| | | | | | | | |
| --- | --- | --- | --- | --- | --- | --- | --- |
|   |   | G | W | D | L | GD | О |
| 1. | Dynamo | 3 | 3 | 0 | 0 | 3—0 | 9 |
| 2. | Oleksandriya | 3 | 3 | 0 | 0 | 5—0 | 9 |
| 3. | Shakhtar | 4 | 3 | 0 | 1 | 9—2 | 9 |
| 4. | Olimpik | 4 | 1 | 2 | 1 | 5—5 | 5 |
| 5. | Karpaty | 3 | 1 | 1 | 1 | 3—4 | 4 |
| 6. | Zorya | 3 | 1 | 1 | 1 | 3—3 | 4 |
| 7. | Chornomorets | 3 | 1 | 1 | 1 | 3—3 | 4 |
| 8. | Lviv | 4 | 1 | 1 | 2 | 3—3 | 4 |
| 9. | Desna | 3 | 1 | 0 | 2 | 4—5 | 3 |
| 10. | Vorskla | 4 | 1 | 0 | 3 | 2—6 | 3 |
| 11. | Mariupol | 3 | 1 | 0 | 2 | 4—7 | 3 |
| 12. | Arsenal-Kiev | 3 | 0 | 0 | 3 | 1—7 | 0 |