Champions League: Dynamo conceded to Ajax and complicated the situation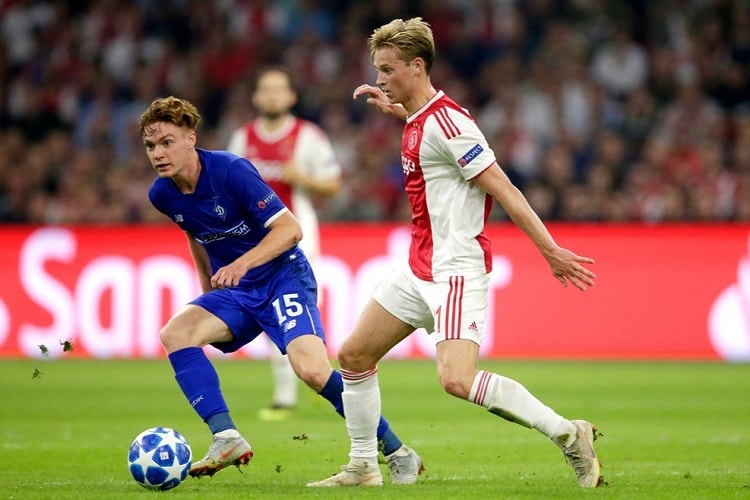 The first match of the playoff round of the Champions League with "Ajax" was unsuccessful for "Dynamo". Kyiv did not have time to quickly move the players of the Dutch club, eventually allowing the opponent to create a good reserve on the eve of the return match in Kiev.
Before the game with Ajax in seven matches of the current season, Dynamo conceded only one goal. But in Amsterdam, the defense of Kiev failed in the second minute. Zieh found Tadic in the visitors' penalty area with a pass from the flank, and he threw the ball under the blow of de Beck. 1: 0. All this combination was surprisingly easy for the hosts, without visible opposition from rivals.
It didn't take long for the white and blues to play back. The third in a row corner at the gate of the hosts ended in a goal. Kadar scored after Tsygankov's pass, Onana hit Kendzor, who sent the ball to the net from close range. 1: 1.
Before the break, Kyiv, although they counterattacked several times, did not finish any of them with a dangerous blow, instead the Dutch acted much sharper. Zieh was helped to score a goal by a ricochet from Kadar's head, and Tadic shot Boyko's goal close - another blunder by the White and Blues' defense.
In the second half, Ajax players acted on the scoreboard, without forcing events. But even with such a game, the hosts had a chance to score more - twice the ball hit the frame of Boyko's goal.
Candidates for the national team of Ukraine - Boyko, Burda, Garmash (yellow card, replaced in the 46th minute), Sidorchuk (replaced in the 77th minute), Buyalsky, Tsygankov, Besedin, Shepelev (came on as a substitute) took part in the game. on the 46th minute).
Champions League. Playoff round. The first match
Ajax (Netherlands) - Dynamo (Ukraine) - 3: 1 (3: 1)
Goals: de Beck (2), Zieh (35), Tadic (43) - Kendzora (16).
Ajax: Onan, Mazraui, where Ligt (k), Blind, Tagliafiko, Schoen, de Jong, de Beck (D. de Wit, 87), Zieh, Tadic, Huntelaar.
Substitutions: Lambroux, Nissen, Weber, Eating, Labiad, Jonsen.
Head coach: Eric Ten Hag.
Dynamo: Boyko, Kendzora, Burda, Kadar, Pivarich, Garmash (Shepelev, 46), Sidorchuk (k) (Che Che, 77), Buyalsky, Tsygankov, Verbich, Besedin.
Substitutions: Buschan, Morozyuk, Sidkley, Shabanov, Rusyn.
Head coach: Alexander Khatskevich.
Referee: Clément Turpin (France).
Booked: Huntelaar (21), Taliafico (70) - Kendzora (24), Garmash (38).
August 22nd. Amsterdam. Johan Cruyff Arena. 53 spectators.
The match will take place on August 28.