Premier League: Dynamo missed the championship for the first time and lost points for the first time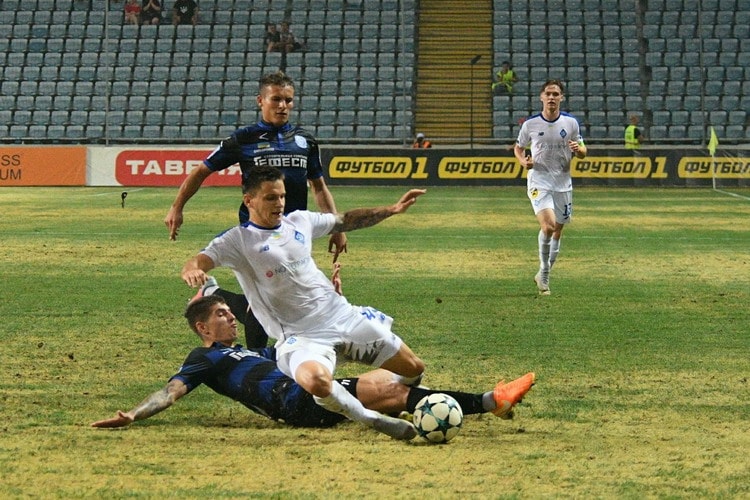 There were two championships of Ukraine. Oleksandriya defeated Vorskla thanks to Yevgeny Banada's double and became one of the leaders, while Dynamo in Odessa failed to beat Chernomorets in the "lightweight" squad.
For Dynamo, returning to the Odessa stadium, where Kiev had recently defeated Shakhtar in a Super Cup match of Ukraine, turned out to be fun. Between the two Ajax matches in the Champions League qualification, it was not surprising that Alexander Khatskevich's decision to resort to a massive rotation of performers. He made his debut for Dynamo's first team Sidkley, and players who do not belong to the "base" players - Morozyuk, Shabanov, Mykolenko, Che Che, Andriyevsky and Rusyn - also appeared on the field. In the second half, two more debuts took place in Kiev, with Bueno and Supryag replaced.
Dinamo did not manage to get to the goal of the hosts for a long time, they looked pale in attack. But in the second half, after entering the field of Verbich, things went more fun, and shortly after Shabanov found Rusin diagonally in the penalty area of ​​the hosts. The young striker of Dynamo, ahead of Chernomorets defender Grachev, hit his head.
But then Grachev went to the curtain of the meeting, after a corner also a blow to the head evening the score. Dynamo missed in the current championship for the first time and suffered the first loss of points.
Candidates for the national team of Ukraine took part in the game of Kiev: Boyko, Burda, Shabanov (goal), Tsygankov (replaced by 64 minutes), Shepelev.
6 round
24.08.2018
Shakhtar 2-5 Olimpik - 1: 4
25.08.2018
Oleksandriya - Vorskla - 2-0 (2-0)
Goals: Banada (15, 17).
Chernomorets - Dynamo - 1: 1 (0: 0)
Goals: Grachev (84) - Rusin (60).
26.08.2018
"Mariupol" - "Lviv" 19.30
"Carpathians" - "Arsenal-Kiev" 19.30
"Dawn" - "Desna" 19.30
Standings
| | | | | | | | |
| --- | --- | --- | --- | --- | --- | --- | --- |
|   |   | G | W | D | L | GD | О |
| 1. | Shakhtar | 6 | 5 | 0 | 1 | 16—4 | 15 |
| 2. | Oleksandriya | 6 | 5 | 0 | 1 | 8—1 | 15 |
| 3. | Dynamo | 5 | 4 | 1 | 0 | 5—1 | 13 |
| 4. | Chornomorets | 6 | 2 | 3 | 1 | 6—5 | 9 |
| 5. | Zorya | 5 | 2 | 2 | 1 | 4—3 | 8 |
| 6. | Olimpik | 6 | 1 | 3 | 2 | 7—10 | 6 |
| 7. | Vorskla | 6 | 2 | 0 | 4 | 4—9 | 6 |
| 8. | Karpaty | 5 | 1 | 2 | 2 | 5—7 | 5 |
| 9. | Desna | 5 | 1 | 1 | 3 | 6—8 | 4 |
| 10. | Lviv | 5 | 1 | 1 | 3 | 3—5 | 4 |
| 11. | Mariupol | 4 | 1 | 0 | 3 | 5—9 | 3 |
| 12. | Arsenal-Kiev | 5 | 0 | 1 | 4 | 2—9 | 1 |