Dynamo failed to pass Ajax and will now play in the Europa League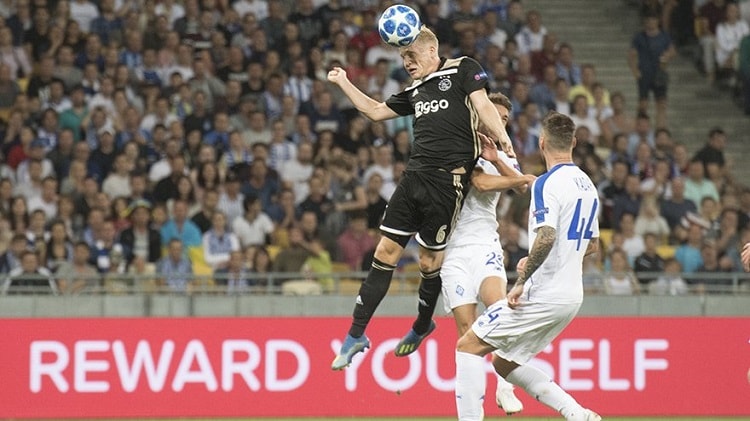 In the second match with Ajax, Alexander Khatskevich's ward needed to win, with a difference of at least two goals. However, given the number of moments at the gates of both teams, it was the Dutch who were closer to victory.
As part of the Kiev attracted attention to the appearance of the position of forward Vladislav Supryagi. The striker of the U-19 youth team for the first time entered the starting squad of a new team.
The Dynamo players seemed somewhat slow, but by the fifth minute had created the first moment when Tsygankov made a sharp pass to the penalty area and Verbich turned the ball one touch in the direction of the top corner of the goal. Ajax saved only a desperate jump from the goalkeeper.
Soon guests had every chance to lead the account. The referee sent a penalty kick to the keeper of Kiev for a foul of Kendzori, who pulled de Ligta for a T-shirt. The 11-meter mark was struck by Tadic, who hit the post.
Subsequently, the game was under the control of Ajax players, who did not allow Kiev to do almost anything in the attack, but instead regularly harassed Boyko, who in several episodes proved to be the best. And in the 55th minute, the Dynamo goalkeeper secured the goal for the second time - Zieh struck a free kick into the crossbar. After spending a few more wonderful occasions, the guests were satisfied with the draw. Vice-champions of Ukraine will continue their performances already in the Europa League.
In the Dynamo the players of the national team of Ukraine took part in the game: Boyko, Burda, Sidorchuk (yellow card, replaced in the 64th minute), Buyalsky (replaced in the 85th minute), Tsygankov, Shepelev (replaced by the 46th) minutes).
Champions League. Playoff round. Match answer
Dynamo (Ukraine) - Ajax (Netherlands) - 0: 0
14 minutes into the match, Tadic missed a penalty.
Dynamo: Boyko, Kendzhora, Burda, Kadar, Pivarich, Sidorchuk (k) (Shaparenko, 64), Buyalsky (Rusin, 85), Tsygankov, Verbich, Shepelev (Garmash, 46), Spyryaga.
Substitutions: Buschan, Che Che, Morozyuk, Shabanov.
Head coach: Alexander Khatskevich.
Ajax: Onan, Masraui, where Ligt (k), Blind, Weber (Eating, 79), where Beck (D. de Wit, 84), Schoen, de Jong, Zieh, Tadic, Huntelaar.
Substitutions: Lambroux, Nissen, Neres, Labiad, Bakker.
Head coach: Eric Ten Hag.
Referee: Damir Skomina (Slovenia).
Booked: Kendzora (14), Sidorchuk (54), Shaparenko (71) - Zieh (34), Tadich (85).
August 28. Kiev. NSC Olimpiiskyi
Debut - 1: 3.
The draw of the group stage of the Europa League, in which Dynamo will participate, will take place on August 31.