Premier League: Dynamo unexpectedly lost to Carpathians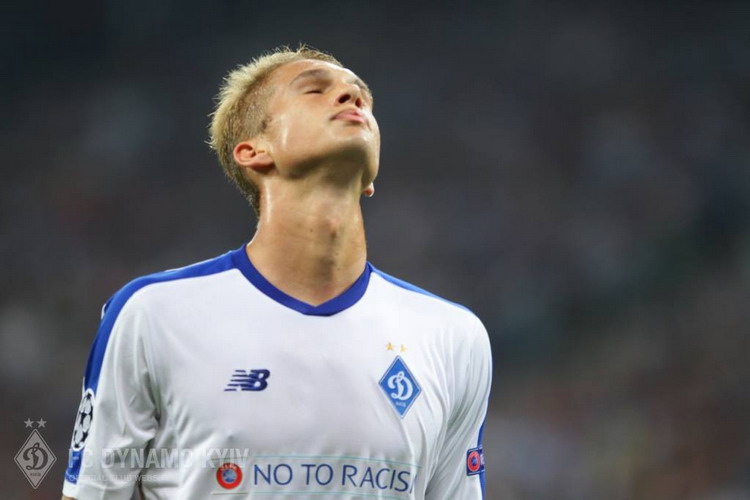 On Sunday, four matches took place, ending the seventh round of the Ukrainian Championship. After failed to make it to the Champions League "Dynamo" also failed in the domestic arena - Kiev were home defeated by "Carpathians".
Compared to the game against Ajax, in the composition of white and blue there were changes - in the start appeared Shaparenko and Che Che. For the second time in a row, 11-year-old Spouse came out among the first 18. And already in the 2nd minute the forward of the youth team of Ukraine was close to scoring his first ball for Dynamo, but from a close distance he hit the post.
Then the Lvivites recovered and carried out some sharp counterattack. The danger after hitting Karraskal Boyko eliminated the shot, but when the Swede turned into a shot by Myakushko, the keeper of Kiev was powerless. The resultant loss of guests began with the incomprehensible pruning of Verbich. And before the break the Swede drew a double, easily beating Kadar in the penalty area and striking in the far corner from the middle distance.
In the 55th minute, Lviv remained in the minority after Megremich received a second yellow card. Dynamo pressed the visitors to the goal, creating moment by moment, but the Lviv goalkeeper Kuchinsky worked great. And after the blows Sidley and Tsigankov hit the ball into the frame. Kiev first lost in the championship, and the Portuguese Carpathian coach Jose Morais won his first victory in Ukraine.
For Dynamo players played for the upcoming gathering of the national team of Ukraine: Boyko, Burda, Tsygankov, Buyalsky.
But Dawn, it seems, quickly recovered after Eurocup failures. Today, the Lugansk team beat the Arsenal-Kiev away very confidently. The player of the national team of Ukraine Alexander Karavaev played the whole match, scored the ball and gave the goal.
For the second time in the season, she lost points to Alexandria. The first half in Lviv wards of Vladimir Sharan failed, allowing the Brazilian duo of FC "Lviv", Bruno and Taylor to score on the ball. But in the second half the guests managed to play and continue their stay among the leaders. Lviv still cannot win in its own field ...
He also cannot please his fans with the home-brawl of Desna. Today Chernihiv conceded to Olimpik, allowing the opponent to interrupt a series of four matches without a win.
7 round
31.08.2018
Vorskla - Chernomorets 2-1 (0-0)
01.09.2018
Shakhtar vs Mariupol 2-0 (1-0)
02.09.2018
Desna - Olympic - 0: 1 (0: 0)
Goal: Bilonog (54).
After 76 minutes excluded Hitchenko ("D").
"Lviv" - "Alexandria" - 2: 2 (2: 0)
Goals: Bruno (8), Taylor (21) - Gritsuk (54), Sitalo (83).
Arsenal-Kyiv - Zorya 0: 5 (0: 3)
Goals: Karavayev (5), Khomchenovsky (13, 69), Rafael (43), Lednev (51).
Dynamo vs Carpathians 0-2 (0-2)
Goals: Swede (17, 45).
After 55 minutes excluded Megremich ("K").
Standings
| | | | | | | | |
| --- | --- | --- | --- | --- | --- | --- | --- |
|   |   | G | W | D | L | GD | О |
| 1. | Shakhtar | 7 | 6 | 0 | 1 | 18—4 | 18 |
| 2. | Oleksandriya | 7 | 5 | 1 | 1 | 10—3 | 16 |
| 3. | Dynamo | 6 | 4 | 1 | 1 | 5—3 | 13 |
| 4. | Zorya | 7 | 3 | 2 | 2 | 9—5 | 11 |
| 5. | Vorskla | 7 | 3 | 0 | 4 | 6—10 | 9 |
| 6. | Chornomorets | 7 | 2 | 3 | 2 | 7—7 | 9 |
| 7. | Olimpik | 7 | 2 | 3 | 2 | 8—10 | 9 |
| 8. | Karpaty | 7 | 2 | 2 | 3 | 8—9 | 8 |
| 9. | Desna | 7 | 2 | 1 | 4 | 8—9 | 7 |
| 10. | Lviv | 7 | 1 | 3 | 3 | 7—9 | 6 |
| 11. | Mariupol | 6 | 1 | 1 | 4 | 7—13 | 4 |
| 12. | Arsenal-Kiev | 7 | 1 | 1 | 5 | 4—15 | 4 |