Yevhen Varenytsa: "Maximum task for the national team of Ukraine in the Euroleague Super Finals - getting to the top three"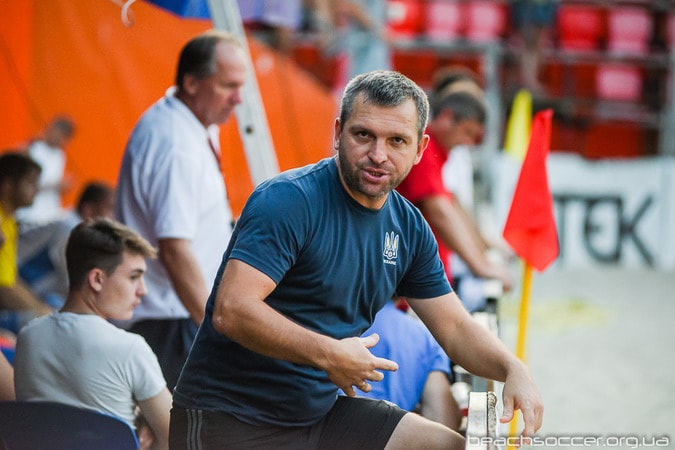 The Beach Soccer Team of Ukraine has completed preparations for the 2018 Euroleague Super Final, which will take place on September 6-9 in the Italian city of Alghero. Team mentor Eugene Varenytsa spoke about preparing for a responsible tournament.
- What are the challenges facing Ukraine in the Euroleague Super Final?
- The minimum task is to get to the European Games, which will be held in Minsk next year. To do this, you need to take a seat at least sixth. The maximum task for our team is entering the top three competitions.
- Are you satisfied with the preparation for the tournament?
- To be honest, not all one hundred percent. On the eve of a very important competition, the Ukrainian national team was not able to gather in full. There are, of course, objective reasons for this.
Two leaders do not leave the national team. This is the team captain Igor Borsuk and the top scorer Alexander Korniychuk. They began the preparatory stage for the Futsal Championship of Ukraine, and we were unable to attract them. This season has shown that we have a completely different team with them. So there are some experiences and a taste of bitterness. However, all the other performers we counted on joined the national team.
- What are your impressions after the last control match?
- So far, there is no such play and understanding between the players we are counting on. There are many disadvantages that we need to remedy as much as possible in the days we have left. Today we have worked well and tomorrow we will have a full training in Italy. We hope to do everything we can. We do not lower our heads in any case, we will fight in every duel.
- What do you know about your rivals?
- Russia and Italy are ranked fourth and fifth in the world rankings, respectively. Belarusians are 24. With all these teams we have already played, fought with them in various tournaments. Belarus and Italy were victorious, and Russia conceded twice in the main and extra time. This is one of the best teams in the world, so there's nothing special to add. The first match we play with her, we will fight and give our best. All teams are top, they can beat anyone.
On Wednesday at five in the morning the Ukrainian national team headed for Sardinia, where it will hold an evening training. The Euroleague Super Final will start on Thursday, September 6th. The schedule for our Group 2 games is as follows:
06.09.2018. Ukraine - Russia (16.15)
07.09.2018. Ukraine - Belarus (16.15)
08.09.2018. Italy - Ukraine (18.45)
In group 1 will play Portugal, Spain, Switzerland and Azerbaijan. The Euroleague final will take place on September 9th.