Oleg Protasov: "New football stars of Ukraine will grow on the updated fields of the Champion School"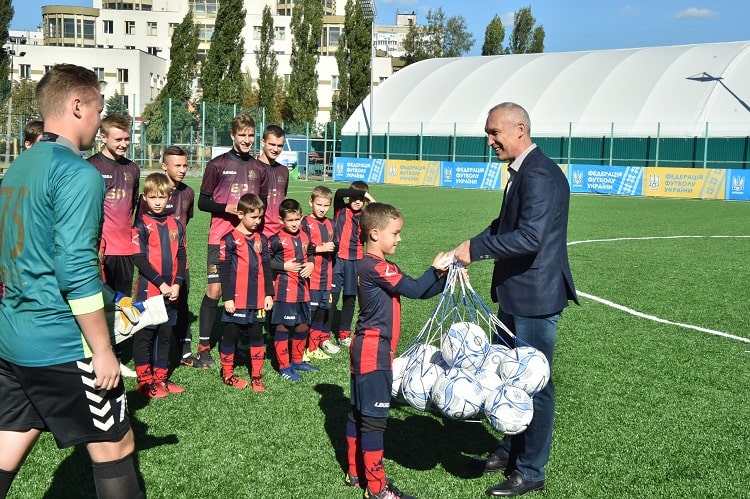 Today, on the 26th of September, after the capital reconstruction, the grand opening of the sports complex and new football fields of the Champion Junior Sports School took place.
Honorary guests - First Vice-President of the Football Federation of Ukraine Oleg Protasov, Director of the Department of Youth and Sports of Kyiv Vadim Guttsayt, Member of the Kyiv City Council, Chairman of the Women's Wing of the Council, initiator of the pilot project of the Women's Football Division Natalia Maslova, Deputy of the Kyiv City Council , President of the Ukrainian Association for the Development of Children's and Youth's Football Volodymyr Vasylenko, Secretary General of the All-Ukrainian Association of Football Coaches Anatoliy Buznik and Director of the CHAMP "Champion" Wad im Panchenko.
Photo by Pavlo Kubanov
Reconstruction of this sports complex took about a year, and now there are all conditions for training and football for children - boys and girls, and for adults. In particular, the main football field, 95 by 65 meters, is lined with modern artificial turf, and a grandstand for fans is erected nearby. There are also indoor football facilities on site.
According to Oleg Protasov, the renovation of the complex will contribute to the development and popularization of football both in the area where it is located (Verbitsky Street, 23) and throughout Kyiv. "In my childhood, we could not even dream of such training conditions. Just stepping on the edge of this field, you feel an extra burst of energy and a desire to play football, hone your skills and take part in tournaments! Undoubtedly, new football stars of Ukraine will grow on the updated fields of the Champion. I wish the kid, who is engaged in the CHSS "Champion", a successful sports career and great football victories! " - the first vice-president of the FFU addressed the students of the football school present at the ceremony.
Photo by Pavlo Kubanov
After the symbolic cutting of the ribbon, the children received presents from the Football Federation of Ukraine - brand new balls, which they were able to immediately experience in their training. Also, students of the school took a joint photo with the guests and were able to enjoy the game of senior comrades - teams U-19 - debutant of the championship of Ukraine team "Kyiv Champions" and FC "Lubomir" from the village. Attitude, who participated in the match of the third round of competitions on the updated field of "Champion". The Federation of Football of Ukraine plans to hold master classes with the participation of football veterans for children on the basis of the sports complex, as well as to invite coaches of the school to master classes at the National Bank named after V.Bannikov.
Photo by Pavlo Kubanov