U-17: Ukraine's national team wins first place in Euro 2019 elite round!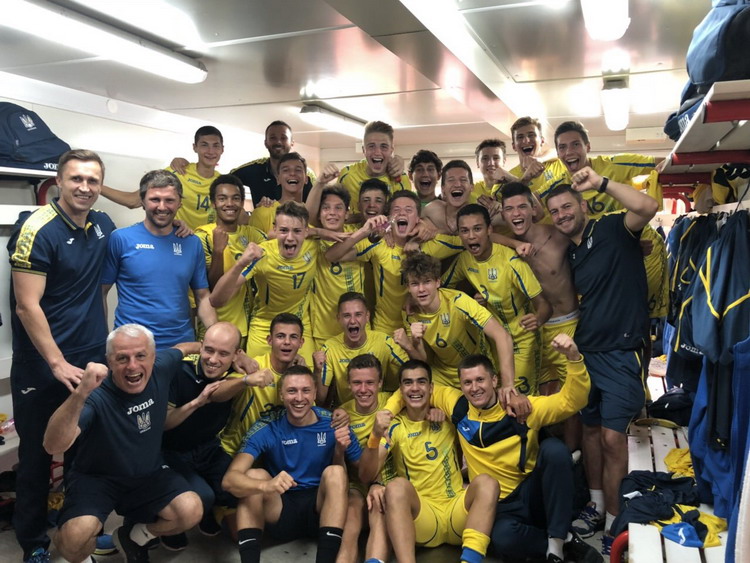 In a difficult match, the Blue and Yellows won in Bosnia and Herzegovina and will now play in the next round of qualifying for the European Championships in the spring.
In the last round of the qualifying round of Euro-2019, the youth national team of Ukraine U-17 in a duel with the hosts of the tournament, the Bosnians, was satisfied with a draw. However, the blue and yellows did not press close to their own goal, and in the 13th minute the referee awarded a penalty for a foul against Goncharuk. It was clearly realized by the best scorer of the Ukrainian national team at these competitions (four goals), Shakhtar Donetsk midfielder Georgy Sudakov. And in the 29th minute, the striker of the German "Nuremberg" Eric Shuranov doubled the advantage of the Ukrainians. However, the blue and yellows could not leave their gates at the castle. Already in the time added to the first half, Yusupovich scored.
In the second half, the Ukrainian team again separated from the opponent by two goals. Shuranov also scored his fourth goal in the tournament. However, the hosts thanks to the penalty again managed to reduce the gap to a minimum. However, the Ukrainian national team did not allow its opponent to make a bigger one. Moreover, Bosnia and Herzegovina finished the match in the minority ...
This win allowed the blue and yellows to reach the 2019 Euro XNUMX elite round next spring.
Euro 2019 (U-17). Qualifying round. Group 2
10.10.2018
Iceland - Ukraine - 2: 2
Bosnia and Herzegovina - Gibraltar - 8: 0
13.10.2018
Ukraine - Gibraltar - 11: 0
Bosnia and Herzegovina - Iceland - 1: 1
16.10.2018
Gibraltar - Iceland - 0: 8
Ukraine - Bosnia and Herzegovina - 3: 2 (2: 1)
Goals: Sudakov (13, from the penalty spot), Shuranov (29, 68) - Yusupovich (45 + 1), Durakovich (74, from the penalty spot).
Ukraine: Turbaevsky, Skorny, Zabarny, Ovcharenko (k), Emery, Brazhko, Sudakov (Vanat, 66), Kobilyansky (Egbudzhuo, 76), Bliznichenko (Solovyov, 85), Goncharuk (Kobak, 75), Shuranov (Vyunnik, 85 ).
Bosnia and Herzegovina: Cetkovic, Dedic, Bobaric, Durakovic (k), Drina, Drle (Zhivkovich, 73), Vintoni (Mujanovic, 55), Yusupovich, Kecanovich (Boshnyak, 46), Jovic (Gasal, 55), Beca (Shuvalia, 73).
Booked: Kecanovic (18), Bobaric (31), Durakovic (58).
Sent off: Bobarich (89, second warning).
Standings
| | | | | | | |
| --- | --- | --- | --- | --- | --- | --- |
| | G | W | D | L | GD | P |
| 1.UKRAINE | 3 | 2 | 1 | 0 | 16-4 | 7 |
| 2.IELAND | 3 | 1 | 2 | 0 | 11-3 | 5 |
| 3. Bosnia and Herzegovina | 3 | 1 | 1 | 1 | 11-4 | 4 |
| 4. Gibraltar | 3 | 0 | 0 | 3 | 0-27 | 0 |