Third Charity Cup of Defenders Cup held in Kyiv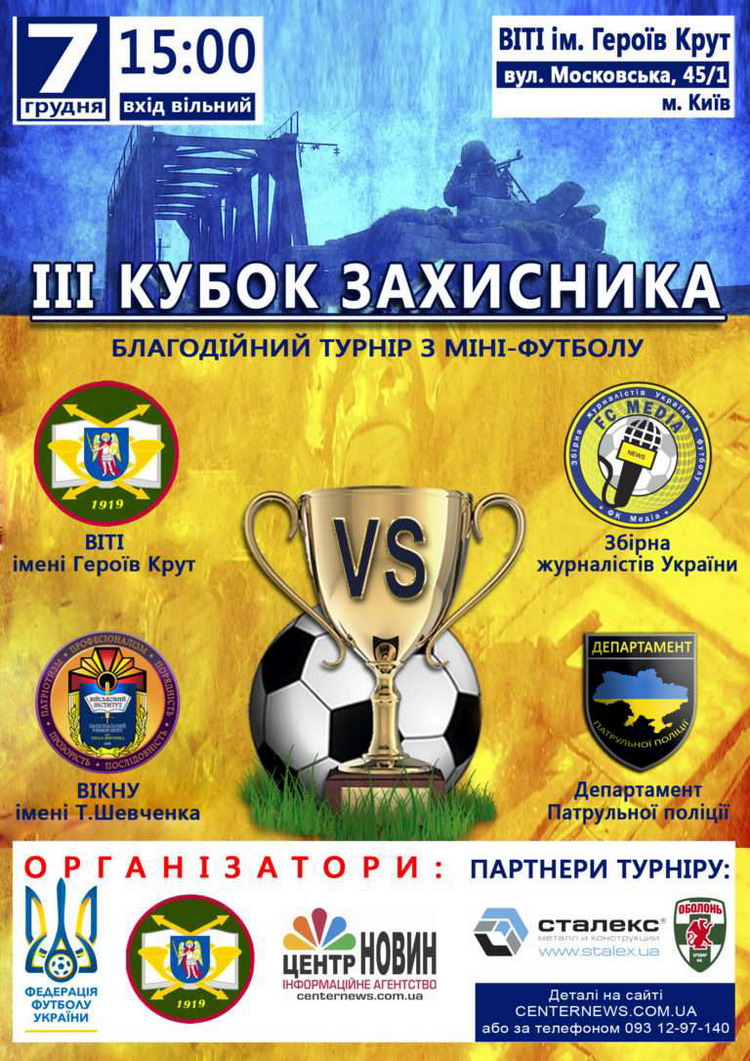 On December 7, on the occasion of the Armed Forces Day of Ukraine, the third charity tournament in mini-football "Defender Cup" will be held (beginning - at 15.00).
It will be attended by a team of the Military Institute of Telecommunications and Informatics. Heroes Krut, team of the Military Institute of KNU them. TG Shevchenko, a team of journalists of Ukraine and a team of the Patrol Police Department.
Organizers: Football Federation of Ukraine, Military Institute of Telecommunications and Informatics. Heroes Krut and IA "News Center".
The main purpose of the charity tournament: implementation of social initiatives aimed at the rehabilitation of servicemen who protect the integrity of Ukraine in the war zone in the east of our country.
Venue: Kyiv, str. Moscow, 45/1. Media accreditation by calling 093 129 71 40 or [Email protected]
Certificate: Defender Cup is an annual tournament that brings together military, anti-terrorist, politicians and journalists to help displaced children from eastern Ukraine.
On October 22, 2016 the first charity football tournament "Defender Cup" was held at Lokomotiv Stadium. In the finals in the penalty shootout, the journalist team gave way to the Dnipro-1 regiment, which won the Defender's Cup 2016.
On June 24, 2017, the Defender Super Cup was held between the winner of the ATO League Cup, FC Zenit (Zolotonosha) and the winner of the Defender Cup 2016 - the Dnipro-1 regiment team (Dnipro). The Defender Super Cup was won by a team from the city of Zolotonosha.
On October 20, 2017, the second Defender Cup football tournament took place, with six teams participating. In the finals with the minimum score, the Air Force command defeated FC Presidential Regiment.
Partners and sponsors of the tournament: Stalex Group of Companies and Obolon Corporation and Obolon-Brovar FC.
On the occasion of the Armed Forces Day ...
The Football Federation of Ukraine received ...