All Futsal Ukraine's opponents in the main round of the 2020 FIFA World Cup determined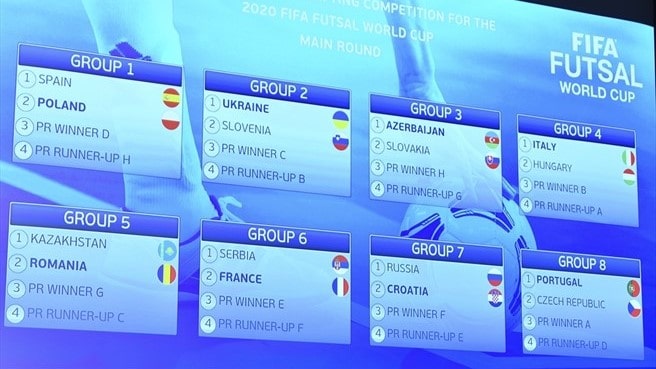 From January 29 to February 3, the qualifying rounds for the 2020 World Cup qualifying round continued. Rivals of our national team were determined in Macedonian Skopje and in Minsk Minsk.
Group B came to Ukraine with the Kosovo team, which finished second in the quartet with Belarus, Norway and Andorra. The winner of Group C was Macedonia, which bypassed Albania, Greece and San Marino.
Ukraine's national team thanks to its high rating got to the main round of selection directly. The Blue and Yellows will host Slovenia, Macedonia and Kosovo at their site October 22-27 this year.
The main round
Group 1: Spain, Poland, Georgia, Finland.
Group 2: Ukraine, Slovenia, Macedonia, Kosovo.
Group 3: Azerbaijan, Slovakia, Moldova, Montenegro.
Group 4: Italy, Hungary, Belarus, England.
Group 5: Kazakhstan, Romania, Holland, Albania.
Group 6: Serbia, France, Belgium, Switzerland.
Group 7: Russia, Croatia, Bosnia and Herzegovina, Sweden.
Group 8: Portugal, Czech Republic, Latvia, Germany.
The main rounds for the 2020 World Cup will be held in Poland, Ukraine, Azerbaijan, Italy, Romania, France, Croatia and Portugal. The first and second teams of each group will make it to the elite round.
In the next selection phase, the 16 national teams will be divided into four quartets on November 7, 2019, the winners of which will go directly to the World Cup. Elite round matches will be held on January 28 - February 2, 2020. Teams that will take second place in the groups will go to the playoffs, which will play two more tours of the mundial. Butt matches are scheduled for April 9th ​​and April 12th, 2020.
Thus, six European selection teams will join the World Cup in Lithuania, which will host the World Forum on September 12 - October 4, 2020.
We will also add that AFC (Asia) will be able to send five teams to the 2020 World Cup, CAF (Africa) - three, CONCACAF (North and Central America) - four, CONMEBOL (South America) - four, OFK (Oceania) - one. In total, 24 teams will take part in the World Championship.