Ukrainian Cup. Dnipro-1 will play in the semifinals of the tournament for the second time in a row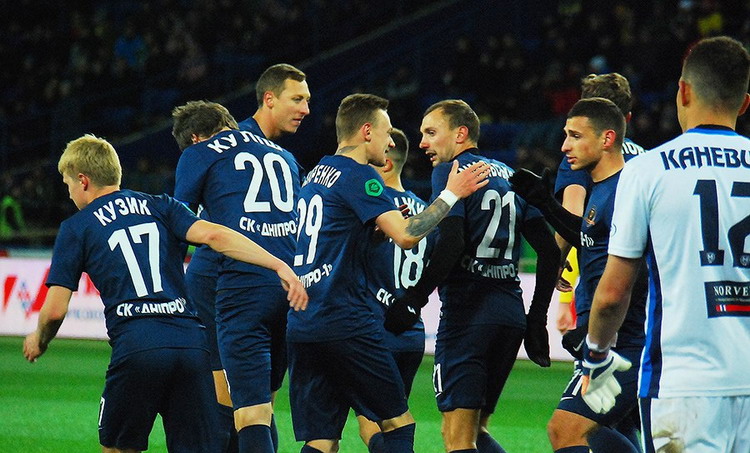 Dmitry Mykhaylenko's wards in the match of 1/4 finals of the Cup of Ukraine defeated Poltava Vorskla thanks to two late goals.
Determining the favorite of this match was difficult. Vorskla has not won any official matches this year. In addition, the Poltava recently changed coach - and the first match under the leadership of Vitaliy Kosovsky lost. Dnipro is the leader in the first league and has a great chance of promotion in the class.
On the eve of the match, both teams had personnel losses. Dnipro-1 could not count on Sergiy Kravchenko and Nazarenko, while Vorskla did not count on Vasin, Yakub and Dmitry Kravchenko. We will add that Dmitry Mikhailenko gave the opportunity to make his debut as a part of the team to 17-year-old Ukrainian national team player Arseniy Batagov.
Rivals carefully started the fight, and almost hit the goal. Poltava tried to use the standards, while the Dnieper emphasized the speed of their young performers.
During the break, the number of moments increased significantly. The hosts regularly shut down opponents in their half, but could not bring their attack to a decisive blow. In the green-green was active Saky, who fired several good shots.
In general, the Dnieper continued to take the lead, and in the end the defense of Vorskla failed. After 78 minutes, after a shot from the left corner, Tkachenko knocked the ball straight to Kulish's leg, and he easily opened the score. Soon the advantage of his team was doubled by Kohut, who completed the counterattack. As a result, Dnipro-1 made it to the semifinals of the tournament for the second time in a row.
Ukrainian Cup. 1/4 finals
Dnipro-1 (Dnipro) - Vorskla (Poltava) - 2: 0 (0: 0)
Goals: Koulish (78), Kohut (83).
Dnipro-1: Yurchuk, Romanyuk, Lopyryonok, Loginov (k), Field, Batagov (General, 73), Snizhko (Ochigova, 86), Kohut, Chichikov (Shapoval, 61), Kulish, Kuzik. Bench: Klitschuk, Chebotayev, Belyaev, Kozhushko. Trainer: Dmitry Mikhailenko.
Vorskla: Tkachenko, Perdut, Sklyar, Gabelok, Sharpar (Petrovich, 81), Mores da Cruz (Kolomoets, 65), Chesnakov (k), Sapai, Chizhov (Dalku, 70), Sakov, Kane. Bench: Shust, Misik, Martynenko, Child. Trainer: Vitaliy Kosovsky.
April 7. The Dnieper. Dnipro Arena. 9148 spectators. Arbitrator - Mozharovsky Yu.A. (Lviv), assistant referees - Vysotsky VA (Zaporozhye), Matyash VV (Donetsk), fourth arbiter - Bondar II (Kiev), arbitrator observer - Yarmolinsky LM (Kyiv region). FFU delegate - Maslov VB (FF of Dnepropetrovsk region). Booked: Mores da Cruz (12).