Vadim Kostyuchenko: "The final match for the Ukrainian Cup is expected to sell out"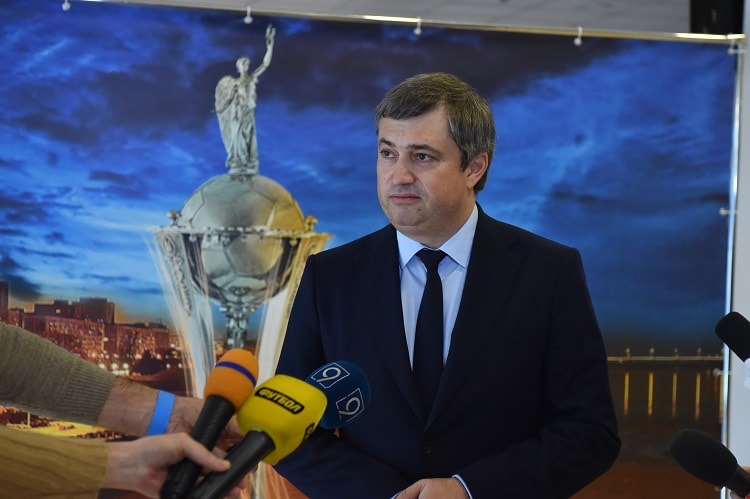 First Vice-President of the Football Federation of Ukraine Vadim Kostyuchenko spoke about a number of events during the finals of the Cup of Ukraine and announced a sell-out at the Slavutich-Arena stadium.
The Cup of Ukraine will be held in Zaporozhye today. In the match, which will begin at Slavutich Arena at 21.00, the current trophy holder and leader of the Ukrainian Championship Shakhtar will meet Ingulets, who will play in the first league.
"Almost all tickets for the final match of the Cup of Ukraine for football season-2018/2019 as of the evening of May 14 were sold. Accordingly, the decisive game for one of the main trophies of domestic football, which will be held for the first time in Zaporozhye, is expected to sell out, "Vadim Kostyuchenko said.
As the first vice-president of the Football Federation of Ukraine informed, the teams of the finalists have traditionally received tickets for the match. Also within the special profile humanitarian program of the FFU honored guests of the finale will be Ukrainian heroes - ATO / OOS warriors, football veterans and children and youth football teams of Zaporizhzhya, Dnipropetrovsk and Kherson regions, who participated in the tournament "Leather Ball" and competitions.
According to Vadim Kostyuchenko, the guests of the finals expect a great holiday of football. An interesting entertaining music program is planned, as well as the awarding of the Football Stars of Ukraine prizes in the main nominations.
We will add that in the evening of May 14, the miners made a charter flight on the route Kiev-Zaporozhye. Shakhtar went to the final of the Cup of Ukraine in full force. Ingultsa players reached Zaporizhzhya on a club bus.