Premier League: Shakhtar defeated Zorya and secured the championship title three rounds before the tournament finish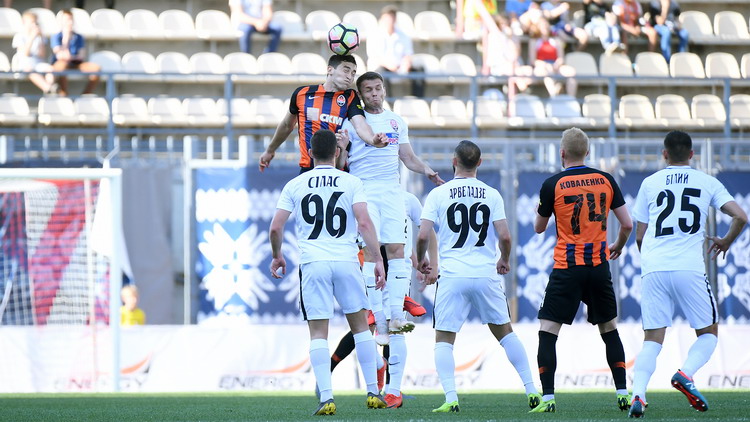 On Sunday, the 29th round of the Ukrainian Premiership Championship ended with two matches of the first six teams'yer-leagues. The main event of the game day can be considered the early registration of Shakhtar in the championship title.
In a meeting in Zaporozhye at the Slavutich Arena, where the miners on Wednesday won in the finals of the Cup of Ukraine, today they secured their second national title in a week - the title of national champions.
The only goal in the match was already in the 11th minute. The result was a combination with the participation of Ukrainian national team players. Stepanenko turned the ball over to Bolbat, and Shakhtar's right-back shot into the center of the penalty area, where Moraes played well ahead, drawing his 19th goal in the tournament.
Having won the next three points, the Pitmen have become inaccessible to Dynamo, which they will meet in the next round already in the status of 12-time champion of Ukraine. In the spring, Shakhtar won 10 wins in 11 matches, missing only one goal.
The Pitmen made players on the field, caused by Andriy Shevchenko to the national team: Pyatov, Bolbat (goal), Krivtsov, Stepanenko (yellow card), Kovalenko (replaced by 86 minutes, yellow card), Moraes (goal, yellow card), Matvienko (replaced by 77 minutes). Oleksandr Karavayev, the Ukrainian star in the Dawn, also played a full match.
Another Sunday duel could also determine the winner of the bronze medal. In case of anything to do with Lviv, Alexandria would secure a third place and a direct pass to the Europa League group tournament next season. But Bogdan Blavatsky's wards managed to score the first points in the second stage of the championship. After six victories in the 1-6 place tournament, Lviv won the first victory.
Pedro in the second half scored his second ball in Ukraine (by the way, the first, at the gates of "Desna" in the 22nd round, was also the only one in the meeting and also took place in the 58th minute). After that, the guests did not allow the team of Vladimir Sharan to create almost anything at their goal and kept the winning score. So, Alexandria will have to postpone the decision of the main task of the season at least until the match of the next round with Mariupol.
29 round
1-6 Place Tournament
18.05.2019
Dynamo - Mariupol - 2: 1 (1: 0)
19.05.2019
Alexandria vs Lviv 0: 1 (0:0)
Goal: Pedro (58).
Zorya - Shakhtar 0-1 (0-1)
Goal: Moraes (11).
Standings
| | | | | | | | |
| --- | --- | --- | --- | --- | --- | --- | --- |
|   |   | G | W | D | L | GD | О |
| 1. | Shakhtar | 29 | 24 | 4 | 1 | 65—10 | 76 |
| 2. | Dynamo | 29 | 20 | 5 | 4 | 49—16 | 65 |
| 3. | Oleksandriya | 29 | 14 | 6 | 9 | 37—28 | 48 |
| 4. | Mariupol | 29 | 11 | 6 | 12 | 32—41 | 39 |
| 5. | Zorya | 29 | 10 | 9 | 10 | 35—30 | 39 |
| 6. | Lviv | 29 | 8 | 9 | 12 | 24—35 | 33 |
7-12 Place Tournament
18.05.2019
Vorskla - Arsenal-Kyiv 2-0 (1-0)
Carpathians - Desna - 2: 0 (0: 0)
Olimpik - Chernomorets 2-1 (1-0)
Standings
| | | | | | | | |
| --- | --- | --- | --- | --- | --- | --- | --- |
|   |   | G | W | D | L | GD | О |
| 7. | Desna | 29 | 11 | 5 | 13 | 34—37 | 38 |
| 8. | Vorskla | 29 | 11 | 5 | 13 | 27—39 | 38 |
| 9. | Olimpik | 29 | 7 | 10 | 12 | 35—42 | 31 |
| 10. | Karpaty | 29 | 7 | 8 | 14 | 37—45 | 29 |
| 11. | Arsenal-Kiev | 29 | 7 | 4 | 18 | 23—51 | 25 |
| 12. | Chornomorets | 29 | 5 | 7 | 17 | 23—47 | 22 |