The 2019 Caritas Cup was won by a team from Lviv region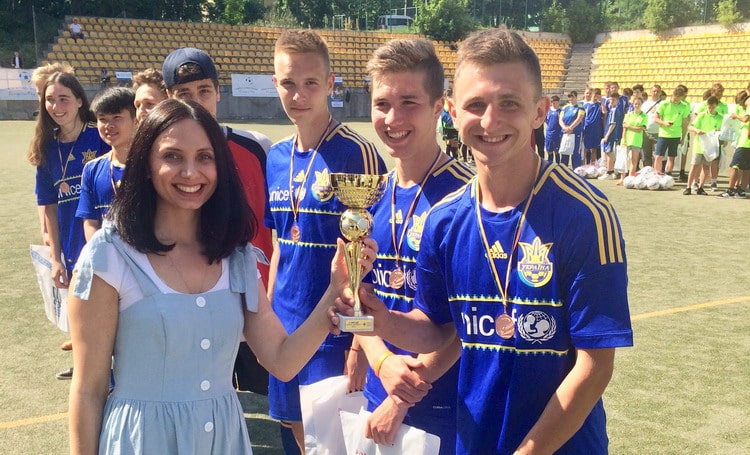 On June 1, the fourth All-Ukrainian street football competition took place on Children's Day Caritas Cup, organized with the support of the Ukrainian Football Association and the Foundation for the Development of Football of Ukraine.
Teams from Khmelnytsky, Dnipro, Brody, Zaporozhye, Odessa, Kamensky, Kramatorsk and Kiev competed for the cup. During the breaks between matches for children and spectators, interesting quizzes and gift games were held. A special guest was a special guest - a participant of the strongest Ukrainian freestyle team "Ukrfreestyle" Igor Samoded.
Regarding the tournament itself, the third place was taken by the city team "Dream", the second - "Goalkeeper" from Zaporozhye. Caritas team (Brody, Lviv region) won the competition.
Photo of UAF press service
The opening ceremony was attended by the President of Ukraine's Commissioner for the Rights of the Child Mykola Kuleba and Secretary General of the International Caritas Ukraine Charitable Foundation Dzwysislaw Tchaikovsky. The participants of the tournament received football balls, gifts from the UAF and the representative of the Foundation for football development of Ukraine Irina Makarevich, and the teams that won the prize places - medals. The team coaches were also honored with diplomas and valuable gifts. Volodymyr Vasylenko, President of the Ukrainian Association for the Development of Football, presented the football equipment to the children. Individual honors received the best in nominations.
This event has been organized by CF Caritas of Ukraine for the fourth consecutive year. Its purpose is to actively rally young people from all over Ukraine around sports, healthy lifestyles, mutual respect and communication on an equal footing.
Photo of UAF press service
The idea of ​​the Caritas Cup is the classic idea of ​​street football as it is in the world: a game for everyone, regardless of training level, gender or social status. The teams include both boys and girls, most of them from families who find themselves in difficult circumstances. Soccer training for them is a way to set goals, build willpower, communicate, become stronger.
With this project, the organizers and partners are encouraging the younger generation to broaden their outlook and cultivate positive habits, to pursue the goal, despite external circumstances, to be able to support and receive support from their comrades.