The AFCU held a meeting on the organization of competitions of the season 2019/2020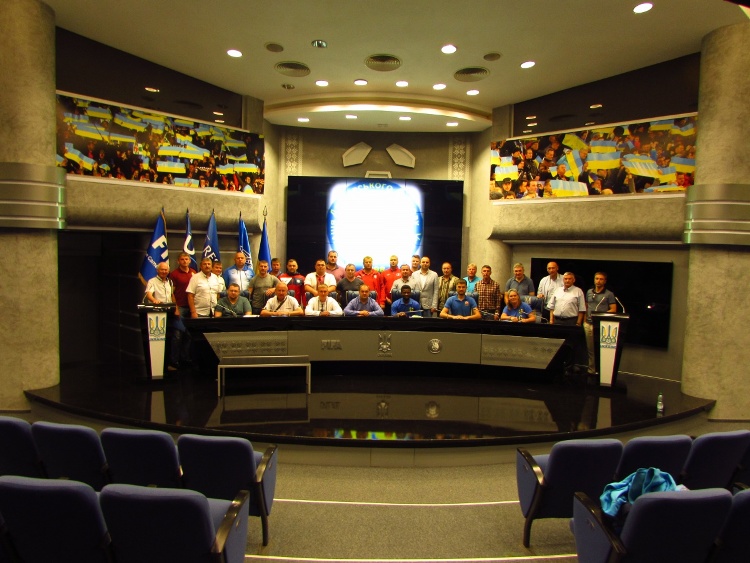 In the House of Football there was a meeting on organization of the championship and Cup of Ukraine among amateur teams. Representatives of 20 clubs that plan to take part in the season met on the eve of the Ukrainian Amateur Championship finals, the winner of which was "VPK-Agro".
According to available information, 32 teams will take part in the competition next season, but their number may increase or decrease. Two variants of participants were proposed - into three groups of 10-11 teams or into two groups of 15-16 teams. The final decision has not yet been made.
Distribution of commands is possible
Group 1
Votrans (Lutsk)
"Penance" (Kolomyia, Ivano-Frankivsk region)
"Carpathians" (Halych, Ivano-Frankivsk region)
ODEK (Orzhiv, Rivne region)
FC Malynsk (Rivne region)
"Agron" (Velykogaivska OTG, Ternopil region)
"Niva" (Terebovlya, Ternopil region)
Epicenter (Dunaivtsi, Khmelnytsky Region)
"Svitanok-Agrosvit" (Shlyakhova, Vinnytsia region)
Atlet (Kyiv)
Group 2
Rubicon Cherry (Kiev)
FC "Bila Tserkva" (Kyiv region)
Avangard (Koryukivka, Chernihiv region)
"Agrodim" (Bakhmach, Chernihiv region)
FC Chernihiv (Chernihiv)
"Victoria" (Nikolaevka, Sumy region)
FC Trostyanets (Sumy region)
LNZ-Lebedyn (Cherkasy region)
Dnipro (Cherkasy)
IFC "Pervomaisk" (Mykolaiv region)
Olympic (Kropyvnytskyi)
Group 3
"Star" (Kropyvnytskyi)
Dnipro-1-Borisfen (Dnipro)
Peremoha (Dnipro)
Legionnaire (Dnipro)
FC Kryvyi Rih (Dnipropetrovsk region)
"Friendship" (Kryvyi Rih, Dnipropetrovsk region)
Kakhovka Insurance Company (Kherson Region)
"Tavria" (Novotroitskoe, Kherson region)
"Yarud" (Mariupol, Donetsk region)
Motor (Zaporizhzhya)
"Pride" (Tokmak, Zaporozhye region)
Applications of teams for participation in the championship will be accepted on July 15-31, for participation in the Cup - on August 5-16. In general, the application period of the autumn part of the competition will last from July 15 to September 13. The start of the championship is scheduled for August 3, and the first stage of the Cup - on August 21-28.
Also an important topic of the meeting was the issue of mandatory video recording of home matches by all participants of the championship, reports the Association of amateur football of Ukraine reports..