Women's World Championship. The United States team for the fourth time won the title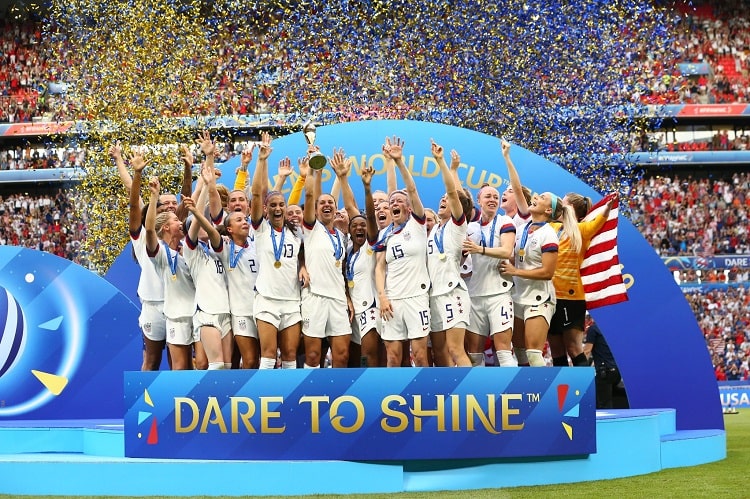 In the 2019 Women's World Cup final, the US team defeated the Netherlands for the second time in a row and became the world champion for the fourth time in its history.
The national teams of the USA and the Netherlands met in the final match of the Women's World Cup 2019 in Lyon, France. For the European team, this was the first final in its history, but the Americans got to it for the fifth time. Prior to that, the United States team became three-time world champion, losing in the decisive match only once - to Japan in 2011.
The final match of this year's world championship took place with the great advantage of the current champions. Already in the first half, the Americans had to open the score four times. However, Dutch goalkeeper Sari van Venendal acted just fine.
However, in the second half, the advantage of the American team finally paid off. First, Megan Rapino opened the scoring in the 61st minute from the penalty spot, and in eight minutes Rose Lovell doubled the advantage of the US team.
The match ended - 2: 0 in favor of the Americans, who became four-time world champions.
Women. 2019 World Cup. Final
USA - Netherlands - 2: 0 (0: 0)
Goals: Rapino (61, penalties), Lavelle (69).
U.S.: Nicker, O'Hara (Krieger, 46), Dahlampur, Sowerbarn, Dunn, Lovell, Ertz, Lewis, Heath (Lloyd, 87), Morgan, Rapino (Press, 79).
Netherlands: van Venendal, Janssen, Dekker (van de Zanden, 73), van Lunteren, van der Grogt, Spice, Grunen, Martens (Rord, 70), Middema, van de Donk, Berenstein.
We will remind that the women's national team of Ukraine took part in selection for the World Cup-2019. Our girls have stopped competing in the qualifying round. The Ukrainians played in Group 4, where they finished third, passing Sweden and Denmark ahead. And the Swedes became bronze medalists of the world championship.