Alexander Cheferrin: "There is a wonderful lobbyist in the UEFA Executive Committee in Ukraine. This is a very strong representative! "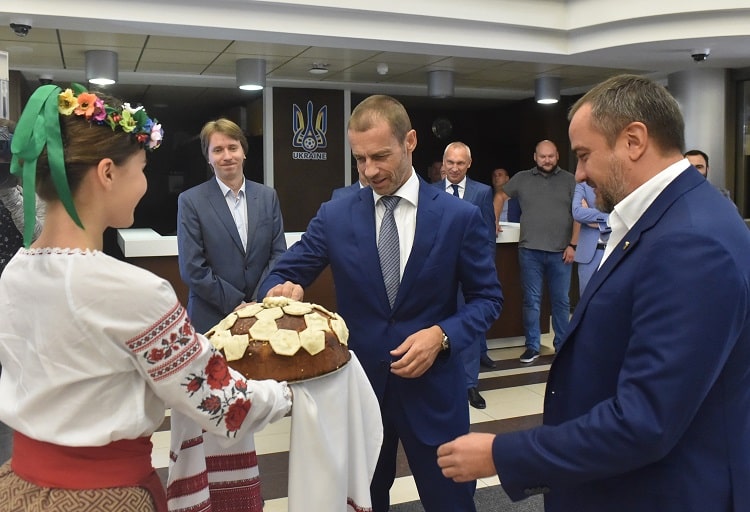 On September 5, the UEFA President Alexander Cheferin's working meeting with the legends of national football, the leadership of the Ukrainian Football Association headed by its president, UEFA Executive Committee member Andriy Pavel and NOC President of Ukraine Serhiy Bubka took place in the capital's House of Football.
The Golden Ball-1975 co-chairman of the UAF Council for Strategic Development of Professional Football Oleg Blokhin, the head coach of the national team of Ukraine Andriy Shevchenko, the coach of the national team of Ukraine U-20 who became the world champion in Poland, Alexander Petrakov, also took part in the meeting. coach of the national team of Ukraine among veterans Anatoliy Demyanenko, first vice-president of UAF Vadim Kostyuchenko, first vice-president of UAF Oleg Protasov, general secretary of UAF Yuri Zapisotsky.
Photo by Pavel Kubanov and Vladimir Rasner
The participants of the meeting discussed a number of issues that, as Andriy Pavelko noted, will have a serious impact on Ukraine's football future. In particular, these are the prospects of holding a U-17 or U-20 football World Cup in our country, a UEFA Super Cup match or a Europa League final, organizing one of the closest UEFA Congresses in Kiev, as well as a project to build the first ever Ukrainian base for Ukraine national teams.
Photo by Pavel Kubanov and Vladimir Rasner
The UEFA President once again expressed his support for UAF, praised the development of football infrastructure in our country, noted the initiative of UAF and the readiness of the Association's management to share their experience and ideas with colleagues from other countries. In particular, according to Alexander Cheferin, the UAF initiative to organize a continental championship among the legends of European football will be the subject of discussion at UEFA in the near future.
Photo by Pavel Kubanov and Vladimir Rasner
"I am extremely pleased to be in Ukraine now - not only because you are a full member of UEFA, with whom we cooperate, and your U-20 team is a reigning world champion," said Alexander Cheferin. - It is a great honor for me to meet the legends of Ukrainian football and Olympic legend Serhiy Bubka. Thank you very much for the invitation, it's always a pleasure to come here. "
Photo by Pavel Kubanov and Vladimir Rasner
Speaking about the prospects of holding a UEFA Super Cup match or UEFA Europa League final in Ukraine, Alexander Cheferin said: "UEFA has a practice that will win the best bid. If you are building the infrastructure, then you will be able to hold major tournaments. Your work on sports infrastructure and grassroots development has been a success. But it is equally important that Ukraine has an excellent lobbyist on the UEFA Executive Committee - Andrey Pavelko. This is a very strong representative! "
Photo by Pavel Kubanov and Vladimir Rasner