The Futsal Youth Team of Ukraine has completed its appearances at the European Championships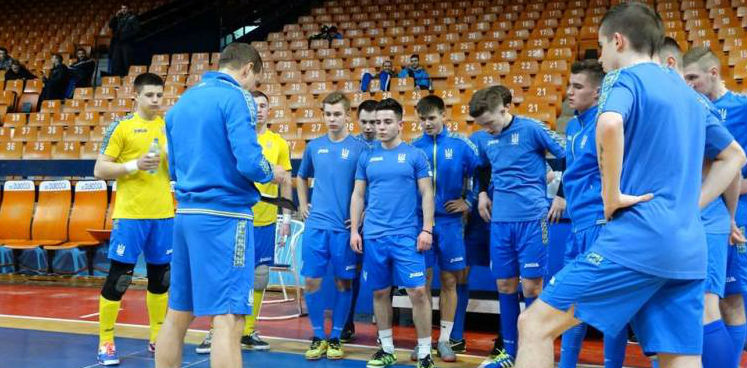 In the third round of the group stage, Vitaliy Odegov's players lost to the Croatian national team and left the tournament.
After victory over Holland and defeat against Spain Ukraine's national team found itself in a situation where to leave the group it was necessary to beat an opponent in the last round. Unfortunately, in the match with the Croats, our team failed to do so.
The first half was very reliable for the Ukrainians - in the 13th minute our best scorer at the youth Euro Denis Blank opened the scoring. However, before the break, the Croats managed to win back.
In the second half of the meeting, the rivals increased their advantage. At the end of the match, our team started playing five field games, but this tactic did not bring dividends. In the last minute of the match, the Croats scored for the third time.
Thus, Vitaly Odegov's wards stopped their performance at the U-19 European Premier Championship. The teams of Spain and Croatia advanced from Group B to the semifinals.
Futsal Euro 2019 (U-19). Group B
1 round
08.09.2019
Ukraine - Holland - 7: 0 (3: 0)
Croatia - Spain - 0: 3 (0: 1)
2 round
09.09.2019
Netherlands - Croatia - 0: 6 (0: 2)
Ukraine - Spain - 1: 7 (1: 2)
3 round
Croatia - Ukraine - 3: 1 (1: 1)
Goals: Hrstic (17, 32), Suchic (40) - Blank (13).
Ukraine: Guyvan, Blank, Turned, Belan, Volkov, Kozlov, Sorokin, Masevich, Senyuk, Copper, Negel, Nagorny, Kvasny, Tymtsiv.
Spain - Holland - 5: 0 (3: 0)
Standings
| | | | | | | | |
| --- | --- | --- | --- | --- | --- | --- | --- |
| # | Team | G | W | D | L | GD | P |
| 1. | Spain | 3 | 3 | 0 | 0 | 15-1 | 9 |
| 2. | Croatia | 3 | 2 | 0 | 1 | 9-4 | 6 |
| 3. | Ukraine | 3 | 1 | 0 | 2 | 9-10 | 3 |
| 4. | Holland | 3 | 0 | 0 | 3 | 0-18 | 0 |
12.09.2019
1/2
1A - 2B 17.00
1B - 2A 20.00
14.09.2019
Final 20.00