Young footballer Nikita Maletsky, who is struggling with a serious illness, visited the House of Football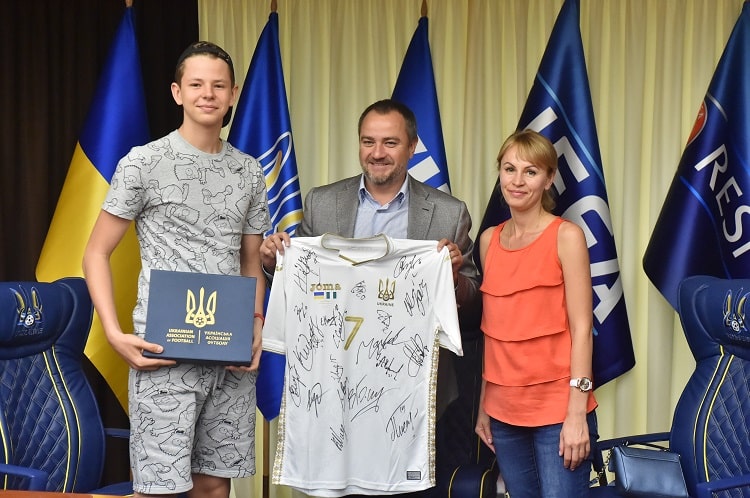 President of the Ukrainian Football Association, member of the UEFA Executive Committee Andriy Pavelko met with 16-year-old Nikita Maletsky - a courageous young man who overcomes a complex cancer.
Nikita has been involved in football since childhood and dreams of a professional player career. On September 10, the guy went to the Ukraine-Nigeria match in Dnipro and spoke with the UAF leader about his experience on the game of Andrey Shevchenko.
Photo by Pavlo Kubanov
Nikita was diagnosed with glioblastoma - one of the most aggressive varieties of malignant brain tumors. The young man was operated on in Germany, but for his rescue it is necessary to undergo a long and expensive course of treatment. The charity auction that took place recently ended UAF's facebook page in support of Nikita Maletsky. The proceeds will go towards his treatment. Additional contributions are also made by the UAF, sending some of the proceeds from ticket sales to Nikita's treatment match Ukraine - Nigeria, and the president of the association.
Photo by Pavlo Kubanov
Talking to the young man, Andrew Pavelko wished him a speedy recovery and a strong will that would help Nikita to fulfill his dreams. In memory, the UAF President presented the guest with a T-shirt of Alexander Zinchenko from the Ukraine-Nigeria match and invited match Ukraine vs Portugal, which will take place in Kiev on October 14. Andriy Pavelko also suggested that Nikiti introduce him to Alexander Zinchenko to personally ask him for an autograph on the received T-shirt with number 17 - that is how many years Nikiti will soon be fulfilled.
Photo by Pavlo Kubanov
"Nikita is very modest and tries not to express her emotions, but it is difficult for the boy to conceal the look inherent in people with a very light soul. His courage and dedication to dreams are a great example for a younger brother. Good health and good luck to you, Nikita! " - wished Andrey Pavelko a young man.
Photo by Pavlo Kubanov