The winner of the FIFA World Cup among the teams of the Ukrainian Diaspora was the Israel national team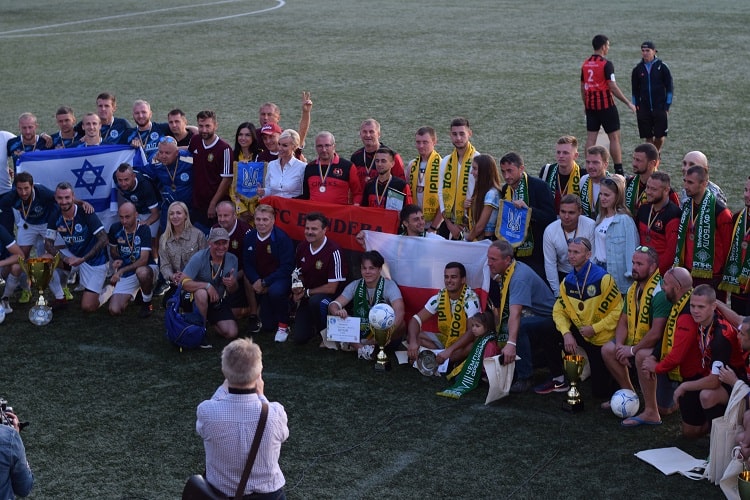 September 10-14 at the stadiums of Irpen, Vyshgorod and Lyutezh VIIIthe world soccer championship among Ukrainian diaspora teams.
Six teams competed to win the tournament, consisting of Ukrainians from Greece, Denmark, Israel, Canada, Moldova, USA, Poland, Hungary, France and Sweden.
Photo of UAF press service
The group stage matches took place on September 10-12, with the semi-final matches on the 13th. Following on from the results, the teams of the Ukrainians of Israel and Denmark came to the finals, and teams from Poland (Krakow) and France came in third place. Both decisive matches took place on September 14 at the Champion Stadium (Irpin).
Photo of UAF press service
As a result, the team from Poland (Krakow) took the third place, defeating France in the 11-meter series (0-0, 5: 4 on penalties). And the winner of the World Cup was the team of Ukrainians Israel, who in the final proved their lead over Denmark - 3: 0.
Photo of UAF press service
The first UAF Vice President Vadim Kostyuchenko took part in the awards ceremony. He addressed the tournament participants with gratitude: "I am pleased to welcome all representatives of the diaspora teams - participants of the competition! The Ukrainian Football Association has always supported and will support such tournaments. I would like to thank you very much for the passionate support you give to our youth, youth and national teams during their performances abroad. Very often, our players feel at home away matches. This is thanks to you too! I especially congratulate the winner of this year's competition - the team of Ukrainians of Israel. I want to thank everyone for the quality football you showed at this tournament. "
Photo of UAF press service
Also during the World Championships there was a friendly game with the participation of one of the diaspora teams and the team of the Vyshgorod community, the diaspora sports contest in Irpen and a friendly match with the participation of the team of ATO participants and the national team of the Ukrainian diaspora.
Photo of UAF press service