In the fields of NTC them. V. Bannikov started the first championship of the UAF Football Academy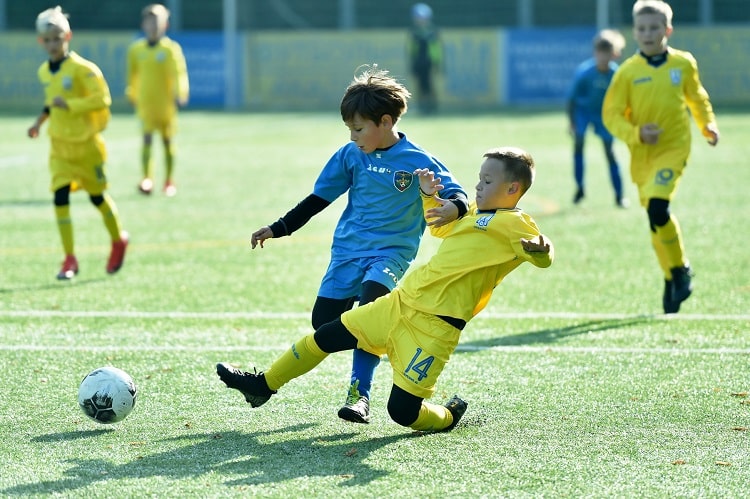 10 children's teams from Kiev take part in the tournament.
Yesterday in Kiev on the occasion of the UEFA Mass Football Week in Ukraine on artificial fields of the NTC them. V. Bannikov, on the initiative of the Ukrainian Football Association and with the support of the Foundation for the Development of Football of Ukraine, started the first championship of the UAF Football Academy.
Participation in the competitions was confirmed by 10 metropolitan children's collectives, formed of footballers of 2010 year of birth. The organizers of the championship stick to the format according to the age of the participants, so all matches will be held on the grounds of 60 by 40 meters, and the teams will have eight players on the field (seven plus one). The championship will end on May 30, 2020.
Photo by Pavlo Kubanov
The opening ceremony of the Championship of the National Anthem of Ukraine began, after which the young players listened to the words of the legend of Ukrainian football, the first Vice President of UAF Oleg Protasov, who wished them to achieve their dreams and receive not only prizes and medals for participating in competitions, but also to enjoy games on such beautiful sites.
"In my childhood we could only dream of such comfortable fields, but it did not prevent us from loving football and devoting this wonderful game to all our free time. I am sure that with such conditions for playing sports, our future, young football players, will be able to achieve great victories later. Every young player dreams of becoming a champion, so let your dreams come true, "Oleg Protasov said. In turn, the coach of the Ukrainian national team Vasyl Kardash, who was present at the opening ceremony, assured that there will be no losers in this tournament, and wished the players good emotions and good luck.
Photo by Pavlo Kubanov
And from the very first games of the championship its participants began to demonstrate interesting football without excitement, scoring goals for every taste and pleasing their mentors and parents, who fervently supported the young players in the stands of the sports complex.
The first UAF FA Championship. 1nd round
FA UAF - KNUTD - 12: 0
IC Kyiv - FA Benfica - 9: 1
Favorite FC - Winner Junior School - 1: 0
Troyeshchyna FC - CHSS Champion - 3: 1

NFC - Hoverla FC - 4: 0


Photo by Pavlo Kubanov