Europa League. Alexandria won the first point in the group, drawing a draw with Gent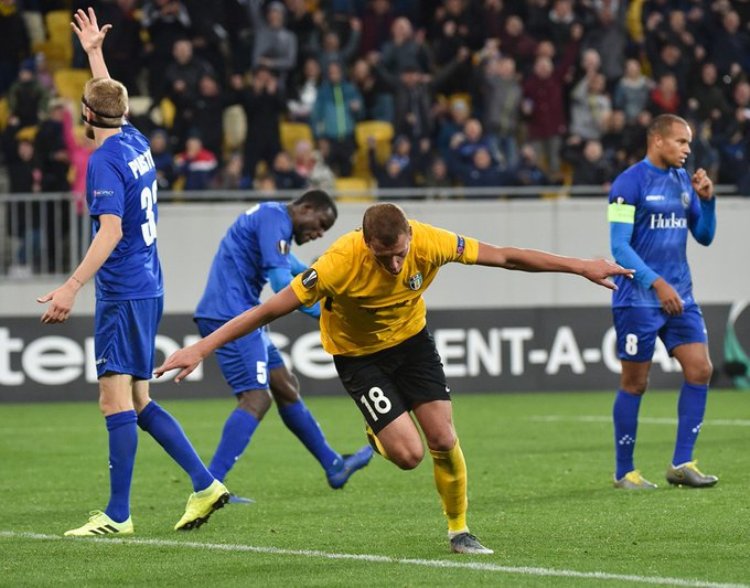 The winner of the second round of the group stage of the Europa League "Alexandria" and the Belgian "Gent" did not find a winner.
The matches of the starting round of the team were different: "Alexandria" gave way to Wolfsburg (1:3) and Gent overcame Saint-Etienne (3:2). After the defeat in Germany, the wards of Vladimir Sharan were able to recover, earning four points in two championship matches and having defeated Dinas within the framework of the Cup of Ukraine. The rivals worked on a similar scenario for two weeks not without the heads of Roman Yaremchuk.
Alexandria could not count on the injured Shendrick and Protasov. The Belgians questioned Plastun, but the defender of the national team of Ukraine appeared in the starting lineup.
The beginning of the fight was rich at times. At first, Kaminsky pulled the ball after a header from Luczkiewicz, after which Lustig nearly missed a corner after a corner. And in the 6th minute Depuatre finished off a counterattack with a free kick aimed near the penalty area.
The next moments had to wait until the middle of the first half, when Tretyakov almost closed the dangerous shot of Sital. And 31 minutes into the match, the visitors' central defense Ngadeu-Ngajui had almost doubled the lead with Ghent, but scored on a corner kick. Alexandria responded with a blow from Banada, but the opponents were saved by the keeper.
At the beginning of the second half, the Ukrainians became more in control of the ball and bolder to attack. As a result, Sharan's wards managed to even the score after a long siege of Gent. Kovalets took the striking position, with his shot Kaminski managed, but the finish did not slow Sitalo. 1: 1.
The Belgians then seized the initiative, forcing Alexandria to back off. Odzhidzha fired an inaccurate long shot, and Yaremchuk lost the real opportunity to snatch the victory, which failed to beat Pankiv from a few meters away. In the end, the hosts held on to draw, earning the first point in the group stage.
Ghent players, summoned to the October national team of Ukraine - Igor Plastun and Roman Yaremchuk (replaced by 89 minutes) took part in the duel.
Europa League. Group Tournament. 2 round
Group I
Alexandria (Ukraine) - Gent (Belgium) - 1: 1 (0: 1)
Goals: Sitalo (60) - Depot (6).
Alexandria: Pankov, Pashayev, Dubra, Bukhal, Miroshnichenko, Banada, Kovalets (Long, 75), Grechishkin, Luchkevich (Bezborodko, 86), Sitalo (Shastal, 80), Tretyakov.
Substitutions: Bilyk, Baboglo, Zaporozhye, Zaderaka.
Head coach: Vladimir Sharan.
Gent: Kaminsky, Lustig, Plastun, Ngadeu-Ngajui, Asare, Kums, David, Ovus, Odzhidzh, Depuatre (Kwitlaia, 85), Yaremchuk (Kubo, 89).
Substitutions: Cossemans, Dompe, Mohammadi, Deyagar, Bronn.
Head coach: Jess Thorup.
Referee: Jens Moe (Denmark).
October 3. Lviv. Arena Lviv.
Saint-Etienne (France) - Wolfsburg (Germany) - 1:1 points
Goals: Well (13) - William (15).
Standings
| | | | | | | | |
| --- | --- | --- | --- | --- | --- | --- | --- |
| | | G | W | D | L | GD | О |
| 1. | Wolfsburg | 2 | 1 | 1 | 0 | 4—2 | 4 |
| 2. | Gent | 2 | 1 | 1 | 0 | 4—3 | 4 |
| 3. | Saint-Etienne | 2 | 0 | 1 | 1 | 3—4 | 1 |
| 4. | Oleksandriya | 2 | 0 | 1 | 1 | 2—4 | 1 |
3 round
24.10.2019
Gent - Wolfsburg
Saint-Etienne - Oleksandriya