Euro 2020. The national team started its preparatory camp in Kharkiv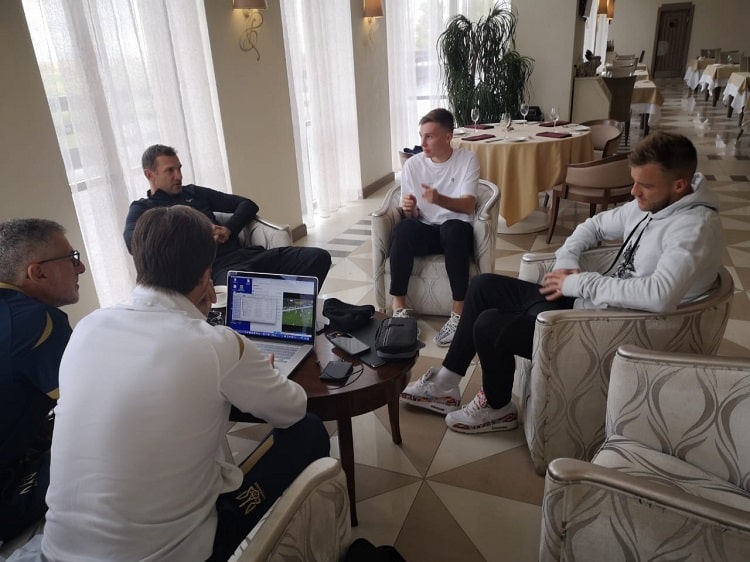 Today the national team started its preparatory meeting in Kharkiv. In fact, the team has settled at the Superior & Golf Resort hotel the day before: the coaching staff headed by the manager, Andrey Shevchenko, and the administrative and medical corps began work a day earlier. The players, as expected, arrived at the location of the country's main team on Monday.
Photo by Nikolai Vasilkov
Most of the collections arrived on a regular morning flight from Kiev. Legionnaires Andrey Yarmolenko and Andrey Lunin were also in this group. The rest of the players who play abroad - Ruslan Malinovsky, Eduard Sobol, Igor Plastun, Yevgen Shakhov, Oleksandr Zinchenko and Roman Yaremchuk - will arrive to the location of the country's main team in the evening due to the combination of their air routes.
Photo by Nikolai Vasilkov
After the arrival of the main group of players, they had more than an hour to adapt to the well-known apartments of the hotel, which has long since become a prefabricated cozy home. The quietness of the suburban base, the picturesque scenery and the attentive staff all contribute to the best possible setting for responsible matches.
Photo by Nikolai Vasilkov
Tonight, blue and yellow will hold the first classes: first, the whole team will have fitness training at the hotel gym, and those players who did not get enough load in yesterday's matches for their clubs will also run jogging at Sunny Stadium. Tomorrow in the national team program - open training on Metalist, for which mentors and players invite all fans.
Photo by Nikolai Vasilkov
At 19.00 the team will wait for a date with their dedicated fans, who always motivate and support the guys in the fight for maximum results. Entrance to the stadium it will be open from 18.20pm so we encourage you to come early and take better places.
Half an hour before, the head coach will meet with representatives of the media in the conference room of the arena.
Oleksandr Glyvynskyy, spokesman for the national team of Ukraine