The first stage of the debut championship of Kyiv region among girls took place in Obukhov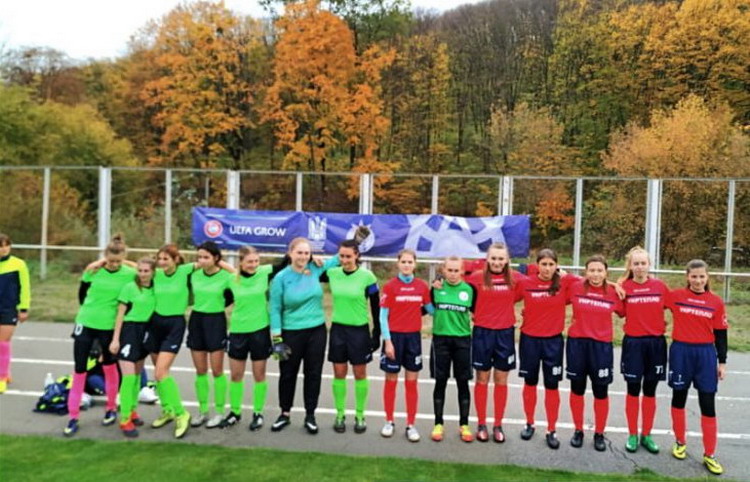 In the fields of the Central sports complex them. Vladimir Melnik in Obukhov in the categories WU-17 and WU-13 competed four girls teams.
Participants of the competition received sets of game form and corresponding certificates, and team mentors - special thanks from the Ukrainian Football Association. Presentations and honors were presented by UEFA GROW Ukraine national project manager Oksana Lesik, executive director of the Kiev Regional Football Federation Vasyl Nalyvayko and star guest of the holiday - legendary footballer Viktor Leonenko.
Photo by koff.org.ua
And at the sites under the leadership of GROW regional managers Kirill Khimichenko and Volodymyr Maslov the first official competitions of the girls' teams took place in the history of Kyiv region. The GROW Regional Championship is based on the festival method - games will take place alternately at the venues of all participants.
Coach Volodymyr Panchenko won the stage among 17-year-olds from Slavutych, the second place - in the team from Krasylivka in the Brovarsky district, the third - in the "Gonchar" from Dybintsev, and the fourth - in the students of Rokytne school №3.
Among the 13-year-olds, the girls from Krasilovka came to the intermediate finish for the best difference of the balls, because with the team of Slavutich, they dispersed in peace - 3: 3. The third is still the Rokitnyanka, and the girls from the Vukhovskaya Vertical have lost their matches.
Next Saturday, girls' teams in the WU-11 and WU-15 ages will compete in Kalinovka, Brovarsky District.
Photo by koff.org.ua