Andriy Pavelko met with Oleg Sentsov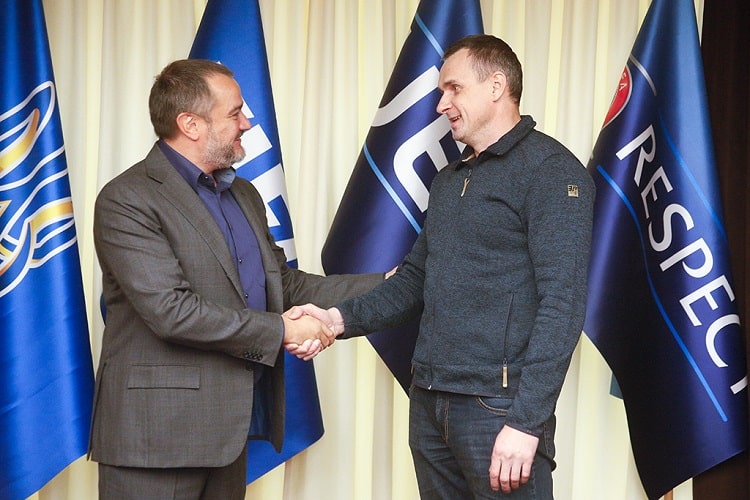 Today, on October 9, at the invitation of the President of the Ukrainian Football Association, member of the UEFA Executive Committee Andriy Pavelko, a well-known public activist, film director, writer, screenwriter and devoted fan of the national team of Ukraine Oleg Sentsov visited the House of Football.
A little over a month ago, on September 7, Oleg, along with other patriots, was released from the captivity of the Russian Federation and returned to Ukraine.
In an interview with the UAF president, Sentsov told about patriotic ultras from his native Crimea, how he was rooting for the main team of Ukraine in the Russian prison and whose football skills he was fond of as a child.
"When the Russian annexation of Crimea began in March-April 2014, all the ultras of the Simferopol Tavriya were with us and stood for the only Ukraine," Sentsov recalled in communication with Andriy Pavel. By the way, it was the fans of Tavria who initiated a large-scale action at the Olympic NSC in support of Oleg in July 2018, and fans of many other Ukrainian clubs joined the event.
Photo by Volodymyr Rasner
Oleg Sentsov spent almost five and a half years in prison in Russia and was sentenced to up to 20 years in prison on false charges. At the same time, the patriot, in his words, tried to follow the performances of the national team, for which he is actively cheering. "He tried to watch all the fights and was worried about the result. Therefore, I am very glad that I will soon have the opportunity to watch and support our team in the stadium, "Oleg Sentsov said.
Photo by Volodymyr Rasner
He was very pleased to learn that he would cheer for Andrey Shevchenko's team with two Golden Ball winners - Oleg Blokhin and Igor Belanov. "These are legendary football players! I remember watching the matches with their participation in my childhood, "Oleg Sentsov remembered.
Photo by Volodymyr Rasner
"It is a great honor for me personally and the Ukrainian Football Association to invite you and all the released Heroes of Ukraine to the match of the national team of Ukraine. We also maintain a good tradition of inviting combat veterans to such fights. This is important to them and their presence at the stadium is very important to us and the players. The players and the head coach of the team always emphasize this. We are proud of you! " - stressed Andrey Pavelko in communication with the guest of honor.
Photo by Volodymyr Rasner
In memory of the meeting, the president of the Ukrainian Football Association presented Oleg Sentsov with souvenirs, in particular, a unique embroidery ball and autographs of the players of the main team, and also handed over an invitation to the Ukraine-Portugal match.