U-17: Ukraine's youth team defeated the Armenian team in the second sparring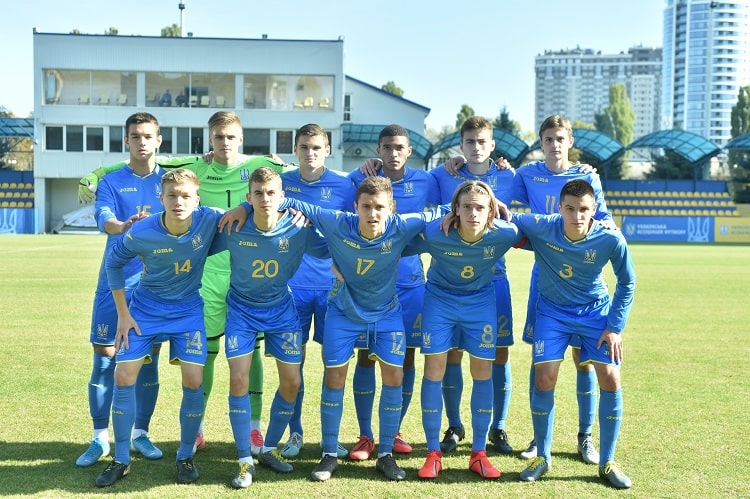 This time Alexander Petrakov's wards scored at the goal of the opponents on the ball in each of the halves.
Today at NTC them. V. Bannikov hosted the second friendly match between the youth teams of Ukraine and Armenia. Recall that the first meeting of these rivals ended with a win of blue and yellow with a big score (5:1).
Photo by Pavlo Kubanov
As soon as the referee gave the starting whistle, Alexander Petrakov's wards squeezed his opponent into his half of the field. Suffice it to say, in the first minutes, five to seven Armenians could not catch the ball. However, the first dangerous moment was created by the Ukrainians only in the 13th minute. After a corner kick by Shubin, Mampassi hit his head straight, but the visitors' keeper converted the ball to a corner. And soon Roman earned for our penalty shootout, but Shubin did not use the opportunity, breaking above the target.
Photo by Pavlo Kubanov
In the future, moments at the gate of the Armenian national team often occurred. Could have killed Mampassi, twice - Kozik (in one of these episodes hit the crossbar). But the ball did not go into the goal until the 37th minute, when coolly in the goalkeeper's opponent played Dmitry Shostak. 1: 0.
The second half started with one more goal of the Ukrainian national team. He was led by a corner submission from Ocheretko. Kozik was punched in the head with an accurate blow. This goal to some extent soothed the blue and yellows. Although the hosts continued to enjoy the game advantage, the dangerous moments were significantly reduced.
As a result, the match ended with the score 2: 0, and for the sum of two matches, Alexander Petrakov's wards scored seven goals for the Armenians ...
Photo by Pavlo Kubanov
Friendly Match
Ukraine (U-17) - Armenia (U-17) - 2-0 (1-0)

Goals: Dm. Shostak (37), Kozik (47).
On the 22nd minute Shubin did not realize penalty.
Ukraine (U-17): Isenko, Mampassi, Roman (Tanchak, 70), Savchuk, Kozik, Kononov (Bykov, 70), Ocheretko (Lebedev, 62), Mykytyshyn (Hlan, 62), Shubin (Hromei, 63), Den. Shostak (Fedurko, 78), Dm. Shostak (Fomenko, 78).
Recall that Alexander Petrakov's team is preparing for the Euro 2020 Qualifying Round (U-17), which will be held in Portugal in November this year. There, the Ukrainian national team will play with Georgia (13th), Albania (16th) and Portugal (19th).
Photo by Pavlo Kubanov