Second League. "Dinas" took advantage of Bukovina's personnel problems, "Alliance" interrupted its impressive winning streak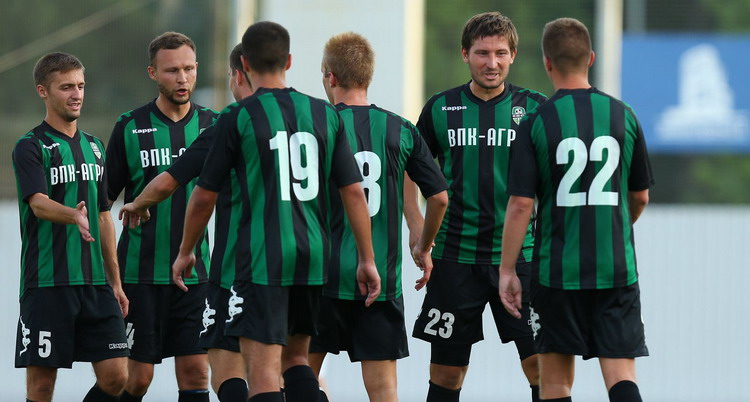 Bukovina faced an extremely difficult situation before the next calendar match, with Dinas, which has been performing very well lately.
Immediately, four Chernivtsi players were forced to miss the match due to disciplinary sanctions. However, given that Bukovina could not boast a long bench of spare people, it was difficult to scratch the performers at the starting line-up at all. Particularly conspicuous was the players of the line of attack, as among the disqualified were Vasily Palagniuk, Andrei Ponedelnyk and Alexandru-Vasile Muntyan.
And the players of Dinaz took full advantage of the personnel problems of Bukovina. Having opened the account in their debut, they subsequently effortlessly repelled the hosts and scored three points on their assets, which allowed them to gain a foothold in the leading group. Agree, for the debutants of the second league - a very decent result!
However, the central match of the tour took place in Zhytomyr, where Polissya hosted the leader - Ternopil Niva. Both teams boast a belligerent outfit, as they snatched victory in the last few minutes in several matches. By the way, in the first round the striker of "Niva" Sergei Kislenko scored a goal at the goal of "Polesie" in compensated time. This time, too, no one wanted to concede. Rivals were looking for the shortest route to the goal, but all their attempts to hit the target were unsuccessful. The final draw should be more satisfied with the guests who continue to lead the standings.
And in Group B, at the epicenter of the spotlight was the confrontation in Sumy, where the Alliance had established relations with MIC-Agro. The hosts, though lagged by two points, but had a game in the reserve and in the event of a victory changed with the guests places in the standings. It should be recalled that it was after the defeat in the first round in Magdalinovka that the acceleration of the Alliance players began. Suffice it to say that to date, the wards of Yuri Yaroshenko have won nine championships in a row. Of course, it was very rewarding for them to take revenge, but, as they say, a scythe came to a stone ... In the 85th minute Alexey Krasov station wagon forced the home team to capitulate. 0: 1 - and the visitors broke away from the pursuers.
Crystal is ahead - despite the fact that it failed to win at home to Real Pharma, which in recent rounds has been somewhat rehabilitated for a failed start. Even the next goal of Andriy Barladym, who with nine goals, is among the leading scorers, did not help the Kherson. But the players of "MIC-Agro" are already breathing "Crystal" in the back ...
15 round
Group A
13.10.2019
Bukovina - Dinas - 0: 1
Polissya - Niva T - 0: 0
Kalush - Obolon-Brovar-2 - 1: 1
Podillya - Uzhhorod - 3: 0
Heather - Niva B - 3: 2
Standings
| | | | | | | | |
| --- | --- | --- | --- | --- | --- | --- | --- |
| | | G | W | D | L | GD | О |
| 1. | Levels T | 13 | 9 | 3 | 1 | 18—6 | 30 |
| 2. | Woodlands | 14 | 8 | 4 | 2 | 17—4 | 28 |
| 3. | Heather | 13 | 8 | 2 | 3 | 22—13 | 26 |
| 4. | Dinas | 13 | 7 | 3 | 3 | 18—14 | 24 |
| 5. | Podillya | 14 | 6 | 4 | 4 | 18—19 | 22 |
| 6. | Kalush | 14 | 5 | 4 | 5 | 18—14 | 19 |
| 7. | Uzhgorod | 14 | 5 | 4 | 5 | 17—18 | 19 |
| 8. | Gull | 13 | 2 | 4 | 7 | 9—14 | 10 |
| 9. | Levels B | 14 | 2 | 4 | 8 | 14—22 | 10 |
| 10. | Bukovina | 14 | 3 | 1 | 10 | 15—25 | 10 |
| 11. | Obolon-Brovar-2 | 14 | 2 | 3 | 9 | 11—28 | 9 |
Group B
13.10.2019
Crystal - Real Pharma - 1: 1
Alliance - MIC-Agro - 0: 1
Energy - Vanguard-2 - 1: 1
«Nikolaev-2» - «Pitman» - 1: 2
Nikopol - Tavriya Simferopol - 2: 0
Standings
| | | | | | | | |
| --- | --- | --- | --- | --- | --- | --- | --- |
| | | G | W | D | L | GD | О |
| 1. | Crystal | 14 | 11 | 2 | 1 | 37—11 | 35 |
| 2. | MIC-Agro | 14 | 11 | 1 | 2 | 36—10 | 34 |
| 3. | Alliance | 13 | 9 | 2 | 2 | 32—8 | 29 |
| 4. | Miner | 14 | 7 | 2 | 5 | 25—18 | 23 |
| 5. | Nikolaev-2 | 14 | 4 | 6 | 4 | 15—20 | 18 |
| 6. | Energy | 14 | 4 | 5 | 5 | 16—19 | 17 |
| 7. | Nykopol | 14 | 3 | 4 | 7 | 12—21 | 13 |
| 8. | Real Pharma | 14 | 3 | 4 | 7 | 7—23 | 13 |
| 9. | Tavriya Simferopol | 13 | 3 | 1 | 9 | 8—25 | 10 |
| 10. | Chernomorets-2 | 13 | 2 | 3 | 8 | 10—27 | 9 |
| 11. | Vanguard-2 | 13 | 1 | 4 | 8 | 11—27 | 7 |