Second League. Polesie and Crystal are on top, but competitors are breathing in the back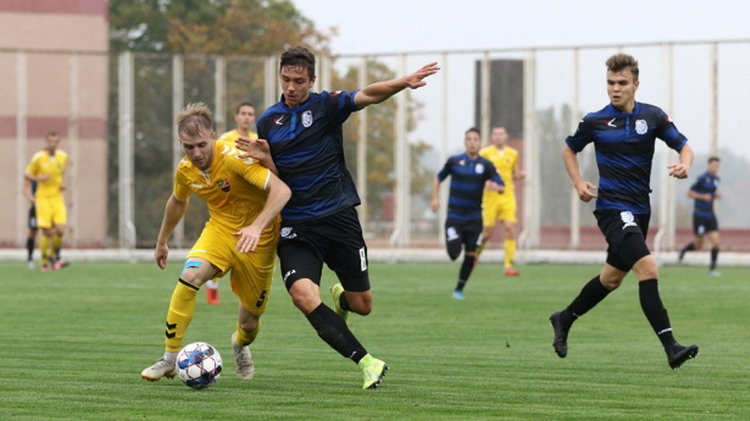 After a series of unsuccessful performances of the football players of "Podillya" their frank conversation with the club management took place, and this seems to have benefited.
Vitaliy Kostyshyn's team won two straight games with the same score - 3: 0. Yesterday, they were effortlessly declaring in Obolon-Brovar-2 in Bucha, practically removing the winner from the agenda before the break. In the first half Sergiy Zuevich and Vitaliy Kaverin were distinguished, and at the end of the match Vyacheslav Kalinin was defeated.
However, in the "A" group in the epicenter there were two other matches. In Zhytomyr, Polissya players received a daring debutant - Dinaz, who struck with an eight-match winless streak. The visitors got one back when Dmitri Zaderetsky scored from the home side's central defense and should have scored after 50 minutes, but missed. In the future, it was difficult to give preference to anyone, and with long-range shots successfully gave themselves goalkeepers. So Polissya won Victoria and found itself at the top, as the Ternopil Niva lost its points quite unexpectedly, having conceded at home to Kalush, which was headed by the well-known specialist Stepan Matviyev in the middle of this week. In the 38th minute, the "local" wrestler Roman Lebed forced the home side to capitulate, and at the end of the standoff Andrey Remeniuk and Danilo Knysh (from penalty) increased the visitors' lead to 3: 0.
And in group "B", the fight in Kryvyi Rih, where Girnyk found out relations with "Crystal", aroused interest. In the previous round, the Khersonians on their own field sensationally parted ways with one of the outsiders - FC "Real Pharma", but today rehabilitated in front of their fans. In the 32nd minute Mikhail Laptev led the Crystal forward, in the middle of the second half Bogdan Sokol leveled the score, but the last word remained after Kherson Sergiy Tsoi, who set the final score in the 85th minute. 1: 2. However, Eduard Khavrov's wardens should not be reassured, as the persecutors, MIC-Agro and Alliance, have also won.
16 round
Group A
18.10. 2019
Obolon-Brovar-2 - Podillya 0: 3
19.10.2019
Niva T - Kalush - 0: 3
Veres - Uzhhorod - 3: 0
"Niva" B - "Seagull" - 2: 0
Polissya - Dinas - 1: 0
Standings
| | | | | | | | |
| --- | --- | --- | --- | --- | --- | --- | --- |
| | | G | W | D | L | GD | О |
| 1. | Woodlands | 15 | 9 | 4 | 2 | 18—4 | 31 |
| 2. | Levels T | 14 | 9 | 3 | 2 | 18—9 | 30 |
| 3. | Heather | 14 | 9 | 2 | 3 | 25—13 | 29 |
| 4. | Podillya | 15 | 7 | 4 | 4 | 21—19 | 25 |
| 5. | Dinas | 14 | 7 | 3 | 4 | 18—15 | 24 |
| 6. | Kalush | 15 | 6 | 4 | 5 | 21—14 | 22 |
| 7. | Uzhgorod | 15 | 5 | 4 | 6 | 17—21 | 19 |
| 8. | Levels B | 15 | 3 | 4 | 8 | 16—22 | 13 |
| 9. | Gull | 14 | 2 | 4 | 8 | 9—16 | 10 |
| 10. | Bukovina | 14 | 3 | 1 | 10 | 15—25 | 10 |
| 11. | Obolon-Brovar-2 | 15 | 2 | 3 | 10 | 11—31 | 9 |
Group B
18.10.2019
Avangard-2 - Nikopol 0: 3
Chernomorets-2 - Energy - 1: 1
19.10.2019
Tavriya Simferopol - Alliance - 0: 2
Mining - Crystal - 1: 2
«MIC-Agro» - «Nikolaev-2» - 3: 0
| | | | | | | | |
| --- | --- | --- | --- | --- | --- | --- | --- |
| | | G | W | D | L | GD | О |
| 1. | Crystal | 15 | 12 | 2 | 1 | 39—12 | 38 |
| 2. | MIC-Agro | 15 | 12 | 1 | 2 | 39—10 | 37 |
| 3. | Alliance | 14 | 10 | 2 | 2 | 34—8 | 32 |
| 4. | Miner | 15 | 7 | 2 | 6 | 26—20 | 23 |
| 5. | Energy | 15 | 4 | 6 | 5 | 17—20 | 18 |
| 6. | Nikolaev-2 | 15 | 4 | 6 | 5 | 15—23 | 18 |
| 7. | Nykopol | 15 | 4 | 4 | 7 | 15—21 | 16 |
| 8. | Real Pharma | 14 | 3 | 4 | 7 | 7—23 | 13 |
| 9. | Chernomorets-2 | 14 | 2 | 4 | 8 | 11—28 | 10 |
| 10. | Tavriya Simferopol | 14 | 3 | 1 | 10 | 8—27 | 10 |
| 11. | Vanguard-2 | 14 | 1 | 4 | 9 | 11—30 | 7 |