Second League. Polesie and Crystal are on top, but competitors are breathing in the back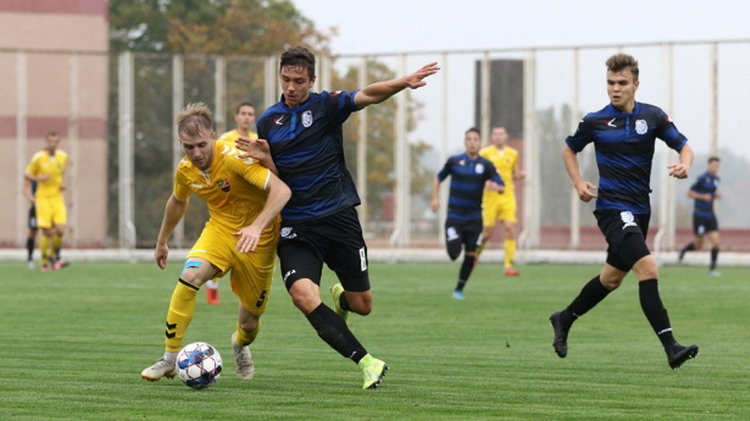 After a series of unsuccessful performances of Podillya players, they had a frank conversation with the club's management, and it seems to have worked.
Vitaly Kostyshyn's wards won two victories in a row with the same score - 3: 0. Yesterday, they easily declassified Obolon-Brovar-2 in Bucha, practically removing the issue of the winner from the agenda before the break. Serhiy Zuevych and Vitaliy Kaverin scored in the first half, and at the end of the match Vyacheslav Kalinin brought the case to defeat.
However, in group "A" the focus was on two other fights. In Zhytomyr, Polissya footballers hosted a daring debutant - Dinaz, who impressed with an eight-match unbeaten streak. The guests managed to neutralize the home team's flank attacks, but in the 50th minute they were forced to start from the center of the field - Dmytro Zaderetsky scored. It was still difficult to give someone an advantage, and the goalkeepers successfully coped with long shots. So Polissya won and ended up at the top, as Ternopil's Niva lost points quite unexpectedly, losing at home to Kalush, which was headed by renowned specialist Stepan Matviyiv in the middle of this week. In the 38th minute, Roman Lebed's general wagon forced the hosts to capitulate, and at the end of the match Andriy Remenyuk and Danylo Knysh (from the penalty spot) increased the visitors' advantage to 3-0.
And in group "B" the duel in Kryvyi Rih aroused interest, where "Girnyk" clarified the relationship with "Crystal". In the previous round, Kherson played sensationally at home with one of the outsiders - FC "Real Pharma", but today they rehabilitated in front of their fans. In the 32nd minute, Mikhail Laptev put "Crystal" ahead, in the middle of the second half, Bohdan Sokol equalized, but still the last word was left for Kherson Serhiy Tsoi, who in the 85th minute set the final score. 1: 2. However, Eduard Khavrov's wards should not be reassured, because the pursuers, VPK-Agro and Alliance, also won.
16 round
Group A
18.10. 2019
Obolon-Brovar-2 - Podillya - 0: 3
19.10.2019
"Niva" T - "Kalush" - 0: 3
Veres - Uzhhorod - 3: 0
"Niva" B - "Chaika" - 2: 0
Polissya - Dinaz - 1: 0
Standings
| | | | | | | | |
| --- | --- | --- | --- | --- | --- | --- | --- |
| | | G | W | D | L | GD | О |
| 1. | Polissya | 15 | 9 | 4 | 2 | 18-4 | 31 |
| 2. | Levels T | 14 | 9 | 3 | 2 | 18-9 | 30 |
| 3. | Veres | 14 | 9 | 2 | 3 | 25-13 | 29 |
| 4. | Podillya | 15 | 7 | 4 | 4 | 21-19 | 25 |
| 5. | Dinaz | 14 | 7 | 3 | 4 | 18-15 | 24 |
| 6. | Kalush | 15 | 6 | 4 | 5 | 21-14 | 22 |
| 7. | Uzhhorod | 15 | 5 | 4 | 6 | 17-21 | 19 |
| 8. | Levels B | 15 | 3 | 4 | 8 | 16-22 | 13 |
| 9. | Chaika | 14 | 2 | 4 | 8 | 9-16 | 10 |
| 10. | Bukovyna | 14 | 3 | 1 | 10 | 15-25 | 10 |
| 11. | Obolon-Brovar-2 | 15 | 2 | 3 | 10 | 11-31 | 9 |
Group B
18.10.2019
Avangard-2 - Nikopol - 0: 3
"Chernomorets-2" - "Energy" - 1: 1
19.10.2019
"Tavria Simferopol" - "Alliance" - 0: 2
Pitman - Crystal - 1: 2
"VPK-Agro" - "Nikolaev-2" - 3: 0
| | | | | | | | |
| --- | --- | --- | --- | --- | --- | --- | --- |
| | | G | W | D | L | GD | О |
| 1. | Krystal | 15 | 12 | 2 | 1 | 39-12 | 38 |
| 2. | VPK-Ahro | 15 | 12 | 1 | 2 | 39-10 | 37 |
| 3. | Alliance | 14 | 10 | 2 | 2 | 34-8 | 32 |
| 4. | Miner | 15 | 7 | 2 | 6 | 26-20 | 23 |
| 5. | Enerhiya | 15 | 4 | 6 | 5 | 17-20 | 18 |
| 6. | Mykolaiv-2 | 15 | 4 | 6 | 5 | 15-23 | 18 |
| 7. | Nikopol | 15 | 4 | 4 | 7 | 15-21 | 16 |
| 8. | Real Pharma | 14 | 3 | 4 | 7 | 7-23 | 13 |
| 9. | Chernomorets-2 | 14 | 2 | 4 | 8 | 11-28 | 10 |
| 10. | Tavriya Simferopol | 14 | 3 | 1 | 10 | 8-27 | 10 |
| 11. | Vanguard-2 | 14 | 1 | 4 | 9 | 11-30 | 7 |