Second League. Surprise from Obolon-Brovar-2 and the impressive run of VPK-Agro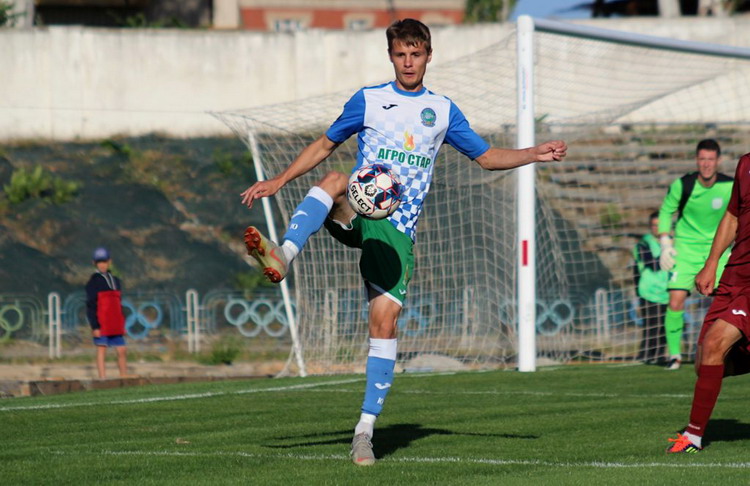 At the end of August, the president of FC Kalush, Andriy Biletsky, noted that the "citizens" were tasked to make their way to the first league. And when in the 15th round Kalush could not beat the outsider at home, Obolon-Brovar-2, the club manager's patience ran out, and Vasyl Kachur was replaced at the wheel by a well-known specialist Stepan Matviyiv.
Under his leadership, the Kalush people immediately defeated the leader, Ternopil's Niva, and it seemed that they would still be able to swing high. But already in the reporting round Prykarpattia again did not win at home, signing a world match with "Dinaz". Going forward after a shot by Andriy Remenyuk, in the middle of the second half they were forced to capitulate - Artem Marchenko scored for the guests.
Kalush fans were disappointed, because in case of victory, the "citizens" could reduce the gap with the leaders, because they, as if by agreement, lost points. The match in Mlyniv ended sensationally, where Veres hosted Obolon-Brovar-2. It seemed that the hosts, who had won four in a row, would not have much trouble with the "brewers", who, on the contrary, have been failing lately. However, it seems that the Veres players were knocked out of the track by a quick goal of the guests, the author of which was Denis Ostrovsky. They failed to establish a combination game, and rivals, thanks to reliable insurance, confidently controlled the course of events.
Polissya players also missed in their debut in a duel with another outsider - Bukovyna. But gradually the wards of Anatoly Bezsmertny recovered and not only leveled the situation, but also came forward. However, the last word was left for the guests, who had nowhere to retreat: in the 87th minute Daniel Raulyuk saved his team from defeat.
Nevertheless, the central match in Group A took place in Khmelnytsky, where in the presence of 2670 Podillya fans clarified relations with one of the leaders - Ternopil's Niva. If the hosts won two victories in a row after a certain recession, the guests, on the contrary, have been slowing down lately. However, today the teams could not find the shortest way to the goal, and long shots were inaccurate. Therefore, the rivals had to be content with signing a peace agreement, which greatly pleased the Polissya players, who kept the first line in the standings.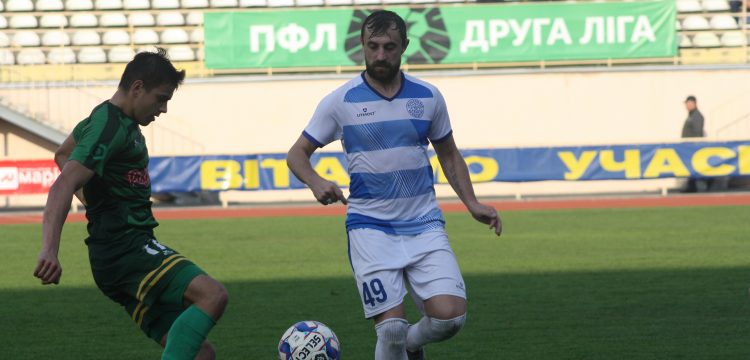 In the central match of the round in Group A, in Khmelnytsky, no goals were scored. Photo by fcpodillya.com.ua
But in group "B" today there were no surprises. The favorite, "Crystal", crushed "Nikolaev-2", which was again headed by Vyacheslav Mazarati - 4: 0 (one of the goals - in the assets of Andrei Barladim, the leader of the scoring race). Not far behind is the main pursuer, VPK-Agro, which has won for the ninth time in a row, this time over Tavriya Simferopol.
17 round
Group A
23.10. 2019
Chaika - Uzhhorod - 2: 0
Podillya - Niva T - 0: 0
Veres - Obolon-Brovar-2 - 0: 1
"Kalush" - "Dinaz" - 1: 1
Polissya - Bukovyna - 2: 2
Standings
| | | | | | | | |
| --- | --- | --- | --- | --- | --- | --- | --- |
| | | G | W | D | L | GD | О |
| 1. | Polissya | 16 | 9 | 5 | 2 | 20-6 | 32 |
| 2. | Levels T | 15 | 9 | 4 | 2 | 18-9 | 31 |
| 3. | Veres | 15 | 9 | 2 | 4 | 25-14 | 29 |
| 4. | Podillya | 16 | 7 | 5 | 4 | 21-19 | 26 |
| 5. | Dinaz | 15 | 7 | 4 | 4 | 19-16 | 25 |
| 6. | Kalush | 16 | 6 | 5 | 5 | 22-15 | 23 |
| 7. | Uzhhorod | 16 | 5 | 4 | 7 | 17-23 | 19 |
| 8. | Chaika | 15 | 3 | 4 | 8 | 11-16 | 13 |
| 9. | Levels B | 15 | 3 | 4 | 8 | 16-22 | 13 |
| 10. | Obolon-Brovar-2 | 16 | 3 | 3 | 10 | 12-31 | 12 |
| 11. | Bukovyna | 15 | 3 | 2 | 10 | 17-27 | 11 |
Group B
23.10.2019
"Energy" - "Real Pharma" - 3: 1
"Nikopol" - "Chornomorets-2" - 4: 1
"Tavria Simferopol" - "VPK-Agro" - 1: 2
"Crystal" - "Nikolaev-2" - 4: 0
"Alliance" - "Vanguard-2" - 2: 0
Standings
| | | | | | | | |
| --- | --- | --- | --- | --- | --- | --- | --- |
| | | G | W | D | L | GD | О |
| 1. | Krystal | 16 | 13 | 2 | 1 | 43-12 | 41 |
| 2. | VPK-Ahro | 16 | 13 | 1 | 2 | 41-11 | 40 |
| 3. | Alliance | 15 | 11 | 2 | 2 | 36-8 | 35 |
| 4. | Miner | 15 | 7 | 2 | 6 | 26-20 | 23 |
| 5. | Enerhiya | 16 | 5 | 6 | 5 | 20-21 | 21 |
| 6. | Nikopol | 16 | 5 | 4 | 7 | 19-22 | 19 |
| 7. | Mykolaiv-2 | 16 | 4 | 6 | 6 | 15-27 | 18 |
| 8. | Real Pharma | 15 | 3 | 4 | 8 | 8-26 | 13 |
| 9. | Chernomorets-2 | 15 | 2 | 4 | 9 | 12-32 | 10 |
| 10. | Tavriya Simferopol | 15 | 3 | 1 | 11 | 9-29 | 10 |
| 11. | Vanguard-2 | 15 | 1 | 4 | 10 | 11-32 | 7 |