Second League. For the tenth time, VPK-Agro helped to lead the table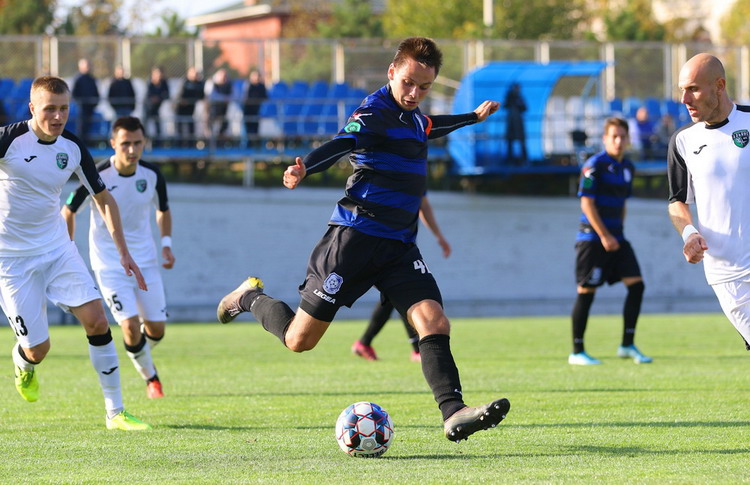 Two matches were postponed for good reason in the current round - Dinas - Podillya and Avangard-2 - Tavriya Simferopol.
Although for fairness it should be said that they would still not be at the epicenter of attention. Because the main confrontation took place in Magdalinovka, where MIC-Agro, which took the second place in Group B, received a leader - Crystal, whose positions were recently considered unshakable. However, the wards of Sergei Solovyov maintained a different point of view, they worked more and more smoothly with each round, more effective and still forced the Khersonians to retreat.
In a face-to-face meeting, the home team came ahead in their debut when Kirill Sidorenko scored a penalty. The guests made considerable efforts to break through, but because of problems with the last pass, they failed. Moreover, in the 87th minute Igor Sokoliansky for the second time forced the goalkeeper of Crystal to capitulate. The players from Magdalinovka take revenge for the defeat in the first round and, having won 10 (!) Wickets in a row, they change places with "Crystal" and lead the standings.
The failure of the Khersonites and the Alliance players, who after the victory in Odessa by the lost points, have already been taken advantage of by the Crystal. The fight for the run to the first division is intensifying.
And in group "A" increased interest aroused a duel in Ternopil, where the recent leader, "Niva", found out the relationship with "Veres", who in the previous round very disappointed his fans, having lost the home of an outsider - "Obolon-Brovar-2" . Both teams were well adjusted to the confrontation, no one wanted to concede, but because they did not please non-standard actions, it did not reach the acute moments. So in the end - the draw that was most appreciated by the Polesie players who, thanks to a better ratio of goals scored and missed, kept the first line in the standings.
He became entrenched in the leading group "Kalush", which in the dramatic struggle won the victory in Chernivtsi. It is worth reminding that recently the club management has set a task for the "locals" to rise in the classroom.
18 round
Group A
27.10. 2019
"Niva" T - "Heather" - 0: 0
Bukovina - Kalush - 1: 2
Uzhhorod - Niva B - 0: 2
28.10.2019
Obolon-Brovar-2 - Chaika - 0: 4
Standings
| | | | | | | | |
| --- | --- | --- | --- | --- | --- | --- | --- |
| | | G | W | D | L | GD | О |
| 1. | Woodlands | 16 | 9 | 5 | 2 | 20—6 | 32 |
| 2. | Levels T | 16 | 9 | 5 | 2 | 18—9 | 32 |
| 3. | Heather | 16 | 9 | 3 | 4 | 25—14 | 30 |
| 4. | Kalush | 17 | 7 | 5 | 5 | 24—16 | 26 |
| 5. | Podillya | 16 | 7 | 5 | 4 | 21—19 | 26 |
| 6. | Dinas | 15 | 7 | 4 | 4 | 19—16 | 25 |
| 7. | Uzhgorod | 17 | 5 | 4 | 8 | 17—25 | 19 |
| 8. | Levels B | 16 | 4 | 4 | 8 | 18—22 | 16 |
| 9. | Gull | 16 | 4 | 4 | 8 | 15—16 | 16 |
| 10. | Obolon-Brovar-2 | 17 | 3 | 3 | 11 | 12—35 | 12 |
| 11. | Bukovina | 16 | 3 | 2 | 11 | 18—29 | 11 |
Group B
27.10.2019
Girnyk - Energy - 1: 0
Chernomorets-2 - Alliance - 1: 5
Real Pharma - Nikopol 0: 2
MIC - Agro - Crystal - 2: 0
Standings
| | | | | | | | |
| --- | --- | --- | --- | --- | --- | --- | --- |
| | | G | W | D | L | GD | О |
| 1. | MIC-Agro | 17 | 14 | 1 | 2 | 43—11 | 43 |
| 2. | Crystal | 17 | 13 | 2 | 2 | 43—14 | 41 |
| 3. | Alliance | 16 | 12 | 2 | 2 | 41—9 | 38 |
| 4. | Miner | 16 | 8 | 2 | 6 | 27—20 | 26 |
| 5. | Nykopol | 17 | 6 | 4 | 7 | 21—22 | 22 |
| 6. | Energy | 17 | 5 | 6 | 6 | 20—22 | 21 |
| 7. | Nikolaev-2 | 16 | 4 | 6 | 6 | 15—27 | 18 |
| 8. | Real Pharma | 16 | 3 | 4 | 9 | 8—28 | 13 |
| 9. | Tavriya Simferopol | 15 | 3 | 1 | 11 | 9—29 | 10 |
| 10. | Chernomorets-2 | 16 | 2 | 4 | 10 | 13—37 | 10 |
| 11. | Vanguard-2 | 15 | 1 | 4 | 10 | 11—32 | 7 |