The Premier League. Shakhtar beat Carpathians on the field without any effort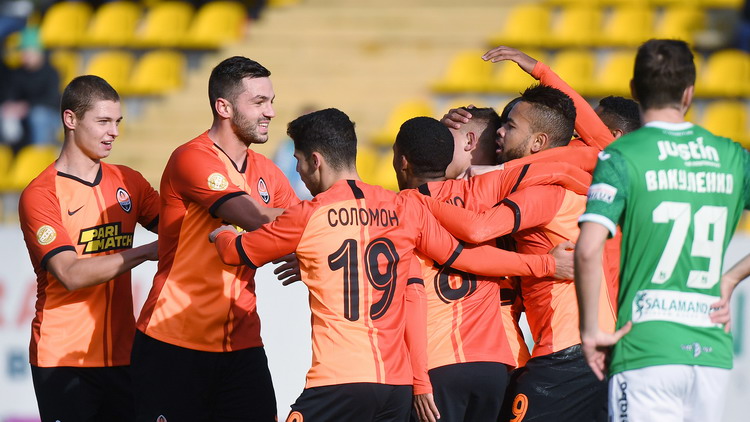 After a series of three matches without victories in three different tournaments, which Shakhtar had issued at the end of October, the Pitmen's coach Luis Kashtra played a large-scale rotation with the Carpathians.
Hemp, Marlos, Ismail and Krivtsov after Dynamo match the Cup of Ukraine needed the help of doctors. Probably, he also considered the coaching staff at the meeting with Dynamo Zagreb, which is expecting the Donetsk team next Wednesday, so it did not fly to Lviv and Pyatov. The result is orange-black football players who received a call for the closest national team of Ukraine, only Bolbat (substituted 53 minutes) and Kovalenko (substituted 56 minutes, goal) appeared on the field.
As for the events in the Karpaty - Shakhtar match, the game took place at a good pace, the Lviv residents who played in the last round selected points in Dynamo, tried to resist, and even created moments. However, not the best match was played by the goalkeeper of the hosts Podkivka. In the 10th minute, his pass to the defender was intercepted by Boryachuk, who opened the account. In the second half, Kovalenko scored after a corner kick, and Tete scored from the game, bypassing a beat by a keeper who inadvertently exited the goal.
Vorskla met with Desna in another match - the teams that successfully spent this week Ukraine Cup matcheshaving won the quarterfinals. The meeting in Poltava ended with a minimal victory of the guests, which allowed the Chernihivs to go for at least one day in the Dynamo table. Vorskla continued its series without winning the championship to eight matches (seven defeats).
The rest of the matches of the 13th round will take place tomorrow.
Premier League-2019/2020
13 round
02.11.2019
Karpaty vs Shakhtar 0-3 (0-1)
Goals: Boryachuk (10), Kovalenko (58), Tete (65).
Vorskla - Desna - 0: 1 (0: 0)
Goal: Imerekov (76).
Standings
 

 

G

W

D

L

GD

О

1.

Shakhtar

13

12

1

0

39—6

37

2.

Desna

13

8

2

3

20—7

26

3.

Dynamo

12

7

3

2

24—8

24

4.

Zorya

12

6

4

2

23—11

22

5.

Oleksandriya

12

6

2

4

14—13

20

6.

Mariupol

12

4

4

4

11—16

16

7.

Kolos

12

4

2

6

9—23

14

8.

Dnipro-1

12

3

2

7

12—17

11

9.

Olimpik

12

3

2

7

10—22

11

10.

Karpaty

13

2

4

7

9—19

10

11.

Vorskla

13

2

2

9

9—26

8

12.

Lviv

12

2

2

8

8—20

8

03.11.2019

Alexandria - Mariupol

14.00

Dnipro-1 - Zorya

14.00

Dynamo vs Lviv

17.00

Colossus - Olympic

19.30