Second League. The outsider won the 10-match winning series of MIC-Agro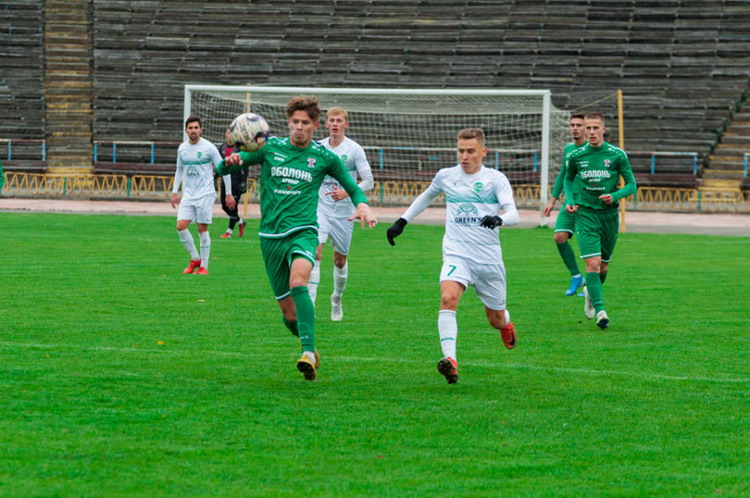 The report tour began with a confrontation in Kramatorsk, in which a rather unexpected result was recorded. The leader of group "B", "MIC-Agro", only in a compensated time escaped defeat from an outsider - "Avangard-2".
"The hosts made a great impression on organized defense, sharp countermeasures," said guest coach Volodymyr Knysh after the final whistle. - In addition, their goalkeeper was in the shot. And considering how the events on the field unfolded, we must be satisfied with the draw… "
"For various reasons, I could only count on 14 players," said the manager of "Avangard-2" Alexander Ivashchenko. - Most of them make only the first steps in big football, but it did not prevent them from giving battle to guests, for which many experienced performers spoke. I think we won the victory. "
It should be noted that, despite the loss of points, the team from Magdalenivka kept the first line in the table, as its main pursuer, Crystal, did not participate in the reporting round.
And in group "A" after the rampage over "Dinas" forward at least a day, "Veres" escaped, as the shadow leader, "Polesie", spent his duel on Sunday. In Mill, the main events unfolded after the break. In the first half, the conditions dictated the guests, but the removal of Denis Petrenko knocked them out of the rut. The most significant contribution to the hosts' hoax was made by Mikhail Shestakov, who drew a double.
"Not everything worked out for us," said Veres' mentor Yuri Wirth, - but today the result was the result. And I am very glad that we have achieved the desired. "
"We have proved once again that, despite the status of debutants, we can play with any rival on an equal footing," said Dinasa head coach Volodymyr Bondarenko. - And it is still unknown how it would have ended had it not been for Petrenko's removal ... "
The mood of the Rivne football players improved even more when it became known about the defeat of the "Seagull" by their competitor - Ternopil "Niva". And on Sunday they eagerly waited for messages from Kalush, where the "locals" received Polesie. The guests were set up seriously and in the first half removed the winner from the agenda, twice forcing the hosts to start from the center of the field. Anatoly Bezsmertny's wards win an important victory and push Heather to the second position. But the Kalush, impressed, can already say goodbye to the hopes of rising in the classroom.
Bukovina snatched the torture in Khmelnytsky and improved its tournament position somewhat. Photo by fcpodillya.com.ua
Finally, we pay tribute to the players of Bukovina, who were defeated by an inconvenient opponent, Podillya, thanks to a penalty shot by Taras Sivko. This twist allowed Stepan Makiivychuk's wards to change places in the standings with Obolonny-Brovar-2, which still managed to escape from the defeat in Vinnytsia.
19 round
Group A
02.11. 2019
Podillya - Bukovina - 0: 1
Heather - Dinas - 2: 1
Seagull - Niva T - 2: 1
Niva B - Obolon-Brovar-2 - 2: 2
03.11.2019
Kalush - Polissya 0: 2
Standings
| | | | | | | | |
| --- | --- | --- | --- | --- | --- | --- | --- |
| | | G | W | D | L | GD | О |
| 1. | Woodlands | 17 | 10 | 5 | 2 | 22—6 | 35 |
| 2. | Heather | 17 | 10 | 3 | 4 | 27—15 | 33 |
| 3. | Levels T | 17 | 9 | 5 | 3 | 19—11 | 32 |
| 4. | Kalush | 18 | 7 | 5 | 6 | 24—18 | 26 |
| 5. | Podillya | 17 | 7 | 5 | 5 | 21—20 | 26 |
| 6. | Dinas | 16 | 7 | 4 | 5 | 20—18 | 25 |
| 7. | Gull | 17 | 5 | 4 | 8 | 17—17 | 19 |
| 8. | Uzhgorod | 17 | 5 | 4 | 8 | 17—25 | 19 |
| 9. | Levels B | 17 | 4 | 5 | 8 | 20—24 | 17 |
| 10. | Bukovina | 17 | 4 | 2 | 11 | 19—29 | 14 |
| 11. | Obolon-Brovar-2 | 18 | 3 | 4 | 11 | 14—37 | 13 |
Group B
01.11.2019
Vanguard-2 - VPK-Agro - 1: 1
02.11.2019
«Energy» - «Nikolaev-2» - 1: 2
Tavriya Simferopol - Chernomorets-2 - 1: 0
03.11.2019
Nikopol - Girnyk 0-0
Alliance - Real Pharma - 5-0
Standings
| | | | | | | | |
| --- | --- | --- | --- | --- | --- | --- | --- |
| | | G | W | D | L | GD | О |
| 1. | MIC-Agro | 18 | 14 | 2 | 2 | 44—12 | 44 |
| 2. | Alliance | 17 | 13 | 2 | 2 | 46—9 | 41 |
| 3. | Crystal | 17 | 13 | 2 | 2 | 43—14 | 41 |
| 4. | Miner | 17 | 8 | 3 | 6 | 27—20 | 27 |
| 5. | Nykopol | 18 | 6 | 5 | 7 | 21—22 | 23 |
| 6. | Energy | 18 | 5 | 6 | 7 | 21—24 | 21 |
| 7. | Nikolaev-2 | 17 | 5 | 6 | 6 | 17—28 | 21 |
| 8. | Tavriya Simferopol | 16 | 4 | 1 | 11 | 10—29 | 13 |
| 9. | Real Pharma | 17 | 3 | 4 | 10 | 8—33 | 13 |
| 10. | Chernomorets-2 | 17 | 2 | 4 | 11 | 13—38 | 10 |
| 11. | Vanguard-2 | 16 | 1 | 5 | 10 | 12—33 | 8 |