Andriy Pyatov: "It is necessary to set the task gradually. We will leave the Euro from the group - it will be seen further »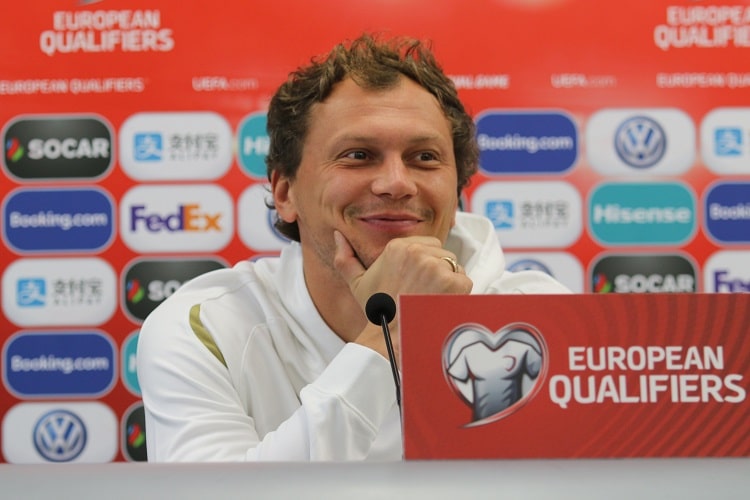 National team captain Andriy Pyatov, for whom the 92nd career home game with Portugal, spoke about the components of Ukraine's success in the selection for the Europe 2020 Championship.
- Andriy, this year's selection missed quickly - in the seven months, from March to October, the blue and yellows managed to guarantee themselves the first place in the group, which became a historic achievement in all times of our participation in the European Championships. Admit it, did you expect at the start of the qualification that the national team will be able to solve the task of entering the Euro two rounds before the campaign ends?
- (Laughs.) I think no one expected this, given the composition of the group, which included the current champions of Europe and Serbia, which is every reason to consider a strong team in terms of at least the transfer value and club representation of players in this national team. On the other hand, I cannot say that our achievement has come as a surprise to me, because we are always striving to win, and I am very glad that we have succeeded.
Photo by Pavlo Kubanov
- The work, which Andrey Shevchenko and his coaching staff started in qualifying for the World Cup, gave result later. In what way do you see the pattern of transformation of a team style of play that has become more offensive?
- Any coach who comes to the team wants to introduce his tactics and, using his vision of football, to convey certain ideas to the players. It is always more difficult to do this in a team than in a club where the coach has the opportunity to work daily, using training and control games to prepare. The last ones in the club can be spent in almost ten, to test whether the chosen tactics work. And in team time is not enough. Therefore, the adaptation to the style of the coach probably lasted during the first year of Andrei Nikolaevich's work in the team - even during the selection for the World Cup. We liked the solutions offered by the coaches, we believed in them and tried to implement everything in the matches. As a result, over time, all of this together has produced both the result and the quality of the game. If people like the way we play, and experts say that the quality of performance has increased, this is an indicator of the work done. Personally, from the first day I said that I was very impressed with the style of work of our coaching staff.
"We still achieved the result, but it was somehow on the veins"
- Shevchenko football is called modern. What are its nuances?
- It is easier for players to adapt to such football. In Europe, the principles of playing Shevchenko are already familiar, and for most guys playing in Ukraine, this was a novelty. We will not hide that previously the team worked coaches who believed that they professed Lobanovsky's football, betting on, say, quick flanks.
The current coach came in and introduced some different requirements. We still achieved the result, but it was somehow on the veins, in a constant struggle. Yes, wrestling is a component of football, but the game does not consist of single combats, it is necessary to be able to control it, to own the ball, to use tactics correctly, to draw conclusions. The last match with Portugal showed how reasonable our staff chose tactics. We did not just fight-fight. Here, it would seem a minor nuance - to move Yaremchuk to the left on the flank, and to put Marlos the central striker, which draws on itself two centerbacks opponent. This is a bold coaching step that justified itself.
Photo by Pavlo Kubanov
- Does the current style differ from what it used to be, in particular, teamwork as opposed to the fact that once the individual qualities of leaders came to the fore?
- They used to say, "Give the ball to Konoplyanka or Yarmolenko, and they will come up with something." And imagine, if the game went neither that nor that - we no longer know what to do! We try to play on them, and the opponent, who also studies our style, sent two players as opposed to our wingers, and all - blocked the oxygen. Now, as you can see, we work as a team. Nobody overloads the ball, everyone opens, everyone knows their functions on the pitch. We play fast - a short pass. As a result, not only Yarmolenko and Konoplyanka are killed, everyone - from defenders to forwards - can be distinguished. This is the joint work of the whole team.
- And as for Lobanovsky, then, probably, those people who believed that they played his football did not quite convey the principles and vision at the expense of which Maestro succeeded…
- Of course. Lobanovsky is a personality, and only one knew how to achieve a goal based on a tactical vision. You can read a book written by someone how to prepare a team, but during the game only the coach feels that the team should do what to do, whom to change, to transfer to another flank ... There are many nuances. And only the great Lobanovsky knew how he did it. This is difficult to convey, and even more so to implement. Coaching work is a consequence of proper training. Now, in the 21st century, everything is easy to find on YouTube, on social networks, and download digital information. But this is just a base, and the work of each trainer is his or her individual abilities.
Photo by Pavlo Kubanov
"I am sure that the opponents will draw conclusions by carefully disassembling our game"
- How would you describe the style of Coach Shevchenko?
- European, comparable to the work of top coaches - Pep Guardiola, Jurgen Klopp. As far as I know, he communicates well with Carlo Ancelotti, and generally takes the best from every specialist. In addition, his strength is in assistants. I think that Andrei himself understands how great work is done by his assistants, with whom he is one harmonious whole. He gives himself to the job completely: prompts, works. And assistants analyze very important information and offer the trainer options. The same decision to transfer Yaremchuk to the left flank was a collective one: they identified a weak opponent zone that could be used and carried out the plan.
Photo by Pavlo Kubanov
- One of the brightest matches not only in this selection, but also in history the national team spent this summer in Lviv, defeating Serbia ...
5: 0 No one predicted this either (laughs)! And here I want to mention the coaching staff again. The Serbs changed tactics before the game, using three defenders and saturating the attack. I also shared my observations with the guys, as Shakhtar had previously met in the Champions League with Hoffenheim, who also plays in three defenders. Such tactics are quite risky: if you do not lose the ball in attack and, accordingly, do not lead to counterattack on your own goal, then everything will work out. And so it happened. We had a lot of moments and we used them. It turned out that we beat his opponent with his weapon. And they played confidently in defense.
- Now we are waiting for a match with the Serbs who want to play and fight for the second Euro tour. What about our motivation?
- We only go to Serbia for victory! Of course, Serbs are now more likely to respect us, perhaps to be afraid, but more importantly, they are studying our strong playing qualities that they did not take into account in the first match. I am sure that they will draw conclusions, carefully disassemble our game, and receive instructions from their new coach. But we will have more than one theoretical lesson, we will prepare, and our mentors will tell you how to act against a serious opponent. We have our motivation - we need to get at least a point by securing a place in the first basket for the draw. Definitely want to complete the selection on a major note.
"I'm always looking for goals in my mind, I think I could do it"
- You have repeatedly participated in matches that took place in Belgrade. How frustrating to play there?
- I remember once we played, and the fans seemed not to have been disqualified. And now the match could also take place in the empty stands. You know, on the road it's still better when the stadium is full. Believe me, even when you are away, you can feel the atmosphere of a football holiday. We play for the audience. By the way, when we take the initiative by taking the ball under our control, local fans are no longer whistling to our address, but booing their own. And the pressure on the owners is greater. So here, too, we must look for the pros. It is up to us to play well, to achieve the result - and the fans will help us.
Photo by Pavlo Kubanov
- We played at home with Portugal, so the audience here was our 12th player…
- And we started the game, just meeting the expectations of the fans and scoring one goal, the other ... Someone said that the great merit of the fans in the last minutes of the match when we were in the minority. This is true, because I didn't notice that we lacked one artist. Yes, the Portuguese had some last-minute moments, but we stayed the rest of the time. There was even a time when we controlled the ball, passed it from flank to flank, and the opponents didn't know what to do.
- In this match you made nine saves, five of them within the penalty area ...
- I never want to praise myself. Merit to the whole team. I wouldn't say there were any superpowers. You just have to choose the right position and tell the defenders. Some of the strikes were unpleasant, but they all worked. Well, that ends well.
- How do you manage to keep your composure in such difficult and stressful moments?
- But not always (laughs). I do not know, perhaps, affects the experience of such matches. Once, when I was 30, Mircea Lucescu said that I became more experienced in terms of tips to partners, vision of the game, safety. Of course, there are mistakes, but it happens to everyone. The fans do not notice some of the little things. In the game you can five times insure the defender, and on the sixth will throw you a "collar" - and you will score. And everyone will say it was a mistake ... The coaches see it and tell us what to do. And the players perform.
Photo by Pavlo Kubanov
- How do you feel about your mistakes?
- Self-critical. I'm always looking for goals in my mind, I think I could do it. We also communicate with the goalkeeping coach. Of course, without this progress there will be no progress.
"Everyone remembers how we played at the last European Championships"
- In the national team, you often play with a couple of Shakhtar midfielders, but sometimes there is a different defense. Are you comfortable with classmates?
- I wouldn't say. Of course, in the club we play a lot together, we understand each other. However, in the national team of Ukraine there is a plan for the game, the coach gives instructions for training. All players, regardless of composition, understand the structure of the game. So it makes no difference whether Krivtsov or Burda play defense. Nikita has shown over the last six months that he is truly one of the best defenders in Ukraine.
- You spent 92 matches for the national team, repeating the achievements of Alexander Shovkovsky. Remember your first fight for the national team?
- Yes, Sasho congratulated me after meeting Portugal… And the first match I remember - with Uzbekistan, the score was 2: 1.
- By the way, the current coach of the national team Andriy Shevchenko scored. You missed, but there are a lot of "dry" matches for the national team. There was a long series recently…
- I never single out personal achievements. First of all, the result of the team is important to me. We got it together, and now we have the challenge of successfully playing this year and preparing for the Euro. Because everyone remembers how we played at the last European Championships, and we want to achieve more.
- Getting out of the group - a good goal to begin with?
- Of course. You should always set the task gradually. We will leave the group - it will be seen further.
«Andriy Nikolaevich has earned that piece of fame with his work»
- For you, this European Championship will be the third in a row. In the previous two we had only one victory - over the Swedes. Want to improve your final tournament stats?
- Always want. Well, there is desire and motivation. This is the most important thing. Everyone understands their responsibility. Let's make the right conclusions - we will be successful.
- Are you close to a hundred matches for the national team?
- Absolutely not. Even if I no longer hold any team for the team, but it will continue to progress, I will be happy.
- Have you ever remembered the most important game of the 2012 UEFA European Championships?
- Of course. Still, the home Euro, the first match, is difficult. One of the best football players Ibrahimovich played against us. We were also one of the best for us, with two headshots deciding the fate of the match.
- You are one of the most experienced players in the national team. Becoming Andriy Shevchenko as a coach was happening in your eyes ...
- I will always defend him, because I like this coaching approach. Shevchenko is not afraid, he is developing, he has correctly selected his assistants. He has everything to move forward. He received a lot of criticism, which he always calmly received, fencing off her team and taking over. So, Andrei Nikolaevich with his work deserved that piece of glory, those words of support. He has great ambitions and perspectives.
Photo by Pavlo Kubanov
- Why did he manage to achieve such a cool family atmosphere in the national team?
- The team has always had a good atmosphere - during all the time that I stand for it. The guys come with the desire and good humor. There is now another mentality in young players. Earlier veterans who feared democracy and freedom of speech now prevail. However, we have learned that no one has to cross the border or go beyond certain limits. There is a perfectly normal discipline that does not discriminate against anyone, it must be respected. It suits everyone.
«We have a lot of experienced guys who can suck up someone »
- Did the youth become more daring and relaxed?
- Now it is necessary to treat young players differently. You do not need them constantly with a whip, but more with a gingerbread. In the training team and at home, I see that all people are well educated and have some life experience. I would not say that there were any gross violations.
- You have played many matches with the captain's armband both for Shakhtar and for the national team. What does this mean for you? How does the bandage affect your role on the field?
- It's a responsibility, an honor. I dreamed of playing for the national team, went to that, but never thought I would be a captain. This is a coaching decision that I want to justify. Maybe I am not a superlider, but I have the responsibilities. I will not say that I should run after the referee, because I am a goalkeeper and should do my own thing. It helps that I'm used to telling my partners. We have a lot of experienced guys who can arrange to catch up with someone in the best sense of the word. They help me as well.
"Yuri Pankov may make his debut, it is necessary to practice Andrey Lunin ..."
- The captain is an experienced person who communicates coaching decisions to his partners and has his own vision for the game. Can you say that this is a kind of coach on the field?
- The responsibility is great. But what helps me is that I sit behind and see everything. The coaches demand it from the goalkeepers, because we have a good overview. And given that I am also a captain, there is even more to suggest.
Photo by Pavlo Kubanov
- In the national team you have number 12. Why him?
- When I joined the national team, I played Shovkovsky under the first number. We went to the 2006 World Cup, where Bohdan Shust took 23rd and I finished 12th. And after that I didn't worry too much about that.
- After Shovkovsky left, the first number became vacant. You could have taken it ...
- It's just a figure. The main thing is to play and get into the lineup.
- And why in Shakhtar do you have number 30?
- I joined this team, I was handed the equipment. Everything is very simple.
- Ahead is a friendly game against Estonia. How do you look at her? How can we benefit from this match?
- We respect all rivals. In a friendly match, coaches have the opportunity to view players who have had less playing time.
- Perhaps one of your colleagues in the role will have the opportunity to play with Estonia?
- It will be right, because everyone has to play. Yuriy Pankov may make his debut, it is necessary to practice Andrey Lunin, who does not play in the club. That's why coaches have to decide.
"I am young at heart! But I do not want to block anyone's road to football »
- How would you characterize Lunin as a junior colleague?
- I love him, support him, watch him. I will not sing praises, but it is a very talented goalkeeper. In his upbringing and dedication, he has everything to grow into a top-notch goalkeeper.
- For a goalkeeper 35 years old - not a veteran age ...
- First of all, it depends on the person. If you avoid injuries, meet the requirements of the coaches, then you will play.
- How old are you?
- I'm young at heart! But I don't want to block anyone's road to football. When you are unsuccessful, you are quickly sent to retirement, said to be completing your career. It's not always smooth in football, everything has to be lived through. If the coach sees that I can help, then I will do my best. If he says I'm not pulling then no questions. You need to understand yourself.
Photo by Pavlo Kubanov
- In your career you have achieved a lot - in your asset victory in the UEFA Cup, Ukrainian trophies, you will not compete for the first time in the European Championship. Are you feeling like you want to win more?
- Of course. Even Gianluigi Buffon at his age is still trying to win the Champions League. I also have ambitions. You play not only for the fans, but also for yourself. We want to reach the tops and win trophies together with the team.
- You reached the top with your wife - you had a son. Is this a special event for you?
- Have set a task - have fulfilled! I am very happy, thank you very much to my wife for giving such a rich man. Now we nurture it with our sisters. He is definitely not underestimated.
- Maybe he will also be a goalkeeper sometime ...
- No, I would not. Better be an attacker (laughs).
Oleksandr Glyvynskyy, spokesman for the national team of Ukraine