News from the national team camp: a walk, training at Raiko Mitic Stadium and a story from Mauro Tassotti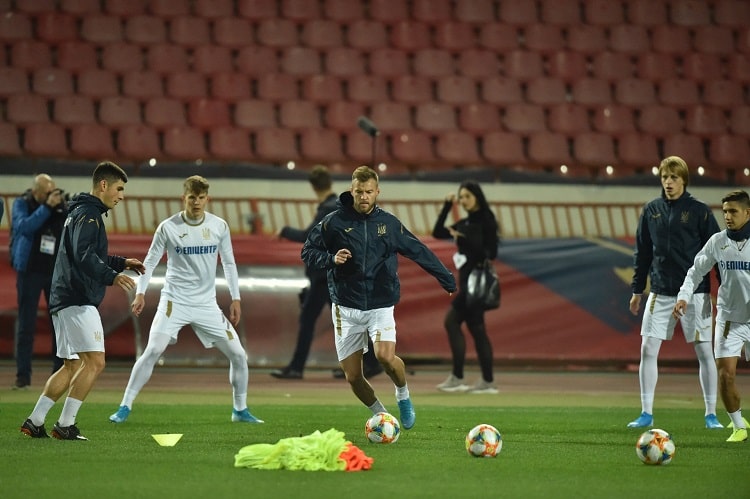 This morning, the blue and yellow have taken the traditional half-hour walk around the hotel. The national team is located in the part of Belgrade called "the new city": here luxury hotels and office centers alternate with the characteristic high-rises of the times of the socialist camp.
But the main thing in the boardwalk is the fresh air and good weather, and in the Serbian capital, as in mid-November, it is wonderful - 20 degrees of heat.
Photo by Pavlo Kubanov
Immediately after the walk, the players went to a theoretical class. After analyzing the strengths and weaknesses of the opponents, the blue-and-yellows worked out the options offered by the coaching staff to play the game during the official training at Raiko Mitic Stadium. A characteristic feature of this arena is the very long tunnel that leads from the dressing area to the field. This passage, similar to a military bunker, is called by fans of Belgrade's Crvena Zvezda, for which it is a home arena, a "death tunnel."
Photo by Pavlo Kubanov
All 25 players took part in the official training of the national team of Ukraine, of which Andriy Shevchenko will select 23 by the end of the day to apply for the match.
Interesting story about playing on Maracan, as the stadium is called "Raiko Mitic" by Serbian fans, told the coach of the national team of Ukraine Mauro Tassotti. 31 years ago, in 1988, Mauro hosted his first away international match here in the Milan, as part of the 1/8 finals of the Champions Cup. The match against Crvena Zvezda was halted at the expense of 1-0 in favor of the home team due to the lightless fog. The replay of the second half was scheduled the next day. The game ended in a draw - 1: 1, and in a series of post-match penalties, Milan won and advanced to the next round. Andriy Shevchenko has never played in the Belgrade arena, but Tassotti's victorious experience is considered a good sign…
The final preparation and development of tactical schemes bring the team as close as possible to tomorrow's match, which will start unusually early - at 16 pm Kyiv time.
Tomorrow the team will have a combined breakfast / lunch and early departure for the match - at 14.15 in Kiev.
Photo by Pavlo Kubanov
And then - a difficult test in a guest match with the Serbs. However, blue and yellow always strive to play their best and give positive emotions to their fans. And even if there are very few of them in the stadium (56 members of the official delegation), the guys will feel with heart the multimillion-strong army of supporters who support Ukraine not only on the territory of the nanny, but around the world.
Oleksandr Glyvynskyy, spokesman for the national team of Ukraine