The winners of the All-Ukrainian competition for the best football lesson are determined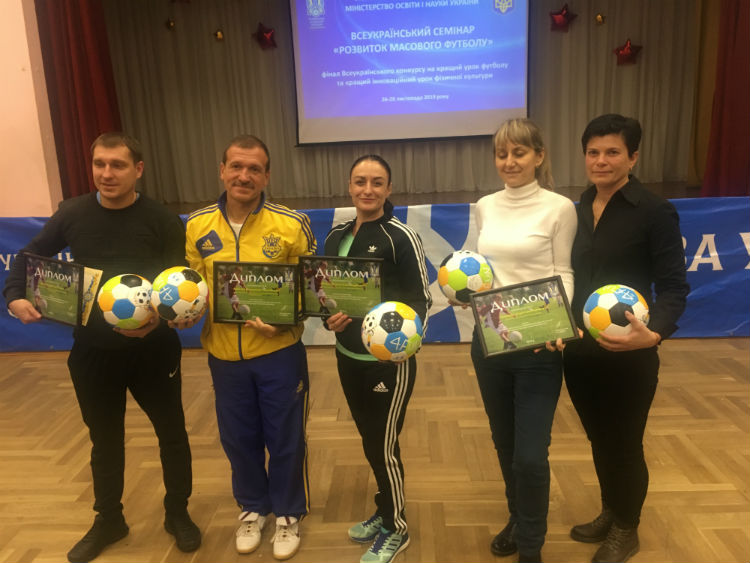 Українська асоціація футболу та Міністерство освіти і науки України завершили Всеукраїнський семінар «Розвиток масового футболу», у рамках якого журі підбило підсумки Всеукраїнського конкурсу на кращий урок футболу та кращий інноваційний урок фізичної культури.
Уже за доброю традицією двері для учасників семінару та конкурсу гостинно відчинила столична Скандинавська гімназія (директорка — Тетяна Пушкарьова). Протягом трьох днів слухачі та конкурсанти — кращі вчителі фізичної культури з кожної області та м. Києва, фахівці освіти, які працюють з учителями й реалізують програми розвитку масового футболу — не лише знайомилися з новими методиками викладання, а й мали можливість презентувати свої ідеї та напрацювання. Фіналісти конкурсу — представники Вінницької, Донецької, Одеської, Харківської та Херсонської областей — провели уроки футболу та інноваційні уроки фізкультури.
Згідно з оцінками журі, абсолютним переможцем конкурсу стала Світлана Вишня — вчителька фізичної культури Южненської школи Одеської області. Срібним призером став Володимир Майстро — вчитель фізичної культури Чемужівської школи Зміївського району Харківської області. Третє місце посіла Ольга Мазманян — вчителька Чорнобаївського НВК Білозерського району Херсонської області.
Лауреатами конкурсу за оцінками журі стали Андрій Малий (Острівська школа Мар'їнського району Донецької області) та Зорислава Шинкарук (школа № 10 м. Вінниця).
All the winners of the regional competitions invited to the seminar were awarded with UAF diplomas and inventory kits for school lessons. The winners and winners of the final stage received valuable prizes, footballs, equipment and the football uniform of the national team of Ukraine.
«Ми високо цінуємо самовіддану майстерну працю наших учителів фізичної культури, які зробили дуже важливу справу для наших дітей та для розвитку шкільного футболу в Україні», — відзначив перший віце-президент Української асоціації футболу Вадим Костюченко.