The Premier League. "Dawn" beat "Carpathians" and bypassed "Dynamo", "Vorskla" interrupted the winless series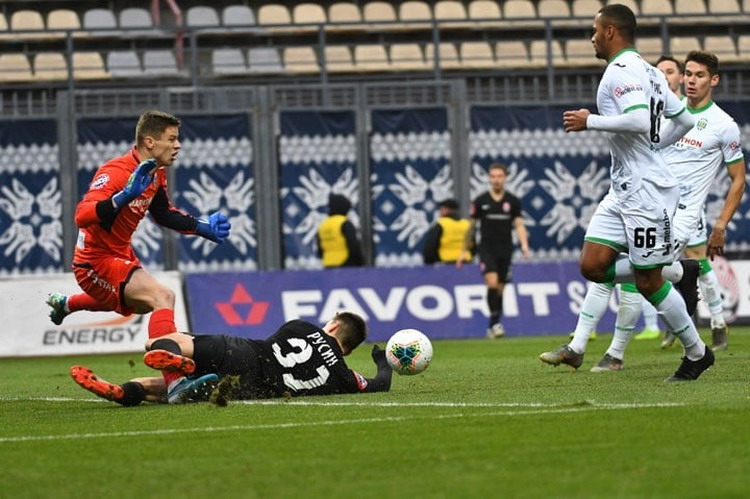 Three matches of the 16th round of the Prem took place today'yer-leagues, following the results of which Zorya has risen in the table one step, and Dnipro-1 - three at once.
Zorya footballers made their considerable advantage over the Carpathians only after the break, although they could have done it much earlier - Mikhailichenko hit the crossbar in the 8th minute. In the second half, Wernidub scored after a corner kick, and at the end of the game Kochergin also scored. Roman Sanjar's ward did not help the return of 37-year-old defender Kucher, who has not played since August because of an injury. After this victory, Lugansk returned to the second line at least a day.
Dmitry Ivanisenya, who is a candidate for the national team of Ukraine, played a full match for Zorya.
Photo by zarya-lugansk.com
The other Lviv team also missed two "dry" balls in a parallel duel. FC Lviv on the field lost to Dnipro-1, which, thanks to two victories in a row, returned to the first six. However, tomorrow Dmitry Mykhaylenko's wards could theoretically bypass Olimpik with Mariupol, but these teams will play against Dynamo and Shakhtar respectively…
In another Vorskla duel, which was played for the first time in Poltava under the leadership of Yuriy Maximov, overcame Kolos, breaking the 10-match unbeaten streak, which has become an anti-record in club history.
16 round
30.11.2019
Lviv - Dnipro-1 - 0: 2 (0: 1)
Goals: Korkishko (16), Kohut (61).
Zorya - Karpaty - 2: 0 (0: 0)
Goals: Wernidub (54), Kochergin (87).
Vorskla - Kolos - 1: 0 (1: 0)
Goal: Vasin (38, penalty kick).
Standings
| | | | | | | | |
| --- | --- | --- | --- | --- | --- | --- | --- |
|   |   | G | W | D | L | GD | О |
| 1. | Shakhtar | 15 | 14 | 1 | 0 | 44—7 | 43 |
| 2. | Zorya | 16 | 9 | 4 | 3 | 31—13 | 31 |
| 3. | Dynamo | 15 | 9 | 3 | 3 | 29—9 | 30 |
| 4. | Desna | 15 | 8 | 3 | 4 | 21—10 | 27 |
| 5. | Oleksandriya | 15 | 8 | 3 | 4 | 18—14 | 27 |
| 6. | Dnipro-1 | 16 | 5 | 3 | 8 | 17—22 | 18 |
| 7. | Olimpik | 15 | 5 | 3 | 7 | 14—24 | 18 |
| 8. | Mariupol | 15 | 4 | 5 | 6 | 14—22 | 17 |
| 9. | Kolos | 16 | 5 | 2 | 9 | 12—28 | 17 |
| 10. | Karpaty | 16 | 2 | 5 | 9 | 12—25 | 11 |
| 11. | Lviv | 16 | 3 | 2 | 11 | 11—30 | 11 |
| 12. | Vorskla | 16 | 3 | 2 | 11 | 10—29 | 11 |
01.12.2019

Desna - Alexandria

14.00

Shakhtar vs Mariupol

14.00

Olimpik - Dynamo

19.30