Festive mood and gifts for young football players from UAF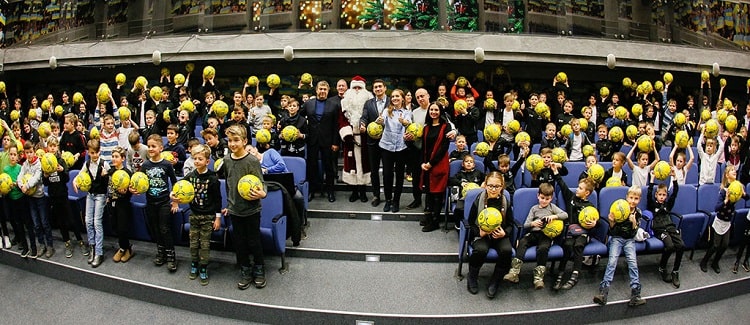 Christmas mood reignsthem todayyami within the walls of the Ukrainian Football Association.
Since December 19, the residence of St. Nicholas has started working at the House of Football. Children, young footballers, their coaches and parents have the opportunity to meet the Wonderworker, have a good time and receive Christmas gifts from him and the Ukrainian Football Association.
Photo by Volodymyr Rasner
On December 21, students of the Real Madrid Social and Sports School and the Epicenter - For Children, as well as young footballers from the UAF Football Academy, visited the Football House.
The fabulous Santa Claus, who also came to visit, offered fun and entertaining interactive tasks and competitions, during which children easily answered football questions and received prizes.
The first Vice-President of the UAF, Vadim Kostyuchenko, the member of the board of the NGO Epicenter - Children Andrei Karikov and the main coordinator of the social-sports school of the Real Madrid Foundation, Tatiana Yednakovska, addressed the young football students with greetings.
Photo by Volodymyr Rasner
"Dear children! First of all, let me welcome you to the House of Football and congratulate you on New Year's holidays from UAF President Andriy Pavelko, the head coach of the national team of Ukraine Andriy Shevchenko and the coach of the youth national team of Ukraine, who recently became world champion, Oleksandr Petraken. . - We all wish you all a new, more victorious, great competition in 2020. We want you to celebrate your teams, schools, parents, coaches and our entire country with your victories. Good luck to you, dear children! "
For his part, Andriy Karikov conveyed congratulations to the children from the Vice President of the Epicenter - Children NGO Taras Gerega, thanked the UAF leadership and the Football Development Fund for the support of football projects and wished all the good New Year holidays.
In her turn, Tatiana Yednakovskaya, welcoming the children, added that in the new year young players will be able to participate in many tournaments abroad, and encouraged them to pay attention not only to football but also to school.
Traditionally, for these days, there were no tastes that the children could enjoy after the holiday, having also received a soccer ball from UAF.
The holiday flew by quickly, but left a good mood and joy of communication.
Photo by Volodymyr Rasner