Chernihiv will host the Winter 2020 Championship among the major league women's teams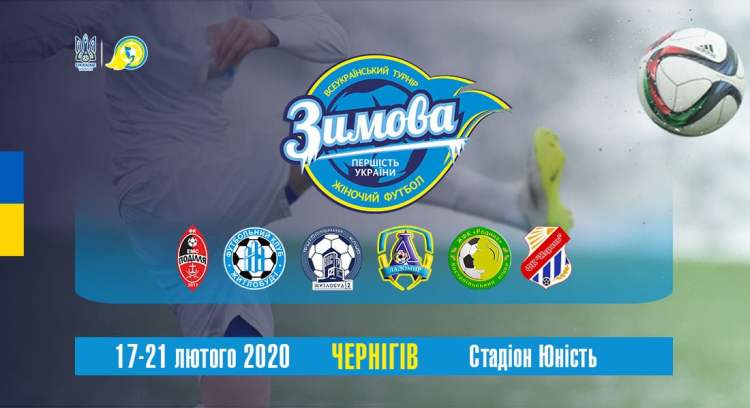 The maidenthe lottery drawpreceding the resumption of the Championship, Six teams will participate.
The All-Ukrainian Winter Championship -17 will be held in Chernihiv from February 21 to February 2020, with the participation of the major league teams, reports Ukrainian Association of Women's Football. The competition will be held at the updated Junior Sports Stadium, which seats up to 3 spectators.
The Winter Championship premiered in 2008, and the current draw will be the ninth in a row. This time six teams will perform at the tournament: EMC-Podillya (Vinnytsia), Zhitlobud-1 (Kharkiv), Zhitlobud-2 (Kharkiv), Ladomir (Volodymyr-Volynskyi, Volyn Region), and the Family Lyceum "(Kostopil, Rivne region)," Yatran-Berestivets "(Berestivets, Cherkasy region).
The tournament will be held on a circular system. Duration of the match - two halves of 30 minutes. In the event of a draw, a series of post-game penalties will be held in the main time. Three points will be awarded for a win, two for a penalty shootout, one for a penalty shootout, and a zero for a loss.
Winter Championship 2020
1 round
17.02.2020
Zhytlobud-1 - EMS-Podillya
Zhytlobud-2 - Family-Lyceum
Ladomir - Yatran-Berestovets
2 round
18.02.2020
Family-Lyceum - Zhitlobud-1
EMS-Podillya - Yatran-Berestovets
Zhitlobud-2 - Ladomir
3 round
19.02.2020
Yatran-Berestovets - Zhitlobud-2
Ladomir - Zhitlobud-1
EMC-Podillya - Family-Lyceum
4 round
20.02.2020
Family-Lyceum - Ladomir
Zhytlobud-2 - EMS-Podillya
Zhytlobud-1 - Yatran-Berestovets
5 round
21.02.2020
Ladomir - EMS-Podillya
Yatran-Berestovets - Family-Lyceum
Zhitlobud-1 - Zhitlobud-2