Europa League. Shakhtar in the presence of Andriy Shevchenko started playing in the playoffs of the victory over Benfica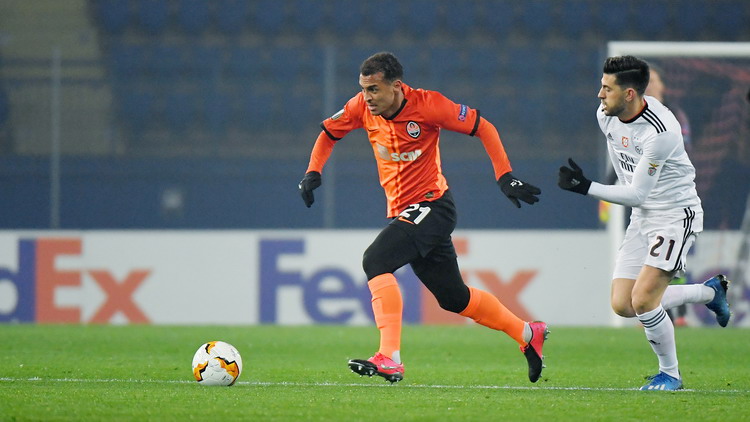 The first Ukrainian club official match in 2020 was held by the national champion. In Kharkiv, Shakhtar defeated Portuguese Benfica in the first leg of the Europa League 1/16 final.
Unlike rivals, Luis Kaštra's wards were able to purposefully prepare for the Eurocup, but the match in Turkey is certainly not comparable to the official meetings. Benfica is in the midst of a national championship, the team is in a game tone. However, in the beginning of the match at Metalist USC the game was generally equal. There may have been less of a guest action, but the orange-blacks more often threatened the opponent's goal.
And in the middle of the first half, the home team even managed to send the ball to the net - Marlos played well in the rebound after a blow from Moraes. But Chief Referee Bobby Medden, with the help of the VAR system, which was first involved in the Europa League today, has identified Shakhtar's midfielder off-line.
The orange-black and the second 45 minutes started off quite well. Tyson sent a fine pass to Moraes, but Vlachimos parried the striker's strike. Soon Ismaili completed his pass with a shot at the counter, and then Marlos forced the goalkeeper to demonstrate skill. The Miners' pressure eventually came to light, and Alan Patrick excelled, punching well into the bottom corner from outside the penalty area.
Benfica responded quickly enough. Tomasz Tavares passed Matvienko, beat Servi and punched Petov with a shot from close range. Again, VAR assistance was needed, and the referee did not score on the offside goal, but awarded a penalty for Krivtsov's foul on Serv. Pizza completed an 11-meter dash. 1: 1. But Shakhtar also found strength to respond. Tyson and Moraes assisted Kovalenka, and Victor completed the fast attack. 2: 1.
It should be noted that the match was attended by the head coach of the national team of Ukraine Andriy Shevchenko. Shakhtar took part in the game with the following players: Pyatov, Bolbat, Kryvtsov, Matvienko, Stepanenko, Marlos (goal), Kovalenko (goal), Moraes (goal), Konoplyanka (to be substituted in the 83rd minute) .
Photo by shakhtar.com
Europa League. 1/16 finals. The first match
Shakhtar (Ukraine) - Benfica (Portugal) - 2-1 (0-0)
Goals: Alan Patrick (56), Kovalenko (72) - Pizzi (67, penalty kick).
Shakhtar: Pyatov (K), Bolbat, Krivtsov, Matvienko, Ismail, Stepanenko, Alan Patrick (Marcos Antonio, 80), Marlos (Konoplyanka, 83), Kovalenko, Tyson (Tete, 90 + 4), Moraes.
Substitutions: Shevchenko, Bondar, Maicon, Sikan.
Head coach: Louis Castro.
Benfica: Vlachimos, T. Tavares, Ruben Dias, Ferru, Grimaldo, Florentine, Taarabt, Pizzi (k) (Samaris, 90 + 2), Shikinho (Rafa Silva, 79), Servi, Seferovich (Vinisius, 69).
Substitutions: Zlobin, N. Tavares, Zota, Diego Sousa.
Head coach: Bruno Lage.
Referee: Bobby Madden (Scotland).
Booked: Florentine (90 + 5).
February 20. Kharkiv. USC Metalist.
The match will take place in Lisbon on 27 February.