UAF and AFVU remain helping famous players of the past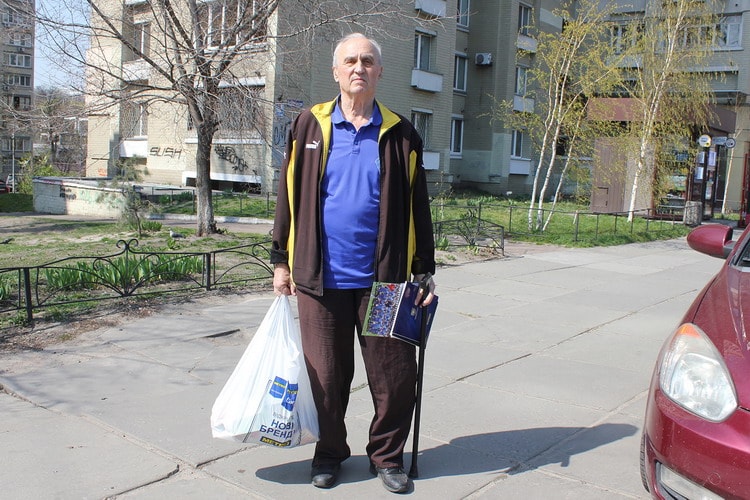 Ukrainian Association of Football and Ukrainian Football Veterans Association continue to keep in touch with famous playersof the past on a daily basis, assisting them during the spread of COVID-19 virus and country's continuing quarantine by bringing home food, medicines and personal protective equipment.
As a result, football veterans and their families are able to follow quarantine treatment guidelines, staying home and interacting less with others.
Photo of the press service of AFVU
It is symbolic that one day the route of assistance captured prominent players in the 50s and 60swho won the first gold of USSR Championship for Dynamo Kyiv - Andrii Biba, Anatolii Suchkov and Volodymyr Sorokin. All of them are in a good mood, have a telephone connection and, by the way, are preparing to welcome their friend Vasyl Turyanchyk with 85 birthday next week. Also by phone.
In addition, representatives of AFVU also brought packages with all needed items to the former famous player Ivan Terletskyi, as well as the journalist Oleksandr Lypenko.
Photo of the press service of AFVU
It should be reminded that veterans of the Ukrainian football are under the daily permanent care of the AFVU.
We previously reported on activities of Chernihiv, Dnipropetrovsk, Odesa, Ternopil, Zhytomyr, Kirovohrad, Zakarpattya, Khmelnytskyi, Chernivtsi, Ivano-Frankivsk, Sumy, Kherson, Luhansk, Rivne, Lviv, Poltava and Volyn regional associations, football association of Crimeawho supported the UAF initiative to tackle the spread of coronavirus.